Although there had already been a number of press events, the traditional kick off of the IFA press schedule is the opening press conference, which has followed a similar format for a number of years. It's rarely exciting, but there are usually some useful pointers and trends to the 'big picture' in technology and electronics. We attend so that you don't have to!
The event had three speakers, from the CE side; Hans Joachim Kamp, for the consumer market and who is from GFU; Dr Rheinhardt Zinkan, from Miele and covers domestic appliances and whose 'cut glass' delivery of English is always a delight; Christian Gerke is the CEO of Messe Berlin, which organises IFA.
Kamp started by looking at trends in the consumer electronics market and he said that forecasts are very difficult at the moment with many market such as Brazil, Russia and Turkey with economic and political problems and Brexit is also a factor.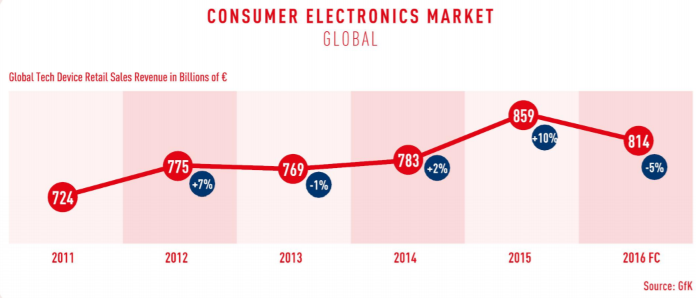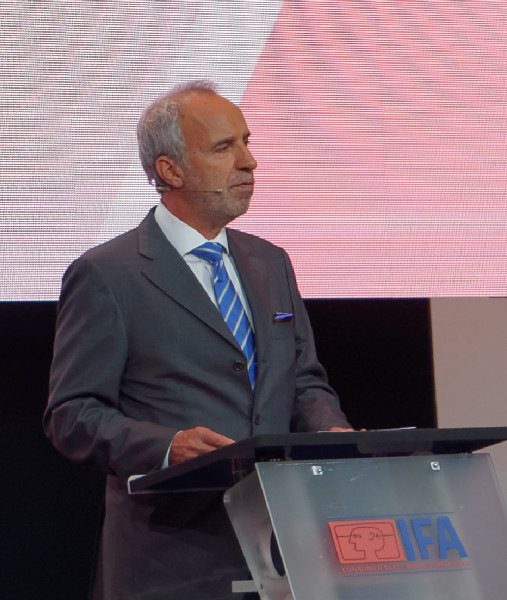 The market is expected to drop by 5% this year to €814 billion from 2015, although the results are strongly impacted by curency exchange rates. Globally, emerging Asia is the biggest region followed by North America and then Europe. Electronics is still an interesting market for consumers and products are being combined which means that some segments are getting replaced. DVD players, for example, are being replaced by streaming TVs. Digital still cameras (DSCs) and GPS sets are being replaced by smartphones. Customers are spending more money on services and that means that the combined value of hardware and services is growing, even though hardware is dropping.
There are interesting areas of growth. 54 million UHDTVs will be sold which means 75% this year. The four times resolution is helping to make them attractive, but better contrast and HDR are also important drivers of demand. OLED is also growing, Kamp said, and 600K is the global unit volume forecast for this year. Smart TVs are stable at 96 million globally, just 1% up on last year.
Bluetooth speaker sales have been growing with 23% more sets being sold (41m globally). Streaming audio around the home is a standard product, now. Wearables will hit 122 million units which means 58% growth compared to last year. Fitness and health are important applications for wearables and there will be a lot of new models at IFA, Kamp said.
Smartphone volumes will reach 1.4 billion this year, a new high with 5% growth. Sets with 5.5″ or more are increasing and are more or less standard now. DSCs are now a niche market with a decline from last year of 22% and 36 million units only being sold.
GFU conducted a survey of 5,000 consumers (in the five largest EU markets) in May and this showed there is interest in a number of categories, with a higher purchase intention expressed by consumers than last year.
35% of the sales turnover in consumer electronics is in Q4, so IFA at the right time. According to Kamp, orders to the value of €4.35 billion were placed at IFA in 2015.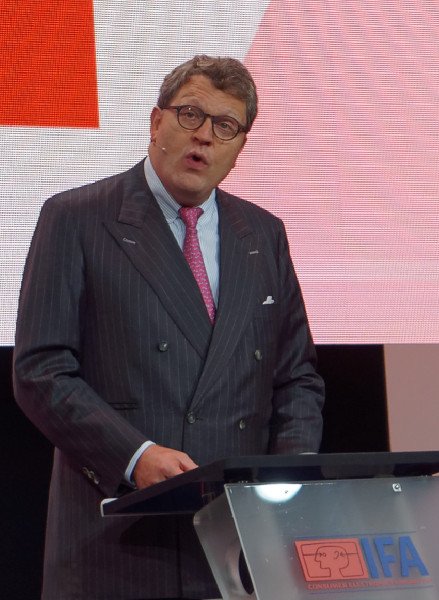 Managing Partner of Miele and also from the ZVEI, Dr Rheinhardt Zinkan, then highlighted some trends in home appliances. There are no 'revolutions' this year and no over-arching megatrends, however there are sustainable trends in cooking, beauty, health and energy efficiency. Products get more convenient, quieter and more connected. Cooking remains a big interest for consumers and digitisation is also a continuing trend.

Smart Appliance growth – Click for higher resolution
Smart applicances have tripled since the beginning of 2015. Energy efficiency is these days taken for granted. The gains from improving efficiency are getting smaller as products get close to the limits of the physics, so it will hard to differentiate on energy use.
Major Domestic Applicances (MDAs) grew in volume to +1% to over 480 million. Small appliances are now at more than 1 billion units and the European market remains positive. In Russia, MDAs were down 35%, but Zinkan expects some small growth this year.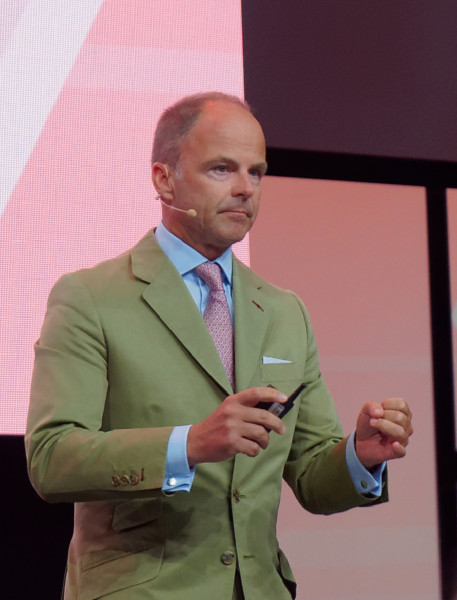 The third speaker was CEO of Messe Berlin, Christian Gerke. He said that his organisation organises 500 events per year around the world, but starting from Berlin. After summarising the event in 2015, Gerke highlighted the increase last year in international visitors and international journalists. Press attendance increased 7%. There is 158,000 m2 (+5%) and 1800 exhibitors (+13%) – 10th consecutive annual increase. Increase in national and international exhibitors, with 14% increase. Almost all segments grew, especially fitness, smart home, media and telecommunications. These segments (which he called "connected life") is really maturing and this year there is a new area devoted to "Smart Home".
IFA is 'bursting at the seams' and so this year has moved part of the show out of the main site and its called "Station" . 'Partner of the Future!" The main IFA show is aimed at products available this year. TecWatch looks at developments over the next five to ten years. The IFA+ Summit is for those thinking about the longer term future, even further out and looking at other social trends.
In responding to questions, Gerke said that the first CE China event run by Berlin Messe was very successful, although 10% of the size of IFA. The good press impact meant it will continue and develop.
Discussions are going on in Brussels about the standardisation of connectors and cables for smartphones. There is a move to try to standardise connectors, but some brands really want the flexibility to have their own solutions.
There were also questions about the security of smart appliances and also one about the recent Apple tax decision. Zinkan said that there need to be standards that cover all remotely controlled appliances and he doesn't feel that this is far away. There was also a question about data privacy and Zinkan said that the kind of data sharing that is acceptable was really for individual customers. It may be useful for suppliers to understand any problems in remote service locations by getting data on usage. Zinkan said that the amount of data from all appliances is huge and 'not catchable or storable;. Zinkan said that domestic appliances are a long way down the list of things that Google might be interested in when asked if Google would want to track this kind of data.