Scalable Display Technologies is best known for its ScalableDesktop automatic camera-based warp and blend software but they have also started to ship a turnkey display system called Huddlewall, introduced last November at I/ITSEC. At the recent Sapphire Marketing road show, I had a chance to see this system in operation and get a demonstration of its features.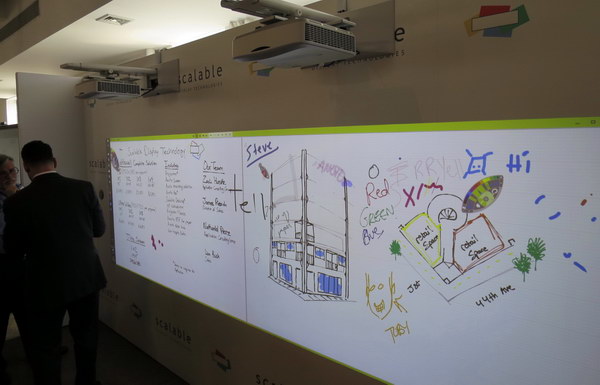 Scalable Huddlewall blended two projectors at the Sapphire roadshow.
Huddlewall is a pre-configured system of from one to four short throw, edge-blended laser/phosphor projectors. There are two projector options, a HD (1920 x 1080) projector with 3,500 lumens or an ultra-wide (1920 x 720) 3000 lumen projector. The projectors come bundled with an appropriate screen, PC and collaboration software. Two pen options are available, one using Anoto Dot Technology and the other using IR-based pen technology. There are also multiple host PC options or the purchaser can use his own Windows-based host PC.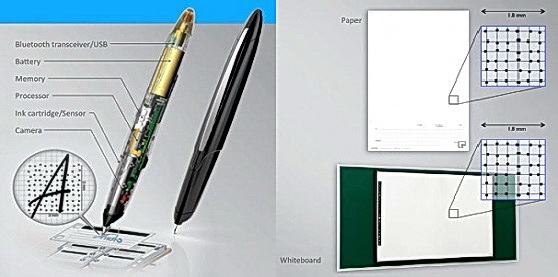 Anoto Smart Pen Technology
The demo unit at Sapphire used the Anoto smart pen technology. Anoto smart pens are based on a pen that has a built-in camera that talks to the host computer via Bluetooth. The surface to be written on has an array of microscopic dots. The location of the dots relative to the nominal grid pattern tells the system where the pen is writing. In the Huddlewall demo, both the projection screen and a tablet of writing paper had these dots. By detecting these microdots, the system can track what the person is writing on either the screen or the paper. For use on paper, there is a conventional pen in the smart pen to make a permanent record on paper. A 10 minute video on how the technology works is posted on the Anoto web site and YouTube.
When using paper forms, Anoto can store the data for later download to a host computer or display. Paper forms with the needed microdot patterns need not be purchased from Anoto but can be printed on ordinary business printers. Anoto has three preferred, qualified printer vendors, Fuji Xerox, NEC and Epson. They have also tested over 150 other printers and found their output has sufficient resolution to work with the Anoto system.
At the Sapphire road show, I found the Scalable Huddlewall system worked exactly as advertised. As would be expected from Scalable, the two projector images blended visually seamlessly. The Anoto pen system also worked transparently on both printed paper and when writing directly on the whiteboard screen. Multiple Anoto pens could be used, allowing several people to write on the Huddlewall simultaneously. The microscopic Anoto dots were not visible to the naked eye on either the paper or the whiteboard projection screen.
A two minute video demonstrating the Huddlewall system is available on the Scalable website or YouTube. Display Daily's Chris Chinnock also did a 5 minute video on Huddlewall at I/ITSEC 2015. –Matthew Brennesholtz
Analyst Comment
As we reported from ISE, Cima Nanotech has also adopted the Anoto system for its LCD system and it was also used on the Panasonic UltraHD tablet for pen use. (BR)