Samsung refreshed its A3/A5/A7 range of smartphones at CES. They all have Super AMOLED displays in 4.7″ (HD), 5.2″ (FHD) and 5.5″ (FHD) and feature 3D glass with a metal frame. They use A-53 processors at 1.6GHz (A3) or 1.9GHz (A5/A7) and have 2GB (A3) or 3GB (A5/A7) of RAM. Storage is 16GB on the A3, 32GB on the others and expandable using the MicroSD slot up to 256GB. Connections use USB Type-C. Camera is 13MP on the A3 and 16MP on the others (front and rear). The phones are sealed to IP68.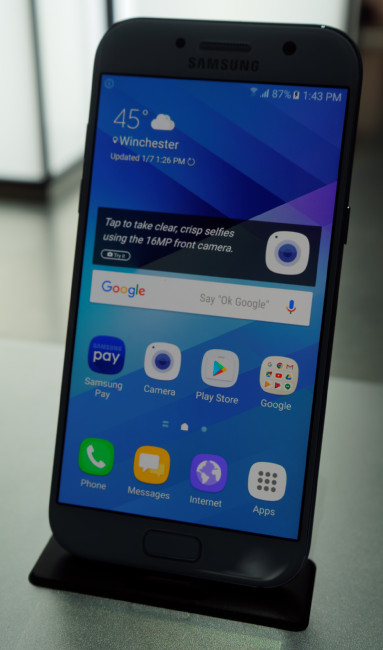 Samsung's A5 Smartphone
The Samsung Notebook 9 has a 13.3″ FullHD display in a chassis made of injection moulded magnesium alloy which keeps the weight down to just 800gms. The display supports 95% of sRGB and produces 350 cd/m² of brightness in standard mode, but also has a 500 cd/m² mode for daylight viewing. The notebook uses processors up to the 7th gen Core i7 and has internal graphics. Memory is up to 16GB and storage is based on SATA3 with up to 512GB of SSD. The 30Wh battery supports fast charging and connections include HDMI and USB3.0 and Type-C. The keyboard is backlit.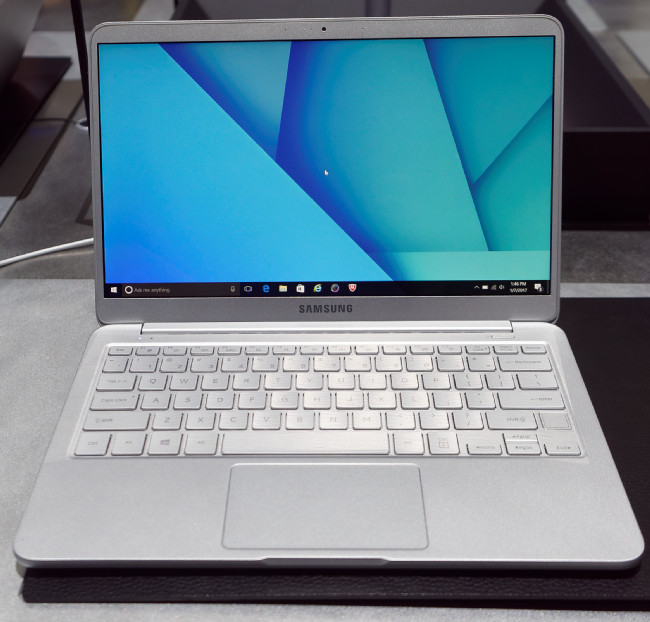 Samsung's Notebook 9 is just 800gms and uses a magnesium alloy case. Image:Meko
A new concept for Samsung was an All-in-One PC that uses a 24″ FullHD touch display and uses an Intel Core i5-7400T with integrated graphics. The PC has up to 16GB of RAM and a 1TB HDD. The PC has a wireless keyboard.
More interesting was the Art PC Pulse 'stackable' PC. This is circular and has a programmable LED light near the top that can be programmed to show different colours depending on activities – for example, it can show a particular colour if an email arrives. The system uses 6th Generation Intel Core i5 and i7 processors and has an AMD Radeon RX460 GPU, up to 16GB of memory and a 1 HDD module, plus 256GB SSD for faster load times and performance. Additional modules can be added for storage etc and there is a Harman/Kardon speaker unit.
The Samsung Art PC Pulse uses a modular approach, but at the moment, the only add-on is for storage. Image:Meko
The company had two Chromebooks – the Pro (Intel) and the Plus (Arm). The Chromebook Plus has a 12.3″ 2400 x 1600 (3:2 – 234ppi) IPS display with touch and 400 cd/m² of output. The system supports up to 4GB of RAM and 32GB of storage and weighs 1.08kg (2.38lbs). There is a hex core OP1 processor (dual A72 + little quad core A53 with Mali T860 graphics). Battery capacity is 39Wh and there are dual USB Type-C ports. The Plus costs $449.
The Pro version uses an Intel Atom chip and both have pen input and access to the Google Play store. Pricing for the Plus is still to be decided. Some commentators see this kind of product as a possible replacement for tablets, as the keyboard rotates by 360º for tablet mode use and the Google Play store can be used for apps.
Samsung, like everyone else, wants to jump on the PC gaming bandwagon and had a new line of Odyssey notebooks. We saw the 15.6″ version which uses 7th gen Core i7 processors and an Nvidia GTX1050 (not quite enough for VR) with up to 32GB of RAM and 256GB of SSD and 1TB of HDD. Connections include HDMI and USB 3.0 (just one). There is a 17″ version, but at CES we couldn't get confirmation of the GPU to be used. Both models have FullHD displays. The 15 will cost $1199 and be available in February, but price and delivery are TBD on the 17″.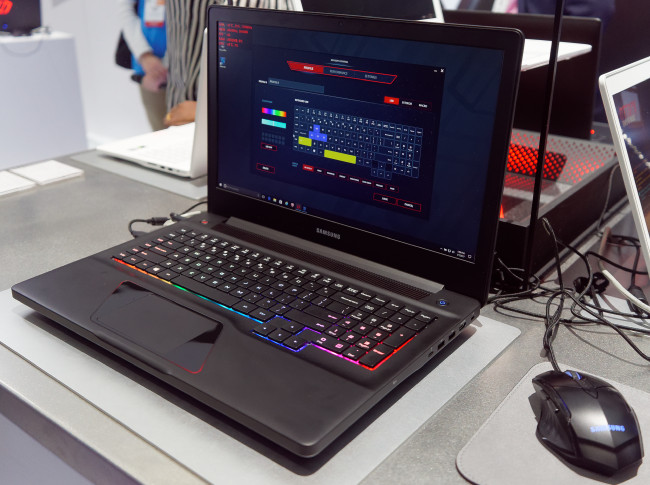 The Samsung Odyssey 15 gaming Notebook has just a FullHD display. Image:Meko
The CH711 is a curved monitor line that uses quantum dot technology to achieve a colour gamut of 125% of sRGB and with a response time of 4ms. The curve is 1800R and features include FreeSync support. There is a 31.5″ 2560 x 1440 version and a 27″. A feature of the design is that the monitor's have a removable panel on the back which hides the connectors. The panel allows the cables to be fed from the monitor through the stand, giving a very clean back view.
Samsung's CH711 has a 'Tidy cables' feature that is very neat. Image:Meko
The CF791 (34″ curved 1500R) and CFG70 (27″ curved) monitor were being shown, after launching at IFA. Also on the booth was a new 28″ UltraHD monitor, the UH750. It has a 1ms response time (G2G) and the 125% sRGB QD technology as well as FreeSync. Samsung's PR burst before the show pointed to new 23.8″ and 27″ SH850 with QHD resolution, but we didn't spot them.