Samsung officially unveiled a number of TV-related innovations at CES 2017. We described some of them in a pre-CES article (Samsung QD TVs Could be a Game Changer), but additional details and models were unveiled at CES. We attended their "First Look" event, the company press conference, the show floor booth and a special innovation room to gather details. In essence, the new QLED TVs have addressed every shortcoming of last year's QD-based SUHD TVs. Highlights to be discussed include:
New QLED product category
New quantum dot material structure
Q7, Q8 and Q9 model details
Color volume focus
New wide viewing angle pixel structure
Reflection and haloing reduction
Innovative wall mount
New fiber cable
New content aggregation features
The QLED Category
One of the big announcements from Samsung at CES 2017 was their rebranding of the top-of-the-line TVs from 'SUHD' to 'QLED'. "2017 will mark a major paradigm shift in the visual display industry, ushering in the era of QLED," said HyunSuk Kim, President of the Visual Display Business at Samsung Electronics at the First Look event (photo). As Ken Werner pointed out in a recent Display Daily post (Samsung Gives a Good TV a Bad Name – Again), Samsung is repeating their strategy from 7-8 years ago where they created a new TV category called "LED TV", which referred to LCD TVs with an LED backlight instead of the cold cathode types that had dominated the category to date. We in the trade press did not like this term as it was inaccurate – but it resonated with consumers and Samsung's marketing machine made it stick.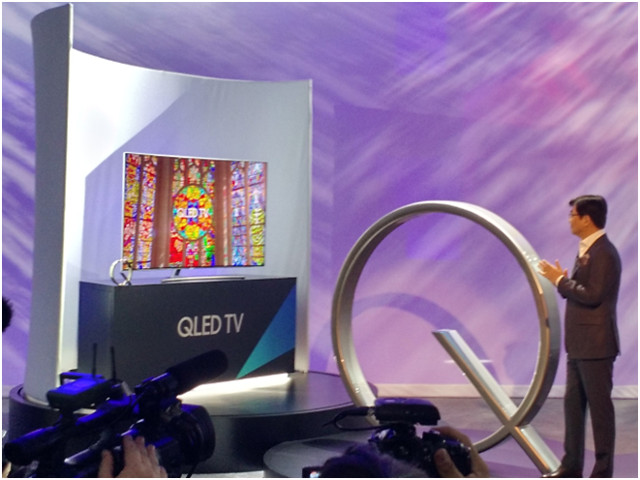 QLED has previously been used in the OLED world but is now referring to TVs with quantum dot technology. Yes, this term most often refers to electrically stimulated quantum dots, but consumers don't know this – and that is who the the new use of the term is targeted toward. It seems likely that Samsung will again be successful in making this newly created category one that consumers will ask for.
So what does this mean for the more technically minded community with regard to naming and categorizing quantum dot implementations as there are a wide range of configuration for quantum dot displays? To address this, I posted a blog on the Insight Media web site to propose some tentative definitions and names. Please feel free to comment on this structure and lexicon, which tacitly acknowledges that Samsung will be successful in its category creation (Do We Need Better Names for Various Quantum Dot Devices?).
New Quantum Dot Material Structure
Samsung also showed off a diagram of a new quantum dot structure. The company has worked with Hansol Chemical in Korea for the last few years to develop quantum dot technology and manufacturing processes. This new metal alloy (specifically aluminum) quantum dot material represents a third generation structure and process.
As shown in the graphic shows, the new structure consists of a metal core, a graded ZnSeS graded layer and a metal jacket. I don't know much about this material system yet, but I was able to get some performance figures for the various generations of Samsung/Hansol quantum dots. For the FWHM specification, improvements were:
Gen. 1 R50nm, G50nm
Gen. 2 R45nm, G45nm
Gen. 3 R40nm, G38nm
For material quantum efficiency, the improvements were:
Gen. 1 80%
Gen. 2 88%
Gen. 3 95%
Samsung says that the new materials are more stable than last year's materials, and given the narrowing of the FWHM specification, can now allow the TV to reach 99% of the DCI-P3 color gamut – up from 96% for last year's models.
Q7, Q8 and Q9 Model Details
QLED TVs from Samsung will be offered in three model series: Q7, Q8 and Q9. While Samsung did not say specifically if the quantum dots are implemented as a sheet, that would appear to be the case, as we know Hansol Chemical is working with a resin company partner to make QD sheets.
The sets will be UHD resolution, of course, and will offer 99% to 100% of the DCI-P3 color gamut (not clear if by area or coverage). They will only offer HDR10 support. HLG may come later as a firmware update, but Dolby Vision will not be coming. There is also support for Samsung's own dynamic metadata approach, which is currently part of ST-2094. However, no content is yet available in this format.
The Q7 and Q8 models will offer a peak luminance (in a 10% window) of 1500 cd/m² while the Q9 will go to 2000 cd/m². Models will be offered in sizes from 55" to 88", but exact screen sizes are still to be announced, for the most part.
The Q7 series will be a mix of curved and flat models, with the 75-inch Q8C QLED TV highlighted at CES. The Q8 will be curved is expected to include 55, 65 and 75-inch models. The Q9 series will be flat only and should range from 65 to 88 inches, including the Q9F. Samsung says that half of its TV sales remain curved models even though the format does not seem to be very popular in Europe or Asia.
Most interestingly, these flagship models are edge lit, not full array backlight types. To get local dimming, Samsung must mount LEDs on at least two sides so the intersection points can control the local luminance. How many "zones" or "points of control" are possible was not specified. However, in images we saw in private, the reduction in haloing (bright objects exhibiting a glow around them when display with a sharp edge against a black background) was greatly reduced from last year.
Samsung has also improved the black level of these sets from 0.005 cd/m² in 2016 to 0.0005 cd/m² for the QLED TVs. This is partly accomplished with an improved reflection reduction filter on the outside and reduced internal reflections that were contributing to raising the luminance of the black level.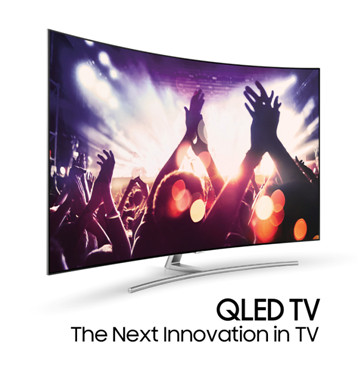 The Q series TVs also feature a new and innovative wall mount. The portion that attaches to the wall is very sleek and has level adjusting that is almost like moving a picture frame. But the cool part is that the mount fits into a recessed area in the back of the TV to get it as close to the wall as possible. It is not as thin or as close to the wall as LG's wall TV, but it is closer than almost any other mount.
Kim said in his 'First Look' remarks that 60% of people who buy a TV want to wall mount it, but only 35% do so. The new solution should help improve that percentage. Alternatively, consumers can choose either the 'Studio Stand', which resembles an easel with a painting, or the sleek 'Gravity Stand', which when attached to the TV, resembles a contemporary sculpture.
To keep the design clean and uncluttered, the Q series has also opted for a fiber optic cable to run from the Smart Hub box to the panel. The Smart Hub box aggregates all the inputs and delivers the signal to the TV over this fiber. A 3' cable comes standard, but an optional 15' one is offered too.
OS and UI Updates
The new Samsung TV line-up is still powered by the Tizen operating system, with essentially the same user interface as last year's. Upgrades include new content modes and voice control via a smartphone.
Upgrades to Samsung's Smart Remote functionality included extensions to control the TV via a smartphone along with an improved 'Smart View' app, which now provides a comprehensive overview of all available content on the app's home screen. As a result, consumers can use their mobile device to select and start live TV programs and video-on-demand services on their TV from their smartphone.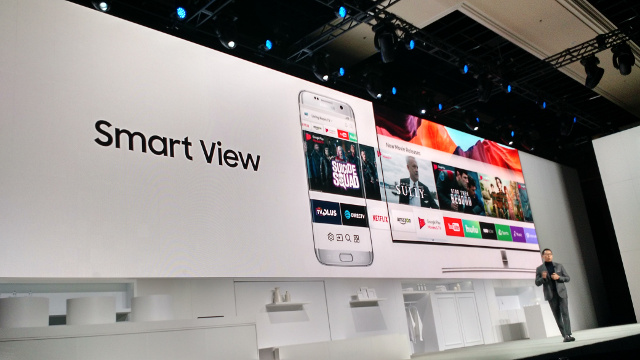 Samsung also introduced two new Smart TV services, including 'Sports', which shows a customizable summary of a customer's favorite sports team and its recent and upcoming games, and 'Music', which can identify songs as they are being played live on a TV show using Shazam music. This can be used to immediately launch that track in Spotify" or another streaming service.
Samsung continues to provide content integration allowing "control of most connected TV devices from a single source, with one device."
Samsung has also extended its popular global service, TV PLUS, to the U.S. market, which brings high quality content into a single app on your TV, and is paired with Samsung Checkout. In addition, Samsung has also partnered with FandangoNow in the U.S. to bring access to rent or buy more than 40,000 movies and shows, including new releases in 4K HDR.
The Q series TVs will begin to ship in February, 2017.
Samsung is also expected to introduce the MU series which includes the MU6, MU7, MU8 and MU9 models. These are not quantum dot displays but will be wide color gamut models. The MU9 will offer 1000 cd/m², while the others will have lower luminance levels. All MU series except the MU9 will feature both curved and flat models, while MU 9 will feature only flat screens.
Color Volume Focus
One of the key message themes for Samsung, and I suspect the rest of the TV industry, will be a focus on color volume as opposed to color gamut. Color gamut describes the color capabilities of the display in terms of display standard (i.e. 100 % of DCI-P3). This can be confusing as it can mean coverage of the area of the standard based on the standard's primaries or a comparison of the area of the display regardless of the primary locations. Further, this is often the largest color gamut the display can produce at whatever luminance level that is.
Color volume seeks to describe the color performance of the display over a range of luminance levels. The need to describe color in this way has come to the fore with the expanding popularity of HDR and the inability of the "% of gamut" to adequately describe performance.
There is a big difference in the color volume of Samsung's QLED TVs and other peoples' OLED TV, the firm says. Samsung used some graphics and a live demo to illustrate the point, as shown in the images below. For the live demo, they had a camera taking video of a small colorful model that had objects that were displayed with a wide color gamut and high dynamic range. The image was split and sent to a QLED TV and an OLED TV. Both were in their Vivid mode with the QLED TV showing the colors well and the OLED showing mostly washed out colors with low contrast.
Samsung also used two graphics to illustrate the concept of color volume and the differences between a QLED and an OLED TV. In one method, the color volume of the two TVs was shown in CIELAB coordinates with two odd-shaped 3D models to represent the color volumes. The QLED set filled the DCI-P3 color gamut to display colors at luminance levels up to 1000 cd/m². The OLED TV's color gamut was smaller and within the wireframe of the DCI-P3 1000 cd/m² color volume.
On the show floor, yet another way of illustrating the difference was shown. Here, the axes were luminance (vertical) with chroma and hue being the horizontal axes. For the QLED TV, a cylinder to 1000cd/m² is shown while for the OLED TV, the top of the cylinder become pyramid-shaped indicating an inability to show the full color gamut at high luminance levels.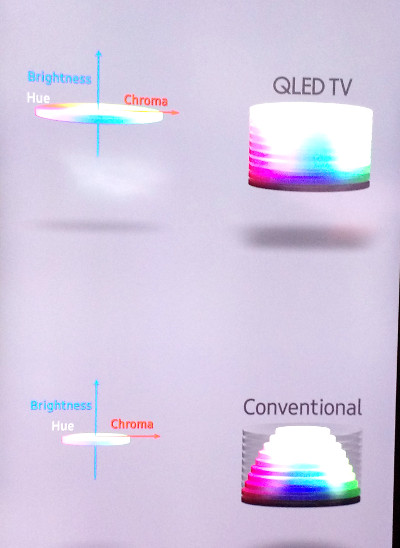 The OLED color volume performance is compromised by two factors. One is the display's inability to create luminance at 1000cd/m². Secondly, even at higher luminance levels in the 400 to 600cd/m² range, the white sub-pixel is used to reach these levels as pure RGB sub-pixels can't do this alone. The result is that that the white sub-pixel desaturates the image, decreasing color volume. It is no wonder that Samsung is all over this metric.
The effects were also demonstrated in another demo with an array of colored pencils shown on both a new QLED TV and an OLED TV. With the external light diffusely illuminating the pencils, the two images looked very similar, but when the light turned on the pencils, increasing the luminance level of each colors, the OLED TV washed out while the QLED TV maintained good colors. This illustrated that the OLED could not display these colors at high luminance levels but the QLED could.
New Wide Viewing Angle Pixel Structure
One big improvement that Samsung introduced with the QLED TVs was improved viewing angle. With the Samsung VA panel structure, viewing angle performance has been weaker compared to LG IPS pixel structure. As the viewing angle increases, contrast, brightness and color saturation all decrease. The new structure greatly improves this.
Details on how Samsung does this remain murky, but some think the normally flat pixel is now triangularly shaped. We will continue to investigate this and report as we learn more.
No specifications on viewing angle performance were released, but this is another area where metrology improvements are needed. Today's viewing angle measurement typically measure the angle at which the contrast falls to 10:1 (although I've seen down to less – Man. Ed.), which for most panels means close to 180 degrees with little difference between VA and IPS panels. This does not reflect reality, so should be improved.
Samsung illustrated the difference in a demo on the show floor where last year's SUHD model (bottom in photo) was compared to today's QLED model (top) and viewed from off axis. This clearly shows the improvement in brightness, contrast and color performance. – CC