Samsung Display had a meeting room conveniently close to the press office. We had a look at the panels on display, but there was little that was particularly new. There was an 82″ 21:9 5120 x 2160 curved panel (it's basically a wider 65″ panel). There were three 65″ UHD panels for TV, a slim 5.9mm version, a "standard version" and a variant with quantum dots and wide colour gamut.
There were 40″/48″/55″ 3000 radius UltraHD panels and 65″ and 78″ with 4000 radius. Samsung was highlighting the advantage of making the colour filter on array, so that you don't run into parallax issues when you bend the LCD. Samsung also believes that this helps make the contrast even better, especially at the edges, where IPS might have more of a challenge.
In the monitor area, there was a 34″ 3440 x 1440 100Hz panel with 1800mm radius (Samsung and AUO believe they are the best at tight curved radius panel making). A 27″ curved 144Hz VA panel also has the 1800mm radius and should be available in Q4. Samsung first showed us the 27″ 5160 x 2880 at CES (they still call it "5K" when it has nearly twice the number of pixels as "4K" displays – I just don't get it – Man. Ed.) At IFA, the firm was highlighting the optical bonding on the panel.
During the Intel and Microsoft press events there was a lot of talk of "frameless" designs and Samsung has a 23.8″ FullHD panel with 3.93, 6.57,3.93,3.93 (U/D/L/R) bezels that is due for production in Q4 2015.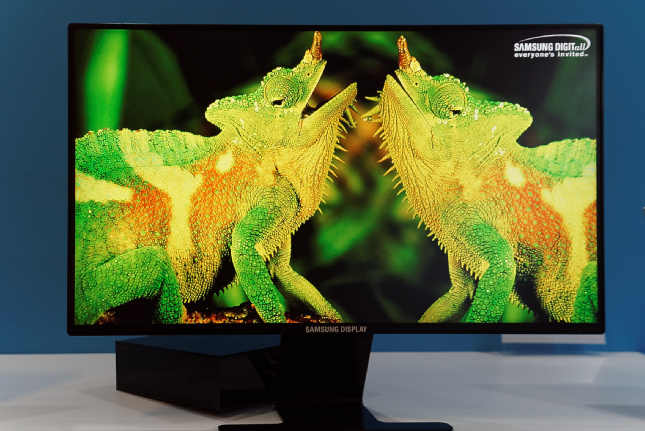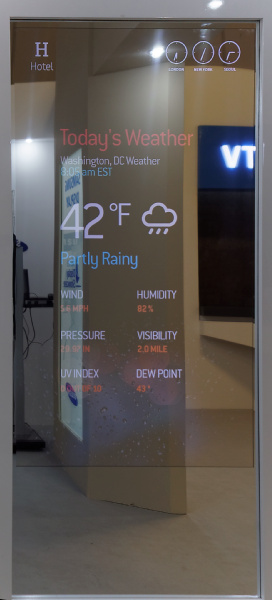 Turning to public displays, there were the latest mirror OLED and the transparent OLED which are both expected to go into production soon (see our article from Samsung Electronics in this issue for more on the transparent version (Samsung Unlocks The Walled Garden). The mirror display has 75% reflectance with contrast of 100,000:1 and 400 cd/m². Gamut is AdobeRGB and we can imagine it being very popular in retail applications. One issue limiting the use of the transparent display is that it will not be warranted for use in sunlight because of concerns about lifetime of the organic materials.
Samsung has previously made "stretch" displays and has started again with this category. The first product is a 37″ version and there will be 29″ and 49″ versions later as well as high brightness variations which will have 1,000 cd/m² or so in brightness. Many panels are rated for vertical operation, but this is usually only when the panel is completely vertical. We heard that the new stretch displays can be mounted at tilted angles, which good be useful where there is limited space, or in overhead applications. The stretch displays will support the 110º TNI of Samsung's public displays.
We talked about the announcement of the 1.8mm bezel panels from LG at Infocomm. Samsung is working to develop sub-2mm bezels, but does not feel that performance is yet good enough, so expects it to be next year before it has panels, with bezels still to be defined. The company has made the high brightness version of its super narrow bezel panel end of life, so there will be something of a shift to ultra narrow bezel, where the brighter version will still be available.