Samsung held a big press event before the show started. We actually managed to get a seat at the Samsung press conference – a big improvement over previous IFA and CES events and a result of mandatory registration. On the other hand, as it was being live streamed, we could have had a late breakfast and watched from the hotel!
Rather than using projection, Samsung used a large curved LED wall for its content. Although this meant it was smaller than some of the projected solutions at other events, it was very bright and contrasty, perhaps even uncomfortably bright, given the subdued lighting in the hall.
YH Eom is the President of Samsung Electronics Europe and was the first speaker.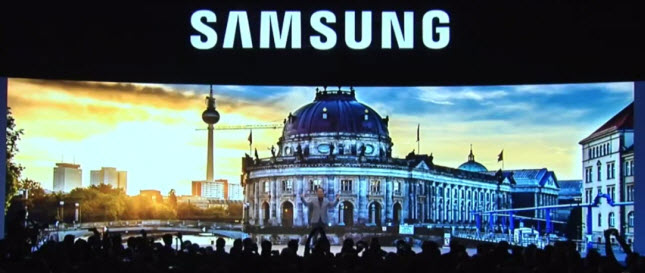 Samsung used an LED display as the backdrop for its press event – and left it there for use during the show. It was very (too?) bright.
Samsung has sold more than 530 million devices in Europe over last five years – 40% of European homes have Samsung TVs and 60% have a Samsung smartphone. The company has been the top brand in European TV for ten years. However, Eom said, Samsung doesn't look back – it looks forward. The Internet of Things is the next big target for Samsung.
Dr WP Hong is President and CMO of Samsung Electronics and he joined the conference by video. By 2020, all devices by Samsung will be IoT enabled and Hong showed the inevitable video of the future vision. Eom said that Samsung is trying to be "Open" for the IoT, so it has software and hardware platforms and is part of the Open Interconnect Forum. Samsung will also collaborate with partners.
Smart mobility is a big opportunity and Samsung is working with BMW and Volkswagen to develop automotive apps and technology. It is also promoting its Samsung Pay application.
The most important point, Hong believes, is that the development of IoT is driven by human needs, not by technology.
The next speaker was Alex Hawkinson from Samsung's SmartThings company (although he looks, now, so different from his corporate portrait that we spent 10 minutes checking if it really was him!). SmartThings is a Samsung acquisition that has systems for monitoring home networks and home control. He showed the obligatory video of programmable lighting, coffee making and appliances etc. There is a new programme from SmartThings to allow certification for devices from other companies to work with its platform. The firm has a deal with BMW to allow alerts from the home when you are in the car. SmartThings will be launched in the UK next week.
Yoon C Lee is from the Digital Appliances group at Samsung. He talked about the importance of sleep and how Samsung is trying to help improve sleep quality. The new sleepsense device sits under a mattress and can control air conditioners, TVs and lighting to optimise for better sleep by monitoring the sleeper's vital signs. The data can be accessed remotely, to allow alerts and monitoring, for example of older relatives. The system also provides recommendations and advice about sleep.
Lee brought on Dr Christos Mantzoros, a scientist from Harvard medical school to endorse the Samsung approach. He said health is a function of eating, excercising and sleeping, but most of us don't know how to optimise sleep. Jet lag and other sleep problems can lead to health problems. Mantzoros said that the new technology really helps to boost the health and life of people around the world.
Dan Harvie is from the Digital Appliances group at Samsung Europe. Of course, there was the obligatory video highlighting Samsung's work to develop around the home and Harvie looked at appliances. He got very enthused at taking washing "to a new level" and allowing "personal expression". He was "very excited" to announce a new feature to allow individual items to be added to a wash during the process. Harvie said that the feature was added because of consumer feedback.
Michael Zöller runs Samsung's TV business in Europe and he came on to say that SUHD has grown very well in sales this year, and UltraHD is taking the market very quickly. (A cynic might point out if sales start very slowly, higher growth rates are easier – Man. Ed.) Samsung is working closely with content providers to help develop appropriate content to exploit the capabilities of the sets.
Zöller said that Netflix will expand its UHD service to Spain, Italy and Portugal. He introduced Timo Schneckenburger of HD+, Astra's German TV initiative who said that even HD looks great on UltraHD sets. Schneckenburger said that HD+ is introducing UHD1, on September 4th, an UltraHD 24 hour channel with free access during the working day. During "prime time" there will be special content for subscribers. Satellite receivers and compatible sets will be needed.
Zöller then turned to HDR and he announced that all Samsung's TVs will support HDR content over HDMI 2.0a with sets having a firmware upgrade if needed, as long as they have HDMI 2.0 connectors. Samsung will supply an UltraHD Blu-ray player and will support UltraHD at up to 60 fps and with support for upscaling FullHD content. The player will be available in stores in early 2016.
He then brought on two speakers from the UltraHD Alliance and 20th Century Fox (TCF), Mike Dunn, the President of TCF and Hanno Basse, the CTO of the company, who is also the President of the UHD Alliance. Dunn first said that the first time he saw UltraHD with HDR, it was like the first time he saw HD compared to SD. Dunn said that all of the studio's releases will be released in the future in HDR and UltraHD at the same time as digital release.
TCF and Samsung have a partnership at TCF's facility to develop really great content for today's hardware.
In the future, some models of the the Samsung Blu-ray player will allow sideloading of UltraHD content.
The UltraHD Alliance is trying to define the "ultimate" premium specification. The group has almost tripled its membership and more details will be released shortly, as specifications are nearly finalised. (We have a meeting set up with the UHD Alliance for IBC – Man. Ed.)
Dunn then said that he loved his SUHD TV from Samsung. He said that he loves sport and he has to watch a lot of movies for his work and the set has changed his viewing experience.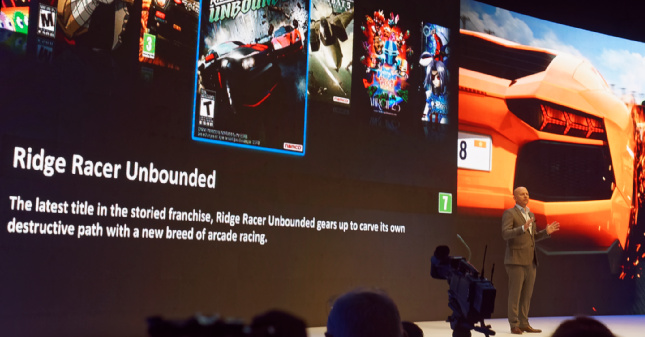 Samsung's Zoeller announced Gamefly on Samsung TVsZöller said that Samsung is launching the GameFly streaming gaming service which will allow many games to be played on Samsung smart TVs, without the need for a separate console or box.
He then emphasised the range of curved TVs available and said more than 50% of Samsung UltraHD TVs in Germany are curved. He also highlighted the Samsung nanocrystal (quantum dot) technology and Samsung's audio products. The latest wireless audio can be controlled from smartwatches as well as from smartphones.
Jean-Daniel Ayme is VP of mobile for Samsung Europe and he addressed how mobility will tie in with the potential of the IoT. Slightly strangely, he talked about user interfaces for printers! He then introduced a new "Car Mode for Galaxy, developed with Volkswagen. It is aimed at improving the in car experience, without compromising safety. The app supports the Mirrorlink connection standard and will be on a new Galaxy 6S+, due to be launched. The VW eRemote app can monitor whether the car is locked and also find the car. It can remotely control the air-conditioning and other functions of the car via the internet. This could be useful, allowing an air conditioner to be started before going to the car.
Finally, Eom came on again to highlight the push to the IoT.