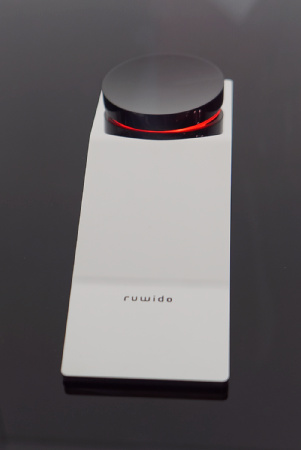 We caught up with Ferdinand Maier of Salzburg-based Ruwido, which makes high quality remote controls and software for the STB user interfaces to go with them.
First we looked at one of the regular "design concepts" that the firm creates from time to time to illustrate how designs could develop. The concept device has a control like a joystick that can detect the pressure in any direction to drive the interface. This is a key point that Ruwido has integrated into its existing "Leaf" design and it is calling it "organic haptics". By applying more pressure to the joystick portion, you can accelerate the motion of the interface. We tried the effect and it's very intuitive when combined with the user interface on the set.
The "organic haptics" technology can be applied to any of the company's designs.
The Leaf design can have a very elegant dock that can recharge the batteries. Ruwido has been working on reducing the power needed for the remote and it can operate on a single battery, which can last for 70% of the time of dual batteries in typical remotes.
Ruwido has a remote control with a carbon back. The firm has developed tablet software that can detect when the remote control is laying on the tablet surface. That operation can be used to "pass" the video from a TV to a tablet.
Analyst Comment
We talked about the lack of real innovation in TV controls in our IFA report last week. Maier had told us several years ago that this would happen as the company has conducted an enormous amount of human factors research at the University of Toulouse, and understands extremely well how people like to interact with TV. Maier does like voice input for quick selection and is working with Nuance, as we have previously reported (and which is now working with Rovi as we report here (Rovi Boosts Speech and Surveys Users on Content Discovery)).
We interviewed Maier for our Vimeo channel. (BR)