The RGB laser projectors pioneered by Christie and Barco are very expensive solutions – rumored to be close to a million dollars for very large venues. With very low volumes for these specialized lasers, the cost has been very high for the lasers themselves.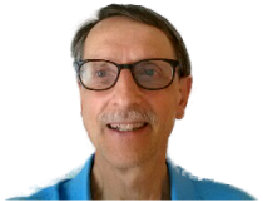 While costs will remain high in the short term, the market is now starting to see new competition in terms of RGB laser sources that can be used to retrofit existing DLP projectors in cinema and other high value markets.
One company pushing in this direction is Cinemeccanica, the Italian projector supplier that now offers an RGB laser retrofit option. Another company, US-based PowerTechnology, is also promoting RGB laser units for projection retrofits.
We contacted both companies to learn more, but only Cinemeccanica responded to our inquiry, so I can report on its solution here.
Cinemeccanica first announced the RGB laser solution earlier in 2015 and has been talking about it at CinemaCon and at CineEurope most recently. It is a 6p RGB laser solution that is scalable, meaning you buy the laser power you need to fit the projector and screen size for your application. Basic modules are available for 19K lumens (good for 19m screens); 29K lumens (for 27m screens); 37K lumens (35m screens); 48K lumens (45m screens) and 57K lumens (50m screens). Need to go bigger? Go with a dual head solution that can get you to 100m wide screens!
At the 57K lumen level and above, Cinemecanicca says you need to buy an integrated laser/projector solution from the company, however, as this requires some additional internal engineering.
As shown in the photo below, the lasers are mounted in chilled external enclosures with the light delivered by fiber to the projector. Each RGB laser module is coupled to a multi-mode fiber and these are added as needed to get the desired light output. The fibers from each module are then bundled together in an armored cable for delivery to the projector. The company says they have been careful to have interlocks to cut off the laser should covers or the fiber be removed.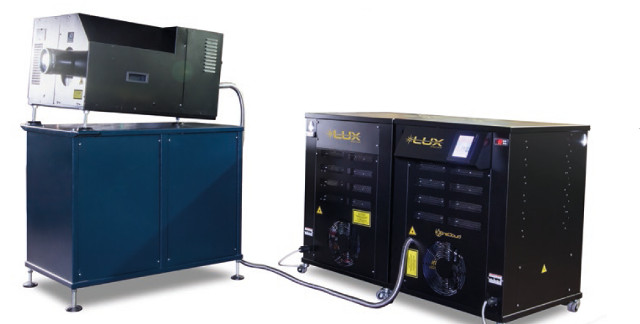 The 6p solution means this can operate in 3D using spectral separation, but this is not yet an option, said Pier Ottoni, the company sales and marketing director in a phone interview. "There are some commercial restrictions on selling Dolby or XpanD spectral 3D glasses that we hope to resolve by the end of the year. In the meantime, 14 fL 3D is possible with active shutter or passive polarized solutions".
With the RGB primaries, the retrofitted projectors are capable of delivering an image that is very close to Rec 2020 compliance. However, for theatrical content, the projector needs to be calibrated to the smaller DCI color standard.
"What we are seeing is that even though instruments say the RGB primaries and white point are identical on the RGB laser and equivalent Xenon projector, the images look different", explained Lorenzo Branca, Cinemecanicca's Technical Director. "While the contrast is the same after the laser retrofit, the uniformity of brightness is much better – over 93% from center to edge. This may explain part of the phenomenon but there are other subtle human visual system effects going on as well that instruments don't measure".
Branca also noted two additional benefits. One is the ability to get more lumens out of the projector than the Xenon solution allowed and the other is big savings in electricity.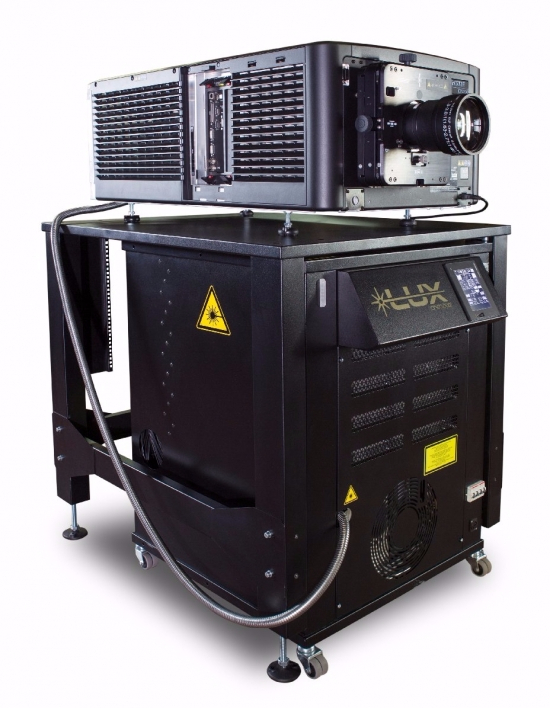 "Because there is no UV or IR energy in the RGB laser solution, we can essentially enable up to 20% more light from the projector than when operating using the Xenon lamp", commented Branca. "And, the light level will be more consistent over the 30K hour lifetime of the lasers (the 30K hour spec is to 80% of initial brightness)".
"If you run the projector at the same light level as the Xenon version you replace, you can see up to a 50% reduction in power consumption. This is exactly what we measured in our lab when operating at 25C", concluded Branca. "At higher operating temperatures, the power savings will be less as the chiller has to work harder".
Some in the industry have expressed concern about such retrofit solutions in terms of the increased heat loads and possible damage to the optical components. "We have done the analysis and feel comfortable with what we are offering – so much so that we will honor the warranty on the projector after the retrofit for up to 7 years", stated Branca.
We then asked Ottoni how customers were reacting to this product offering. "They all see that there is an improvement in image quality and experience, especially for 3D, so the main question comes down to pricing and financing".
This is where it gets a little tricky as Cinemeccanica does not like to publish its laser module price list as this can create some sticker shock. We have seen the Cinemecanicca price list and the RGB laser sources start at $95K for the 19K lumen version and go to $230K for the 57K lumen solution.
As a result, all discussions at this stage are customized to evaluate the installation and create a total cost of ownership (TCO) analysis. This may include increasing the light level, power savings and Xenon bulb replacement costs over a 7-8 year time frame.
"Our analysis suggests that for a theater operating 10 hours per day, 7 days per week, the RGB laser solution makes sense for screens that are consuming 4.5kW or more power", stated Ottoni. In other words, smaller screens using 3kW Xenon lamps are not the best candidates, but bigger, flagships screens are.
So far, Cinemecanicca has 3 working installations in Italy, Bucharest and Paris. They hope to reach 10 installs by the end of the year, with more after that, of course. – Chris Chinnock