3M Touch Systems had no new developments since ISE but was demonstrating the table with special object tracking application that was also being shown by its customer, Pyramid Electronics. The technology comes from Interactive Scape of Berlin.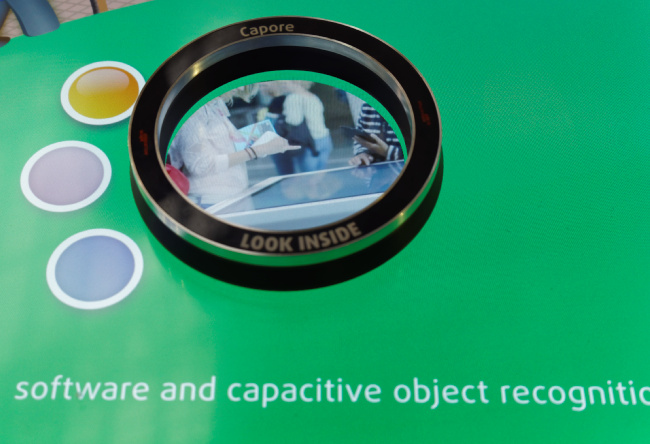 3M was showing, along with Pyramid (Polytouch), this object which is recognised by the procap system. Image:Meko
Anders and Kern was at the event to show a PADS-based video wall (with software from Net Display Systems) and its own digital signage software which has now been ported to directly support both Samsung and LG Smart Displays. It was also showing small displays used with its 'Evoko' room booking software system. The company was also showing a concierge system from Fischer & Kern that supports RFID.
Armagard is a UK-based supplier of totems and display enclosures that tends to specialise in QSRs and also bus-related applications, especially outdoors. It supplies standardised enclosures from 32″ to 75″, but has handled displays up to 160″ for custom projects. It can support procap touch and the company told us that it is 'agnostic' about particular display suppliers and tries to ensure it designs work for all brands.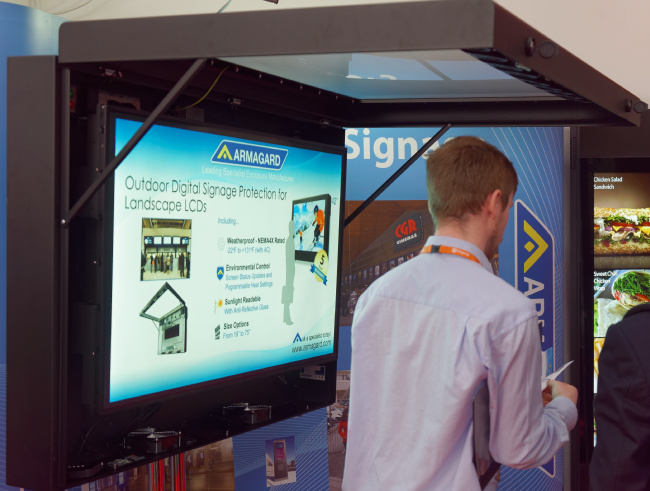 Barco had a small booth with LCD and LED-based products but was focusing mainly on its digital signage software that can be used with cameras to detect dwell times, gender and age of viewers. The company positions its software at the upper end of the market. It also had demonstrations of the software being used in fitting rooms.
Dynascan was at the show, but had no new products since our report at ISE. The company did confirm to us that the news that Samsung Display is looking to boost its cell-only business in B2B LCD might be good news as it may make it more likely that Dynascan would look at Samsung as a supplier.
ELO was highlighting its cloud-based EloView software technology.
HandyAV is a UK-based integrator that specialises in retail applications, including content management and creation and told us that it works closely with Primark and TSB in the UK.
Iiyama was sharing a booth with Brightsign and Peerless that was focusing strongly on touch displays.
Innonet won a prize at the show for its very portable LED modules that are Android-based smart LCD displays designed to be flexibly used in retail. Innonet is the UK agent for Liulink based in Beijing, which makes the units and sells them under the Sannova brand. They were being shown with support legs for 'easel' use (including with a special battery holder) and were also mounted on the wall (with the stand attached or without). Weignt is just 13Kg and the displays are available in 32″ and 46″ and with brightness of 300 cd/m². In battery-based operations, lifetime between charges is from 3 to 10 hours, depending on the battery used. Prices start from £500 ($720). Wi-fi support is standard and 3G is available as an option.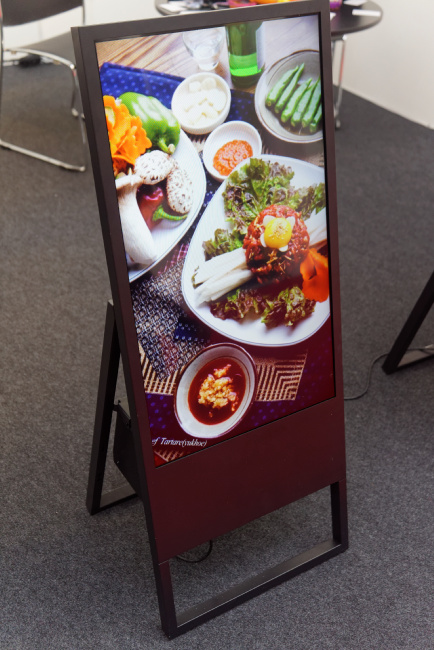 This Sannova Easel display won an award at the show: Image:Meko
We have previously reported on Inurface Media from the Kiosk and Digital Signage London events, the second of which seems to have been absorbed by RDSE. The company is an integrator and installer and we have also met the firm at NEC showcase events. At the event, the firm was showing a 3 x 3 46″ video wall and was showing how it could be integrated with apps running on tablets. The company was also showing a 55″ dual sided totem that is rated to IP55.
MultiQ of Sweden, which last year bought Mermaid of Denmark, XXX, was at the show to look for new clients. Around half of the firm's business is from international customers. It tends to do better, historically, in transport and gaming as well as retail. Big customers include Bauhaus in Germany. Although it will supply hardware alone, the company is increasingly involved in cloud-based and back end software as well as other integration and content-based services.
Pixelution is a hardware reseller of high brightness and video wall displays. The company is the UK distributor for the Fida range of outdoor displays. We were impressed with a high quality design that was on display. The chrome casing on the monitor has cable clamps at each side and the displays can be clamped to the cables, which can be fixed between floor and ceiling, or free hanging. Power can be delivered to the displays via the cables, and if the internal media player is used, the whole system is very neat. Up to four displays can be supported by a single PSU unit. The units are fitted with toughened glass for retail environments and the case is available with a brushed or polished finish.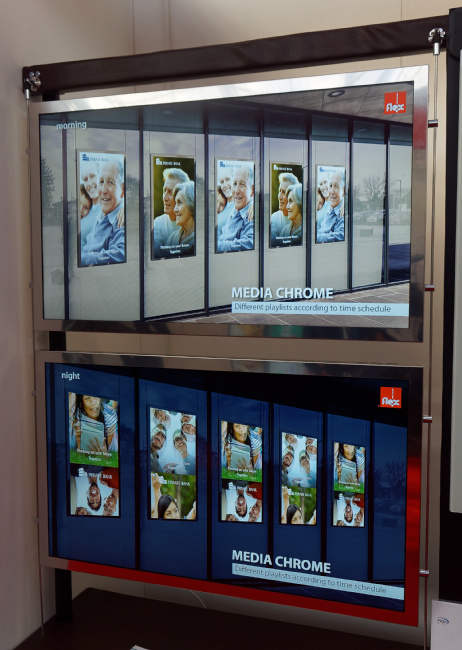 The power for this display comes from the wires at the side. Image:Meko
UK LED and video wall specialist distributor, PSCo, now part of the Midwich group, had a booth at the show for the first time. It was showing a 1.6mm Absen display and it looked good. The company told that it estimates that 60% of its LED sales are into retail.
Samsung didn't have anything that we haven't reported before, but was demonstrating the Gear VR. It was only when we had left the show that we realised that we had not been conscious of whether Samsung had been showing LEDs. If it was, it wasn't making much of it!
Seloy was showing a 'holographic' rear projection touch display which is designed to allow retail windows to be used for interaction, for example when a store may be closed. The touch technology is capacitive and staff told us that table configurations are also possible. The solution is washable, which is important in some applications and the screen is double glazed. It can be supplied in sizes up to 6 metres x 3 metres and in terms of performance, the company said that "the brighter the projector, the better the performance". (We found the projector hotspot quite distracting, so were not entirely convinced by this assertion – Man. Ed.)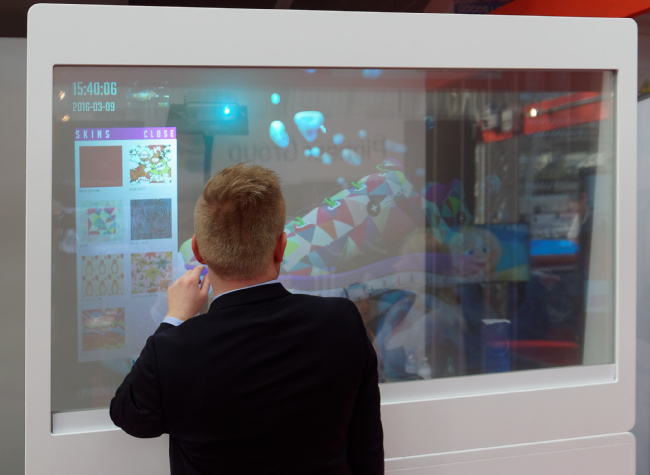 Seloy's RP transparent display had an irritating 'hotspot'. Image:Meko
SimpleLED is a UK-based start-up that, as its name suggests, is trying to simplify the purchase and specification of discrete LED displays. Rather than offer modular solutions, all of its displays are monolithic cased products, which it sources from six suppliers in China. Supported pitches are from 1.8mm to 6mm and it has outdoor as well as double-sided options. An unusual product is a 1.8mm "foldable" display which is also available with an integrated media player and Wifi as well as HDMI connections for a 'plug & play' solution. Other solutions include HDMI daisy-chaining to make multi-display support easy and the company also has 'mirror' and touch options. The firm tries to be very competitive and was offeringa 1926 x 500 sized cased solution for £5,053 ($7,250).
There is a also a range of P4 LED modules available in heights of 600mm, 1.2m and 1.8m that the company plans to sell into call centres and industrial applications to replace traditional displays. Products are available with enough brightness for window use or even outdoor and there are double-sided options.
Skrach is a company that started as a specialist installer in the retail segment, but has been buiilding its business to become a full systems integrator. At the show it was joined by Relevance Analyics who told us that they are using a wide variety of sensor readings including those based on cameras and wi-fi analysis to measure and track footfall as well as helping to ensure correct staffing levels and optimise queuing. Cloud-based analytics software helps to measure retail campaign performance.
Toshiba was showing the digital signage displays that we saw at ISE and also POS technology.