At Digital Signage Expo 2016, Sharp quietly introduced a Mini OPS solution that it has developed in collaboration with Intel.
The Open Pluggable Specification (OPS) was originally introduced by Intel in 2010 (Display Monitor Vol 17 No 39), as a way to standardise the fragmented digital signage market. Mini OPS builds on the original specifications with new features. These include a fanless design; small size (half the size of OPS); lower bill of materials; an innovation roadmap, detailing its advances with new Intel processors; energy efficiency; and new connectors, supporting UltraHD resolution.
Under the '[email protected]' banner, Sharp announced that it is basing its next-generation signage platform architecture on Mini OPS, for touch and professional non-touch displays. The solution will be LEED-compliant and support Windows 10 Enterprise.
As well as the OPS solution, Sharp showed its full line of commercial and professional 1920 x 1080 and UltraHD displays. Also on show was an 85″ 8k 120Hz IGZO LCD screen, with wide colour gamut and HDR technology.
We have full coverage of other announcements from Digital Signage Expo in our separate report: DSE Highlights Changing Face of Signage.
Analyst Comment
We've been following this story for several weeks, but either people knew about it and couldn't tell us, told us, but swore us to secrecy, or just went very quiet. Anyway, Sharp has let the cat out of the bag now. I was slightly surprised to see Sharp doing this as the original OPS specification was developed mainly by Intel and NEC. Sharp is working with AOpen, a supplier of mini PCs, to support Mini OPS. The architecture of the OPS is simple.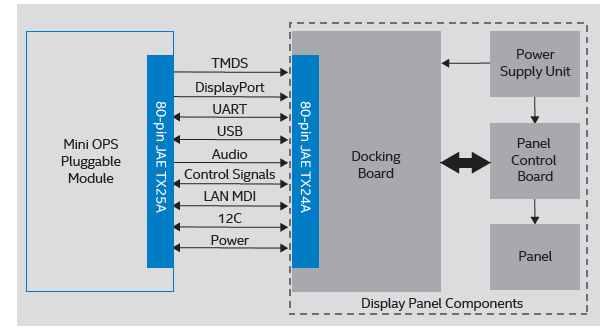 The connectors for the interface have been changed to allow support of UltraHD which can be transmitted using DisplayPort.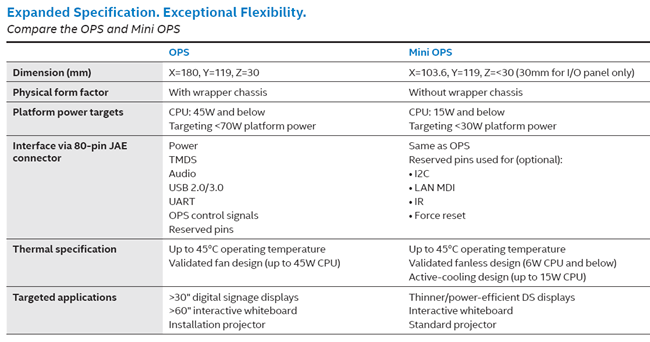 The lower power limits of mini OPS mean that, for the moment, functionality will be significantly less than that of the existing OPS platform, which will continue to have a place. However, given the way that electronics develops, gradually more and more of the functions of the current generation of OPS will move down to mini OPS, especially if it is cheaper. The LAN MDI and I²C bus connections use pins that were previously reserved. It's noticeable that the mini OPS slot is for "standard" projectors – which could be one reason for the smaller module. After all, there are few digital signage displays where space was an issue in the past.
It's slightly surprising that the depth of the module has not been reduced. NEC has released a desktop monitor with OPS support to allow the use of special interfaces such as SDI for broadcast applications and if it had been much smaller, it might have been adopted for more of this kind of application.
One of the significant changes between OPS and mini-OPS is the addition of LAN MDI. This will allow ethernet from the mini OPS to talk to an internal ethernet device and that could mean some interesting developments where a module in a mini OPS slot would be able to directly interact with a Smart Display.
The specification is dated March 2016, and we heard that the specification has only just been finalised, so it's not clear when products that use it will be available. We'll report back when we find out. (BR)