In addition to Da-Lite, several other screen companies were demonstrating their products at Infocomm as well, although none of the others had product introductions comparable to the Parallax screen. Several of them already have high-contrast front projection screens for this market, including DNP's Supernova and the Screen Innovations Short Throw screens.
Screen Innovations short throw screen used with a Sony 4K projector.
Screen Innovations was demonstrating their 5 Series Zero Edge Short Throw screen with a 4K Sony home theater front projector. The screen Innovations representative said theirs was the only short throw, high contrast front projector that was rollable, even though it was made out of glass. For shipping, these screens are rolled up on a 2' (61 cm) diameter core. This greatly simplifies shipping the screens, especially in the larger sizes, compared to their competitors that use rigid materials. He added that these screens could be made up to 8.5' (259 cm) high and up to 99' (30M) long.
What Screen Innovations really wanted to talk about, though, was the fact that they shipped the first screen to the International Space Station this April and it is now the first projection screen in space. It was a relatively conventional flexible screen, although they had to make sure it wouldn't out-gas in space. The representative said one of the reasons it was sent up there was to allow one of the astronauts to Skype with his children and help them with their homework. Skype with a small screen like a tablet didn't allow him to see the homework well enough to help.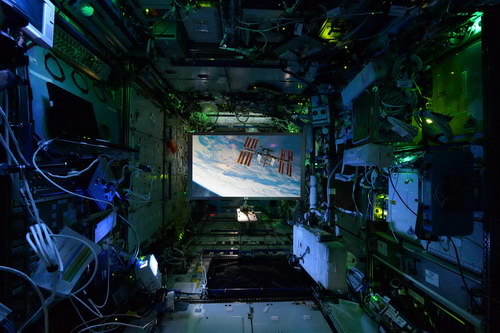 First projection screen is space was supplied by Screen Innovations
Draper was showing a screen made with their new process that they say is optically seamless and allows screens up to 23' (7.0M) high and 120' (36.6M), with a single horizontal seam across the center. Unfortunately for them, it wasn't optically seamless and, depending on the content, the seam was relatively easy to see. Still, it would probably be good enough for a large corporate event. Few home cinema screens are that big and Draper is not a player in the cinema screen business. Other than this seamed screen, Draper seemed more interested in showing off its screen mounting hardware than the screens themselves.
DNP was showing off its Supernova screen. It's a good screen but since I wrote about it a year and a half ago, it isn't new. The thing that was new at the DNP booth was a DNP-branded short throw interactive projector targeting the education market. It came with a bundle that included the screen, software and projector. I'm not sure quite why DNP has done this, since it puts them in competition with their screen customers. (See also our story on Coretronic where a bundle was being promoted Coretronic Sells Laser TV in China.)
Stewart Filmscreen was showing off its LuminEsse front projection screens with short throw projectors. This was not a contrast-enhancing screen like the ones shown by Da-Lite, DNP or Screen Innovations, so contrast was poor. Stewart was also showing off its new Fidelity Vision material to go with fine-pitch LED video walls. This diffusive material noticeably reduced the resolution and contrast of the underlying LED display. It may have application in on-set use since it is specifically designed to reduce moiré between the LED wall and a camera. Still, I was not impressed. –Matthew Brennesholtz