Philips organised its booth around vertical markets and applications. Over the last couple of years, the company has started to put together a very solid story in its go-to-market strategy. We heard that Chris Sluys, who is GM of the BU for digital signage and Hotel TV in Europe is heading off for a new challenge at the end of March. No doubt he will be missed.
One of the new products that we looked at was in the retail section. Philips has a new controller that can deal with arbitrary arrangements of displays and distribute images over the displays. The firm also has a new 10″ device for POS applications that has a full Android system integrated. IT can be run by PoE and could also see applications in areas such as wayfinding and meeting room signage.
One of the challenging areas for all established digital signage brands is the LED market. Clearly it will impact the upper end of the market, so brands need to react. However, it's not obvious how they will have an advantage. Philips has addressed this clearly by developing modules that can exactly replace existing 55″ video wall displays but will use 1.8mm or 2.5mm LEDs (0.9mm and 1.3mm will also be options). Philips has worked with Dutch display mounting specialist, Vogels, to develop specific mounts for the project. Philips has ensured that interfacing is also 'commodity' type. (Unfortunately, our photo of the back of the unit is a little out of focus, but it looks distinctly Leyard/Planar-ish!)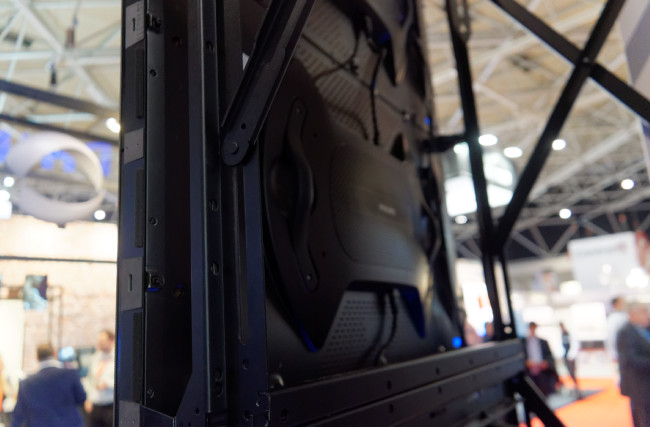 The Philips LED looks Leyard-ish, to us. Image:Meko (apologies for poor focus)
Philips has new video wall displays with both 500 and 700 cd/m², but in 55″ only. It has also developed a new software application or CMS that can control all of Philips different displays and there was a demonstration of how all the screens on the booth could be monitored and controlled from a single PC interface. Content and inputs can be controlled as well as the power state being controlled or monitored. Not only can the digital signage displays be accessed and controlled, but the Hotel TVs as well. The software is being provided to resellers so that they can develop apps and add-ons as well as offering remote management services, a useful potential source of revenue in these tough days.
Philips also had a partner area including a joint promotion with TeamViewer.