Optoma was meeting channel partners in a suite in the Westgate to show its planned products for the home market.The company was keen to point out that the products at the event are for the US market and may, or may not, appear in Europe.
We first looked at a new GT1080 Darbee which is a UST projector for home users with Rec.709 support and DarbeeVision video processing and which has been optimised to have a low latency gaming mode. The price is around $699 which is very attractive for this kind of performance – it has an output of 3,200 lumens. It should be available around May or June.
Optoma's GT1080 Darbee is for gamers. Image:Meko
There will also be a traditional version of the projector, the HD29Darbee which shares pricing and specifications.
Next we looked at a new IntelliGo projector, a 720P pico projector with 500 lumens and an integrated media player and running Android 4.4 as well as supporting connections via Bluetooth, Wi-Fi and ethernet. It will cost $599 and will ship in February or March. A version for business users will run a version of Windows 10 and will cost around $699.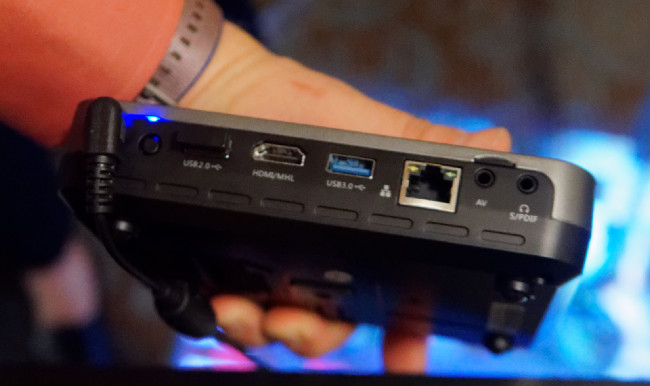 Optoma's Intelligo will be available with Android or Windows. Image:Meko
The UHD60 is the firm's first '4K' consumer product and will start to ship in the 'middle of the year'. It will produce around 'mid-2K' lumens and will support HDR, while pricing is targeted at $2,800. A feature of the unit will be that it has very low noise.
As well as these products, there were a number of 'technology demos' of concepts that may, or may not, appear in the US market. There was a 1080P laser phosphor unit that produces 3,000 lumens of output (estimated at $3,000 if it came to market) and an UltraHD UST L/P projector with HDR10 support and 3,000 lumens of output. That one had a nominal price of $19,999. Our notes indicated that we thought the image quality was very good and that the screens were from Screen Innovations.