Home Entertainment – Ooyala has released the Q2'2014 Global Video Index Report, indicating the rise of mobile video viewing. Ooyala is a streaming video company that combines technology solutions with data analysis to provide a more successful implementation to their customers. 
Their latest report looks at the video views via streaming and what portion is accessed on a mobile device. They count smartphones and tablets as mobile devices versus PCs and connected TVs.
Their numbers show a significant increase in mobile video views as shown in the following graph.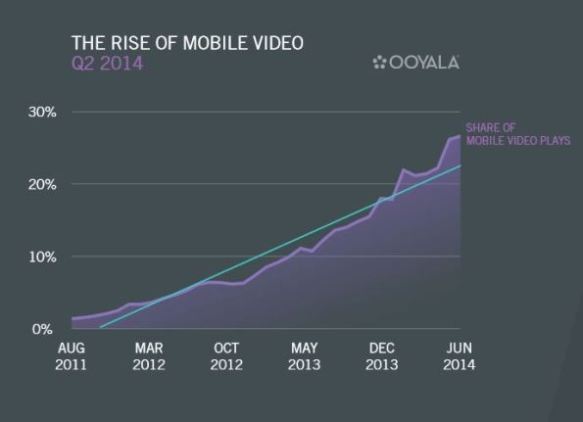 Source: Ooyala
As we can see, the increase in mobile video views has been quite impressive over the last three years. As Ooyala points out, the share of mobile views has increased by a factor of four in the last two years and doubled in the last year alone. They also expect this number to double again to roughly 50% within the next two years.
Looking at the chart, one may even expect faster growth than that. If PC and TV views are considered the alternative to mobile video views, I would expect that the mobile access will be leveling off not at 50% but at a much higher number. This is based on the continued growth of smartphone and tablet devices versus the traditional TV and PC platform.
Ooyala attributes this growth to several factors:
mobile devices with larger screens (especially smartphones)
wider access to faster connection speeds
increase of free available content (measured by daily video uploads)
the young millenial factor.
With the millenial generation's growing influence on society (currently teenagers to 34 year olds) their tech-savvyness and interest in social media are among the strongest differentiators from older generations. These attributes make them the perfect consumer for mobile video.
Ooyala also released some information on what type of video people are watching on what type of device. Not surprisingly, shorter videos are more likely to be watched on smartphones and longer ones on tablets, because of the larger screen size. According to their data, 45% of all mobile video views are videos of 6 min or less in length. On tablets, 23% of the time is spent by watching videos 30 to 60 mins in length. This means that even mobile video viewers appreciate a larger screen size.
They also compared the mobile video viewing in Boston during a rainy week in April to a sunny week in June. They found that during the sunny week, mobile video viewing was up considerably on smartphones and tablets during the sunny week, but the total spent on watching streamed video was up during the rainy week with most of the extra time spent on the PC. People just don't go out as much during rain seems to be the logical explanation.
As we can see, the video and TV platforms are taking a good look at the habits of their new and future customers. Of course this ties in very nicely with Charlie Rose's interview with Tim Cook and Apple's view of the TV landscape. While Apple was mostly looking at the user interface, Ooyala shows us that also content and delivery systems are up for questioning. Changes in this industry are imminent, if we only knew where to go from here. – Norbert Hildebrand