In case you missed it, last week (April 21) OnePlus launched two new 5G-compatible flagship smartphone upgrades with "fluid" (90 and 120 Hz refresh) AMOLED displays, capacitive touch screens and HDR 10+ support. The good news for OnePlus is both size displays (made by Samsung and factory calibrated by OnePlus) are "Text Book Perfect Calibration Accuracy," according to the latest shoot-out results."

Dr Ray Soneira of DisplayMate Labs wrote, " …both models receive a DisplayMate Best Smartphone Display Award earning the highest ever Display Performance Grade of A+ and setting or matching 10+ Smartphone Display Performance Records, including 4 that are Indistinguishable From Perfect."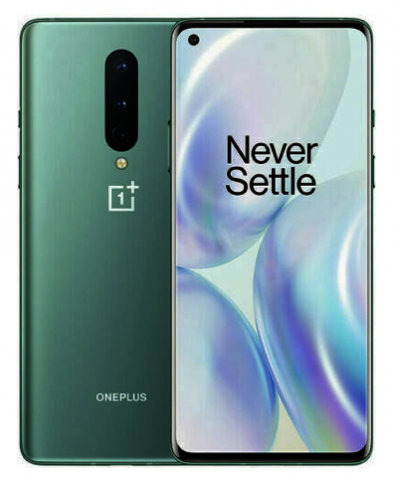 Oneplus8 source: Company
Top display performance highlights of the OnePlus 8 shoot-out include:
Very High Absolute Color Accuracy (0.3 JNCD) that is Visually Indistinguishable From Perfect.
Very High Image Contrast Accuracy and Intensity Scale Accuracy that is Visually Indistinguishable From Perfect.
High Brightness Mode (up to 1,444 nits) in High Ambient Light.
Peak Brightness, Color Accuracy, Contrast Accuracy and Intensity Scales that are Independent of the on-screen Average Picture Level APL.
Small Shifts in Brightness and Color with Viewing Angle, including White, which is the most common background color.
OnePlus 8 Pro sets or matches 13 Smartphone Display Performance Records, earning DisplayMate's highest ever A+ grade.
Like other top performing Samsung AMOLED displays used in smartphones, this is a curved screen (flexible AMOLED display) built on a flexible plastic substrate that bends (once) around corners providing a two curved edge display that adds to the total display area and viewed while the phone is laying flat face down. The screen is conventionally rigid, mounted under a hard cover glass.
The Full Screen design (6.8 inch diagonal) fills almost the entire front face offering "…a high 94% Screen-to-Body Ratio," according to the report. To accommodate the front selfie camera, there is a very small circular "punch-hole" at the very top of the screen (just 4mm in diameter, or about 0.1% of the total display area)
The Plus8Pro offers extra space for Notifications and for displaying multiple apps and content simultaneously on-screen side-by-side, with a display form factor that includes a taller height to width aspect ratio of 19.8 : 9 = 2.20, (24% larger than the 16 : 9 = 1.78 on most Smartphones and TVs)
Basic specs for the OnePlus 8 6.55-inch diagonal displays include
2400?×?1080 1080p, (402 ppi with 20:9 aspect ratio),
90 Hz refresh rate,
16M colors.
The 8 Pro features a
6.78 inch diagonal 3168?×?1440 1440p, that's 513 ppi with 19.8:9 aspect ratio
a 120 Hz refresh rate,
1 billion colors.
As Samsung continues to improve its AMOLED smartphone panels, a plethora of vendors have figured out the in house calibration magic needed to make these displays excel with each succeeding generation. (for more on this see Pixelworks Gaining Wins for its Smartphone Processing – Editor)
Don't miss the full DisplayMate Labs shoot-out to be found here. –Stephen Sechrist
OnePlus 8 Series Establishes Unprecedented 120 Hz Smartphone Display Differentiation with Pixelworks Fifth Generation Visual Processor and Software
Goodix's Ultra-Thin Optical IN-DISPLAY FINGERPRINT SENSOR Kicks off 5G Commercialization with OnePlus
OnePlus Releases Its New Flagship Smartphone
OnePlus 6 Uses the Same Processor as the Samsung Galaxy S9