On April 16th, AVIXA hosted a webinar titled "Rewriting the Future: Emerging Video Trends for Corporate Events" that I attended. The webinar focused on emerging online video trends for corporate events including mixed reality (MR) and live streaming.


Some Providers of On-Line Event Software (Credit: Animatic Media)
In these days of the coronavirus, glitzy corporate meetings or trade shows with hundreds or even thousands in attendance are simply not possible. Many meetings and tradeshows on the schedule have been delayed or canceled, including, for example, Avix's own InfoComm which was originally scheduled for June 16 – 18 in Las Vegas. Instead of delaying InfoComm, Avixa has turned it into an on-line, virtual event, InfoComm Connected, for the same three days in June.
On the other hand, the Society for Information Display (SID) has decided to delay Display Week 2020 from the originally scheduled for June 7 – 12 in San Francisco to August 2 – 7 in San Jose. Of course, the SID risks the possibility that August will be too soon and they will either have to postpone again or cancel the in-person event. In addition, there is the near-certainty that Display Week will have reduced attendance from people unwilling to travel, even if it is allowed by then.
The solution to this is a virtual event, as discussed in this webinar. There were two presenters: Scott Frankel, President of Animatic Media, LLC and Peter Harding, Head of Creative Technical at Hawthorn, now a wholly owned subsidiary of PSAV. Animatic is a company that organizes and provides software for on-line events (PSAV is a competitor in the same business) and Hawthorn is a Pro AV rental company that can provide hardware and software to clients for online events. An example of an online-only event, not originally planned to be in person, is LAVnch Week, hosted by rAVe, April 27 – May 2, although I don't know if either Animatic or Hawthorn is involved in this event – rAVe's conferencing software provider is Zoom.
Scott Frankel spoke first. He talked about the types of software needed to produce an online event and the features needed in that software. Some software packages available for this application are shown in the image above, including Conference-on-Demand+Live from Animatic. This particular webinar didn't use Conference-on-Demand+Live like you might have expected, it used Zoom. While this webinar was just a few days after warnings came out on the potential security problems with Zoom, the webinar went off without a hitch and seemed to have all the features needed, at least needed for a one hour webinar with only two speakers.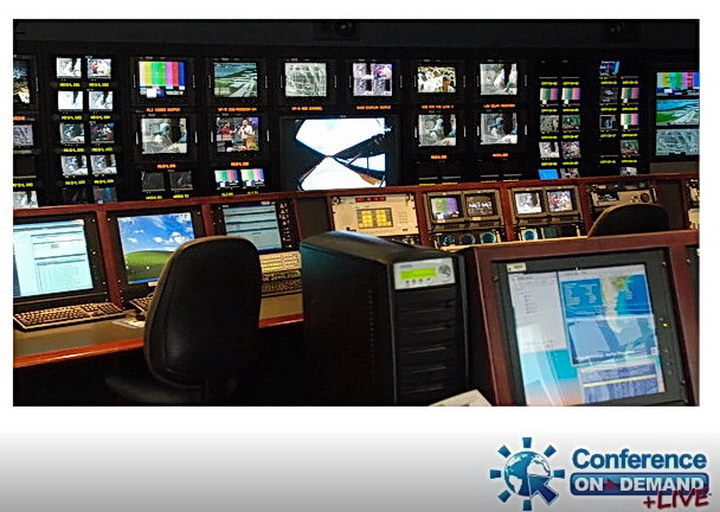 Conference-on-Demand+Live is like a TV production studio dedicated to producing live, on-line events. (Credit: Animatic Media)
Animatic Media has been a full-service video and live corporate event production company for over 20 years. The original software, Conference-on-Demand, has been available for many years and was designed to be used by the producer of a live meeting to manage all the AV assets used at the meeting. This included filming the speakers and showing their presentation materials on the screen, showing walk-in and between-speaker video content, adding logos and other lower-thirds information such as speaker names and affiliations to the live video, putting the content from remote speakers on the screen, streaming the content live to remote audiences and much more.
The Conference-on-Demand system allows for multiple, parallel tracks for meetings, up to 30 tracks. One of Animatic's goals with Conference-on-Demand was to allow streaming of the meeting to additional viewers almost as soon as the meeting was over. Some other meeting production software requires a significant amount of post-meeting production work to assemble the various video segments into a coherent whole for streaming but this is done in real-time with Conference-on-Demand.
The recently introduced Conference-on-Demand+Live is based on Conference-on-Demand and has all the same features as Conference-on-Demand, with one major difference: there is no in-person meeting. The meeting is streamed live as it is produced and neither the speakers nor the audience nor the production crew need to collect in a single location. Like the original version, the new version allows streaming both in real time and after the event is over. The special software is all at the originator's end and end-users need only a web browser or simple app at their location. The location can be a laptop, tablet or smart phone and, in the days before and (hopefully) after the days of the coronavirus, a corporate meeting room where there can be multiple attendees.
Frankel emphasized there were several things that any group who wants to host an on-line event should look for before choosing a producer and a software package to be used if they want to duplicate the end-user experience of an in-person meeting. These include:
Custom web portal to manage registrants and house content
Custom templated meetings with options for your needs
Ability to play videos and commercials full screen
Lower thirds content (logos, speaker names and affiliations, etc., regardless of their location on the screen) in real time
Polling of the on-line participants
Q&A capability
Ability to provide speaker-generated content, such as PowerPoint, Word or PDF files, to the on-line participants at the desired time, i.e. either real time or after the event ends.
Ability to manage the post-event streaming of the event.

Conference-on-Demand+Live can provide searchable session listings and testing for CEUs. (Credit: Animatic Media)
Not all these features are needed for simple webinars and other short meetings. One thing is needed, however, if you want to duplicate the complexity and depth of even a half-day corporate event: knowledgeable people to produce the event. Some organizations may have this production talent in house, others will need to hire an independent organization that produces corporate events such as Animatic Media or PSAV. The cost of producing an on-line event to duplicate the properties of an in-person event can be significant. However, there are cost savings over in-person events, such as not needing to rent a venue for the event or provide lunch for the attendees. On the other hand, one on-line event I attended recently, a half-day presentation by Black Box and the SDVoE on their video transport technology, did provide lunch through a $25 DoorDash certificate.
Scott Frankel hosts an 8 minute video that gives a brief introduction to Conference-on-Demand+Live, available for viewing on the Conference-on-Demand home page. To view it, click on the "View Demo" icon. According to Frankel, this video was produced by recording a live Conference-on-Demand+Live session.
Today's DD looked at what it takes to produce an on-line corporate meeting that matches the end-user experience of an in-person meeting. Part 2 of this DD, to be published tomorrow (April 30), after a review of PSAV's "Global Live Events Day," will focus more narrowly on the technology provided by Hawthorn that allows the inclusion of XR, MR and AR content in that presentation. – Matthew Brennesholtz