The global smartphone market ended 2021 on a mixed note. 4Q21 saw another year-over-year (YoY) shipment decline, however the encouraging performance of the market in the first half of 2021 resulted in positive YoY growth in annual basis compared to 2020.
Shipments declined 6.6 percent YoY to 356.4 million units in 4Q 2021, compared to the 381.8 million units shipped in 4Q 2020 – according to the latest Omdia global smartphone shipment preliminary result.
In 2021, 1.34 billion smartphones shipped globally, up 3.4 percent from the 1.29 billion units in 2020. The first half of 2021 was impacted, positively, by the recovery of the market which had begun towards the end of 2020 when the first rounds of COVID-19 restrictions were eased globally. After four quarters, growth ended in 3Q21 in the smartphone market. On-going component supply constraints and COVID-19 continues to impact smartphone makers and consumers around the world.
Samsung remains #1 smartphone OEM in 2021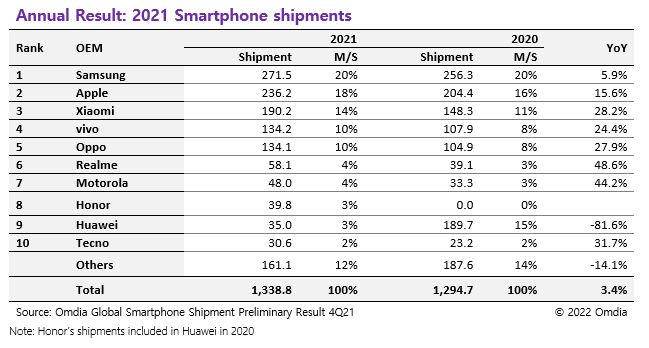 Samsung remains the top smartphone OEM for yet another year. The company ended 2021 shipping 271.5 million smartphones, up 5.9 percent YoY from 256.3 million units in 2020.
In second place, Apple shipped 236.3 million units, up 15.6 percent compared to 2020. Apple's market share grew from 16 to 18 percent, while Samsung's was flat YoY.
Xiaomi, vivo and Oppo each grew shipments over 20 percent in 2021. Xiaomi, in third place overall, shipped 190.2 million units, compared to 148.3 million units in 2020 – up 28.2 percent.
vivo, on the other hand, shipped 134.2 million units in 2021, up 24.4 percent, from 107.9 million in 2020. Ranking fifth overall, Oppo shipped 134.1 million units – an increase of 27.9 percent compared to 2020.
The biggest jump, percentagewise, in 2021 came from Realme. The company shipped 48.6 percent more smartphones in 2021 than in 2020, up from 39.1 million units to 58.1 million. Motorola continues to expand its market in North America and Latin America regions. Aided by the exit from the smartphone business by LG, Motorola grew shipments 44.2 percent to 48 million units, compared to 33.3 million units in 2020.
Huawei spin-off Honor claimed 8th in the annual Top 10 list, shipping 39.8 million units in 2021, its first years as independent entity. Honor has been able to accelerate its grown through 2021, shipping 3.6 million units in 1Q and 15.0 million in 4Q.
In 9th spot, Huawei saw shipments fall a staggering 81.6 percent, compared to 2020 – shipping 35.0 million units, down from 189.7 million units in 2020. Lastly, Tecno grew shipments 31.7 percent YoY to 30.6 million units, up from 23.2 million in 2020.
Top 10 smartphone OEMs: 4Q21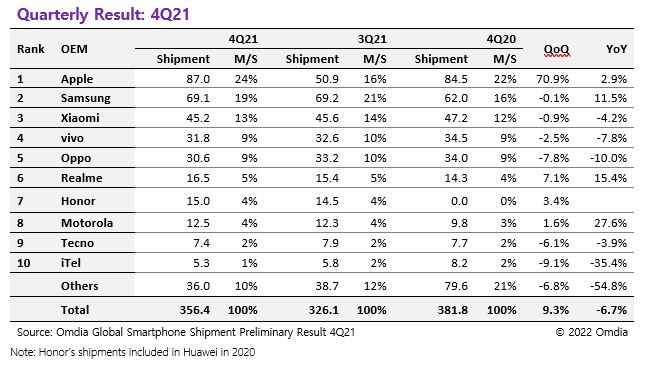 When analyzing the market on a quarterly basis, Apple took the top spot, shipping 87.0 million units, up 2.9 percent YoY, compared to the 84.5 million units shipped in 4Q20. The company saw shipments rise 70.9 percent quarter-on-quarter. "With the release of the iPhone 13 series, the overall iPhone ASP in 4Q is expected to exceed $1,000 for the first time. This resulted in a higher growth rate in revenue compared to the number of units" said Jusy Hong, Senior Manager in Omdia.
Samsung, in second spot, saw shipments decline 0.1 percent QoQ but grow 11.5 percent YoY. Samsung shipped 69.1 million units in 4Q21, up from 62.0 million units in 4Q20, and down slightly from 69.2 million units in 3Q21.
Xiaomi's shipments declined YoY and QoQ to 45.2 million units in 4Q21, from 45.6 million in 3Q21 and 47.2 million in 4Q20. The big three Chinese OEMs, Xiaomi, OPPO and vivo all saw YoY and QoQ declines in 4Q21.
Vivo shipped 31.8 million units in 4Q21, compared to 32.6 million in the prior quarter and 34.5 million in the quarter a year ago. OPPO shipped 30.6 million units – down from the 33.2 million units it shipped in 3Q21 and down from the 34 million units shipped in 4Q20.
Realme jumped to 6th position globally, shipping 16.5 million units in 4Q21 – up from 15.4 million in 3Q21 and 14.3 million units in 4Q20, increases of 7.1 and 15.4 percent, respectively.
Honor landed in 7th position in 4Q21 – shipping 15.0 million units, up from 14.5 million units in 3Q21.
Motorola, in 8th place, increased shipments by 27.6 percent YoY, from 9.8 million units in 4Q20 to 12.5 million units this year. Motorola's shipments also grew slightly QoQ, by 1.6 percent.
Transsion holdings brand Tecno saw shipments declined by 6.9 percent YoY, from 7.7 million units in 4Q20 to 7.4 million units this past quarter.
Rounding out the top ten, iTel shipped 5.4 million units or 35.4 percent less than in 4Q20. Compared to 3Q21, iTel's shipments declined 9.1 percent, from 5.8 million units. "Lack of components supply had a relatively greater impact on the production of low-end smartphones, leading to a decrease in shipments of these OEMs" said Zaker Li, Principal Analyst in Omdia. "This is still ongoing and is expected to exist as a risk factor for the smartphone market this year" Li added.