I was just settling down to do a deep dive into a techie topic related to virtual production and LEDs, when I saw a message on LinkedIn. Once there, I spotted a paper that is available for download from David Hsieh of Omdia. David is one of the most experienced analysts in the display business, and he was providing the firm's view on OLED penetration in mobile PC displays. That topic is, and will continue to be, one of the hottest topics for the display industry over the next few years so I couldn't resist it as a topic today.
The report summarises the benefits of OLEDs in IT products as well as looking at the companies that have adopted the technology. If you're new to the topic, it's worth a look as a solid grounding, but Display Daily has covered this ground often. There's a nice chart showing the steady growth of OLEDs to date and that also highlights the significant difference to production that will arrive when Apple moves from miniLED LCD to OLED as its premium display technology, first in the iPad Pro and later in the MacBook Pro. Omdia believes that hybrid OLEDs using glass substrates with thin-film encapsulation (TFE) will be the architecture used. The OLEDs will be stacked OLEDs to give higher performance with less image sticking.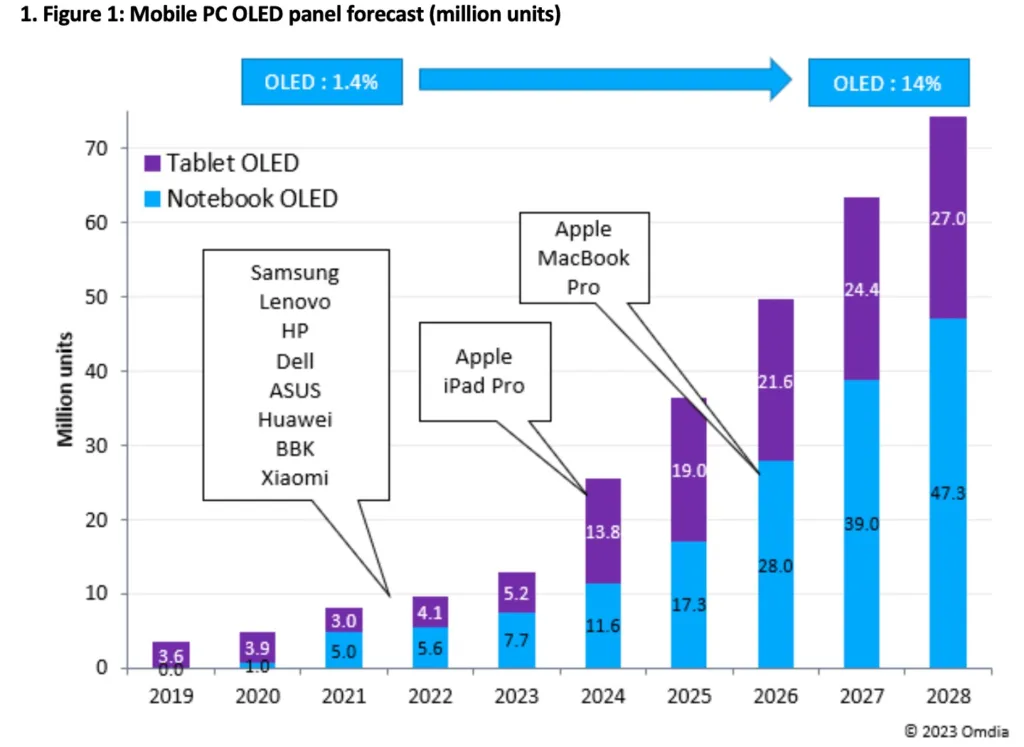 In 2022, OLEDs in notebooks and tablets were really a niche at just 2% penetration (9.7 million from 216 million notebooks and 256 million tablets). MiniLED is a slightly bigger niche at 15 million (3.1%) based almost entirely on Apple's use of the technology in the 12.9″ iPad Pro, the 14.2″ MacBook Pro and the 16.2″ MacBook Pro. Bloomberg's Mark Gurman has also said that Apple is planning a new 15.4″ MacBook Air, although that would seem unlikely to use miniLED.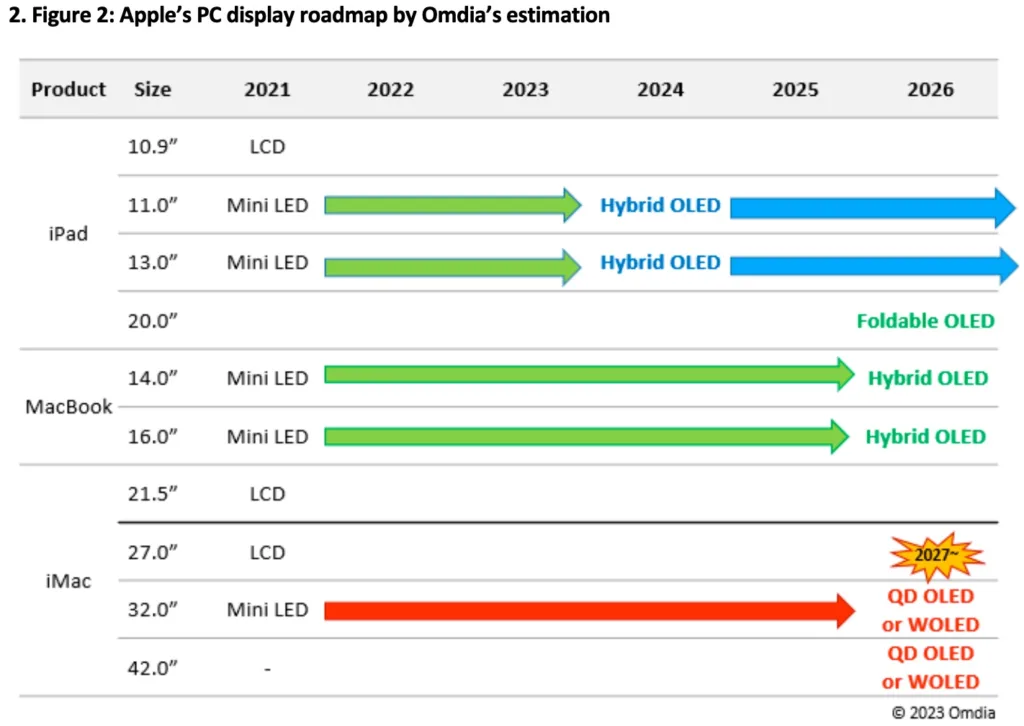 MiniLED is in something of a difficult situation with cost a huge challenge and a 'chicken and egg' problem. Much larger volumes would drive costs down, but without lower costs, the penetration won't grow quickly. The PC and display industries don't have a company like Meta that can ship hardware at cost just to drive adoption, so miniLED is likely to be at something of a crossroads for the next year. I'm an OLED devotee and in terms of image quality, it has been my favourite for many years, but the miniLED on my iPad Pro is awesome. I really wouldn't want for more from the display, but the iPad Pro is bulky and heavy (heavier than my ThinkPad X1 Carbon when it has the 'Magic' keyboard).
As we reported a couple of weeks ago, Samsung has formally announced the expected new G8.7 fab to support the development of OLEDs in IT. That fab, according to DSCC, is likely to take at least a year to get to any level of volume production – probably around 7.5K substrates/month. That's quicker than a lot of fab announcements as the new equipment will be installed in an existing fab used for LCDs rather than being a green-field start. The fab is expected to boost Samsung Display's capacity from around 4.5m to 10m per year in 14.3″ equivalents.
I really have no doubts about the compelling nature of the products that will be produced with these new OLEDs. Next month at Display Week there is the hope that we will start to see some signs of the new phosphorescent blue material from UDC that should be in the new panels from the new G8.7 fab. That will boost lifetimes, output and efficiency. iPads and MacBooks with the new displays should be sleeker and the image quality even better than the existing miniLEDs, so as long as the overall PC market has shown some recovery by early 2024, Apple should have no problem in selling the new models (even if they make prices even more eye-watering!).
The most intriguing aspect of the development of the IT OLED business will be the actions of the Chinese. Given the big losses in the LCD business in China, will display makers, and particularly BOE, be able to raise the level of funds needed to have a big stake in the business? Further, BOE does not have a great track record of supplying OLEDs to Apple, as we have reported. Will Apple be happy to commit to the firm as a major supplier? If Apple doesn't will there be enough other business to justify an investment? (the answer to the last one is, almost certainly, yes, but such an investment would not be without significant technical risk).
I hope to get a better sense of all of this when I attend the Display Week Business Conference next month. I'm really disappointed that it has been moved to occupy a full day on the Wednesday and away from its 'traditional' place on the Monday. Losing a full day of the exhibits is going to make covering the event properly a real challenge this year.
Bob Raikes is semi-retired from the display industry, but still edits the 8K Association newsletter and contributes to Display Daily. He plans to be at Display Week for Display Daily and others.