NHK was in the Futures Park area again in 2018 to showcase what it is doing in 8K. While trial broadcasting of 8K began in Japan in August of 2016, regular programming is now set to launch in December 2018. Production of science, drama, natural history and even arts and culture segments were being added to at the rate of about 300 productions this year in either 4K or 8K. As a result, NHK and its partners continue to push for new 8K equipment and production experience to lead the way.
In the theater, two new pieces of content were on display. One was a visual of Yellowstone National park and the other a Russian ballet performance of the Nutcracker. A single laser projector provided the 8K image on a screen that was about 350" (8.9m) wide. Content was shot at 60 fps and while some motion blur was evident, most pans and movements were not objectionable and there was no obvious judder, as was present in the Sony 8K demo. (Sony Impresses with 8K CLED Display)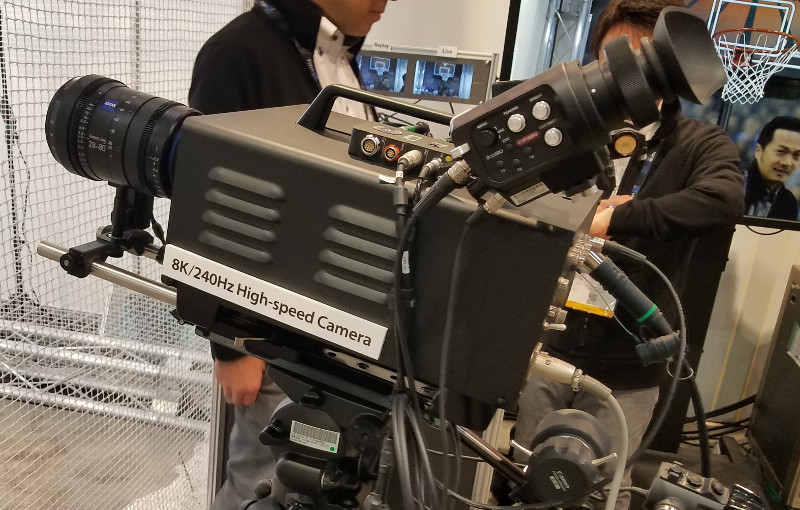 NHK then had a number of stations to showcase the various areas it is working on including broadcast equipment and encoding. NHK says its latest technology means that it can now compress an 8K video signal to just 8 Gbps with broadcast qualit, and it can be easily transcoded into an IP-based TV stream as well. The diagram below illustrates the solution which includes TICO compression.
They have also developed a high speed camera (240Hz) for slow motion replay. Images are captured on a 1.25" CMOS 8K sensor with 4:4:4 color subsampling. Data is transmitted over two U-SDI fiber cables to the camera control unit. Playback at 8K/60 can then be implemented to slow motion replay. This is a critical tool in any sporting event.
Three home living room environments were also featured. They included a 70" 8K TV along with stereo speakers; 85" 8K TV with a line array loudspeaker solution; and a 98" 8K display with a 22.2 channel audio solution.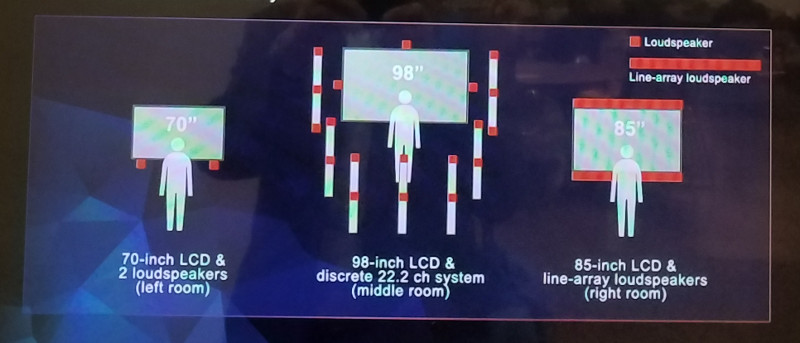 NHK is getting support from Japan's Broadcasting Satellite System Corp (B-SAT) as well. The group is ordering a new satellite – BSAT 4b – from Space Systems/Loral (SS/L) that will help carry 'Super Hi-Vision 8K' DTH signals during the 2020 Tokyo Olympic Games.
SS/L provided BSAT-4a to B-SAT in November 2017, and BSAT-4b will be a similar high-performance Ku-band broadcasting satellite. BSAT-4b will be co-located with BSAT-4a at 110º East.
B-SAT is a unique operator of broadcasting satellites in the 12 GHz BSS band for Japan. B-SAT is 49.9% owned by Japan's public broadcaster NHK. B-SAT currently owns and manages four satellites, BSAT-3a, BSAT-3b and BSAT-3c, for Broadcast Satellite Services which are currently providing 2K (HDTV) channels, and BSAT-4a, which is now providing 4K/8K test broadcasting and will be augmented by BSAT-4b when 4K/8K regular broadcasting service begins in December 2018.
NHK also jumped on the VR bandwagon with an 8K VR demo. This was not very well done, however. The 8K display was 8.33" in diagonal and had two optical elements, one placed over each half, to deliver a 4K x 4K image to each eye. Unfortunately, these options were not very good so I was never able to see the entire image in focus at one time. All was mounted on a movable gantry and attendees needed to don filters before using the device. Nice try, but a dud in my opinion. – CC