Qualcomm has released the next Snapdragon chip, the 845 that will be used in flagship phones in 2018, including the Samsung S9 family. The chip is said to be able to support up to 1.2Gbps peak downloads and includes a Spectra 280 ISP for image processing, an Adreno 630 Visual Processing Subsystem (a GPU, VPU and DPU) and a Hexagon 685 DSP for AI processing. The CPU is a Kyro 385 with 8 cores at up to 2.8GHz.
The display support is up to UltraHD at 60fps and the processor can support dual 2400 x 2400 displays for VR applications at 120 fps. Video can be captured at up to UltraHD with 60fps with support for both the HEVC and VP9 codecs and Qualcomm has said that video can be captured that would be in line with the UltraHD Premium logo and, of course, HDR10 is supported. Slow motion capture is 720p at 480fps. DisplayPort and USB Type-C are supported directly.
The chip can also support 802.11ad high speed Wi-Fi at up to the full 60GHz and can also support dual band simultaneous Wi-Fi. The 60GHz band is supported with dual antennas, in case one is blocked by the user.
The Spectra 280 can support up to 16MP dual cameras or a single camera up to 32MP and active depth sensing.
The platform is said to be able to charge a battery up to 50% in 15 minutes.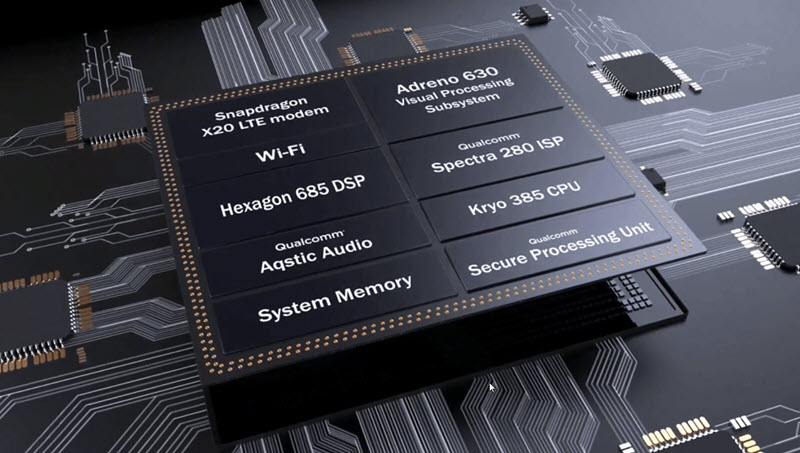 Analyst Comment
Finally, a smartphone chip that supports WiGig. That opens up the possibility of wireless display with high resolution. I'm hoping to see something impressive at CES and, certainly at MWC. (BR)