Just prior to IFA, Bang & Olufsen (B&O), the Danish high-end audio-visual designer and manufacturer, released details on its new BeoVision 14 LCD TV range. At IFA, they then revealed the new Horizon line of LCD TVs.
B&O products always feature an emphasis on design, followed by high level visual, audio and interface capabilities, but not necessarily the most cutting edge technology. The new products are UltraHD resolution, but they do not adopt HDR technology. The reason, we were told, is because they want to have a consistent image quality experience regardless of content. Today, HDR content is obviously different from SDR and B&O does not feel the SDR-to-HDR conversion technology is mature enough yet to ensure a consistent higher quality experience.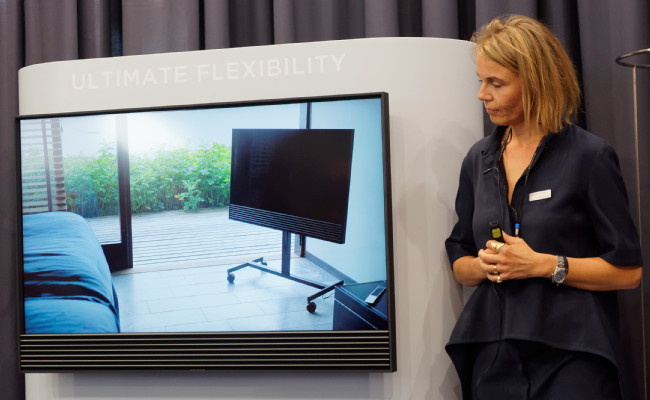 BO Horizon – Image:Meko
Both the BeoVision14 and the new BeoVision Horizon are based upon the Android TV platform with built-in Goggle Cast. They are described as a 'focal point' for all in-home entertainment meaning the BeoLink feature can send sound to other B&O speakers located in other rooms. The sets have ambient light sensors to help optimize the picture based on the room lighting as well. They also support new wireless speakers from the company.
As we reported earlier, aside from size, the BeoVision 14 TVs only differ in refresh rate: 100Hz on the 40″ and 120Hz on the 55″. Both sets use a direct-LED backlight, providing up to 400 cd/m², and have a 4,000:1 contrast ratio. B&O is selling both sets now, starting at $4,700 for the 40″ and $6,790 for the 55".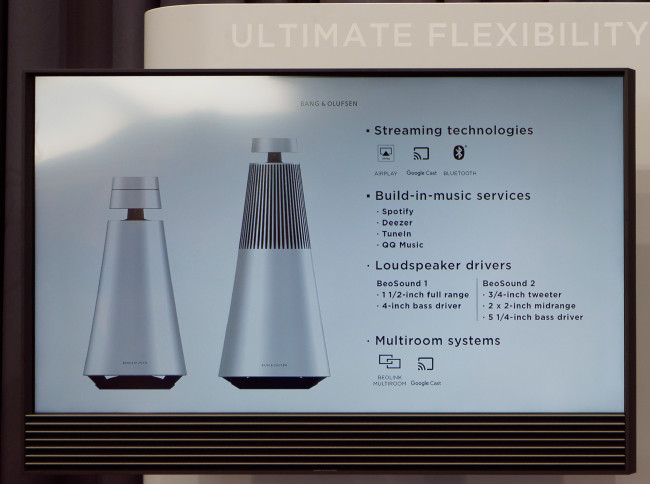 Image: Meko
B&O describes the BeoVision Horizon as a "less formal, more casual TV experience – one that follows your rhythm – and one you actively can choose as the center of entertainment." Translation: it is aimed squarely at millenial buyers and is "crafted in sleek, black aluminum and built upon the Android TV platform to meet the modern lifestyle demands of flexibility, connectivity and extraordinary quality."
Below the screen, rows of aluminum lamellas stylishly cover the speakers behind them. The lamellas are conical and slightly angled to give the best possible acoustic performance. On the BeoVision14 models, these lamella are made of oak (which they claim are hard to source with consistent quality, color, knot-free and this length). The sets have been designed to make it easy to turn the floor stand and a wall bracket is also available as an option.
BeoVision Horizon mounts on the wall, on a set of wheels, on a 360-degree rotating floor stand or casually leaned back on the floor on an easel stand.
BeoVision Horizon will be available December 2016 in 40" ($3995) and 48" including BeoRemote One ($5495).
In a discussion with the B&O chief designer, we heard that the company has looked at OLED, after all, we said, isn't OLED the best image quality and doesn't B&O like to have the best? He said that the conditions for OLED are not quite right yet. We suspect that this is a combination of availability and cost. CC/BR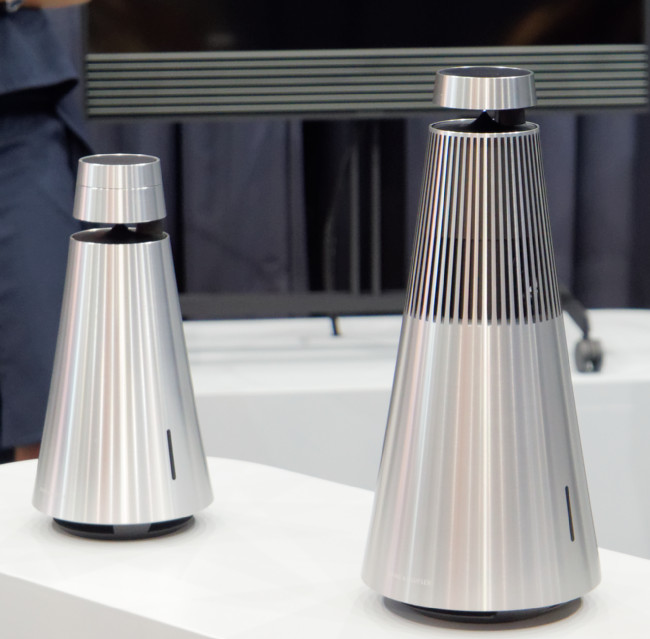 B&O' Wireless speaker sounds and looks good. Image:Meko