BenQ's BL2420PT LCD monitor (BenQ Booth Highlights B2B Push) will be available in Europe this month, for €335.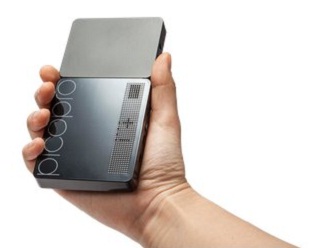 Celluon is now selling two new DLP pico projectors: the wireless PicoAir and more premium PicoPro. Both models will accept wireless connections (Miracast), and the PicoPro also features an HDMI port. They have 1280 x 720 resolution and a 2-3 hour battery life. They cost $300 (PicoAir) and $350 (PicoPro).
We have heard from Elo that the 7001LT monitor (OPS Option Transforms Elo's Monitor) is available now, for €4,830.
The Pro Lab multitouch table from Ideum has been updated, The new version now has a 55″ UltraHD display with 100 touch points (procap). Internals have also been upgraded; the table runs on a Core i7 processor, with 32GB of RAM and three 2TB HDDs – and the option of three 8TB drives. The table is available now. The 3 x 8TB model will around $24,000.
NEC's new laser projectors, the PH1202HL and PH1201QL (Display Monitor Vol 21 No 43) will be launched in Europe in April and May, respectively.
All of Panasonic Germany's 2015 UltraHD TVs (from CXW684 and up) support DVB-T2 and HEVC, and the company is also rolling out the technology to 1920 x 1080 models. The following TVs will have the tuners: XW944; AXW904; CRW854; CXW804; CXW754; CRW734; CXW704; and CXW684.
The 19DP6QNJS/27 Philips monitor (AOC & Philips Aim at All of the Americas) is available now, for $500.
Sharp's LE653/LE654 Aquos TVs, introduced at CES, are now available in the USA in 31.5″, 39.5″, 42.5″, 47.6″, 54.6″ and 64.5″ sizes. The largest is the LC65LE645U; all others are LCxxLE653U models. Each TV has 1920 x 1080 resolution, a dual-core processor and features HDMI (x2), MHL-HDMI and USB ports (1 x HDMI on the 39.5″). They cost $350, $440, $480, $600, $750 and $1,200, respectively.
We heard a rumour of a new UltraHD TV from Xiaomi last month (LDM Product Roundup – Vol 22 13), and the company has followed through as it prepares to celebrate its fifth birthday. The 55″ Mi TV 2 uses a Samsung panel and a quad-core 1.4GHz Cortex A17 processor, with 2GB of RAM and 8GB of storage. The TV will cost CNY4,760 ($770) in China.
All prices are ex VAT, where applicable.