Eyevis of Germany was showing its newest LED projector for simulation applications which has been upgraded for higher brightness. The single chip DLP-based WUXGA unit has an LED light source and can provide 2,000 lumens of output. Brightness uniformity is high at 95% or more. The ESP-LWXT-2120 has better contrast (2,000:1 static, 10,000:1 with the dynamic iris) than the previous version, but has continued to use a very mechanically robust design that we were told 'has no plastic in it' and is entirely metal. The robust design is to allow it to be used in motion-based simulators which may be in almost continuous movement. Here, of course, the LED light source is much more robust than lamps and lifetime is up to 80,000 hours. The use of LEDs also means no colour wheels and that means no 'rainbow effects'. The projector is also sealed from light leakage, which makes it ideal for nighttime simulations (and planetaria).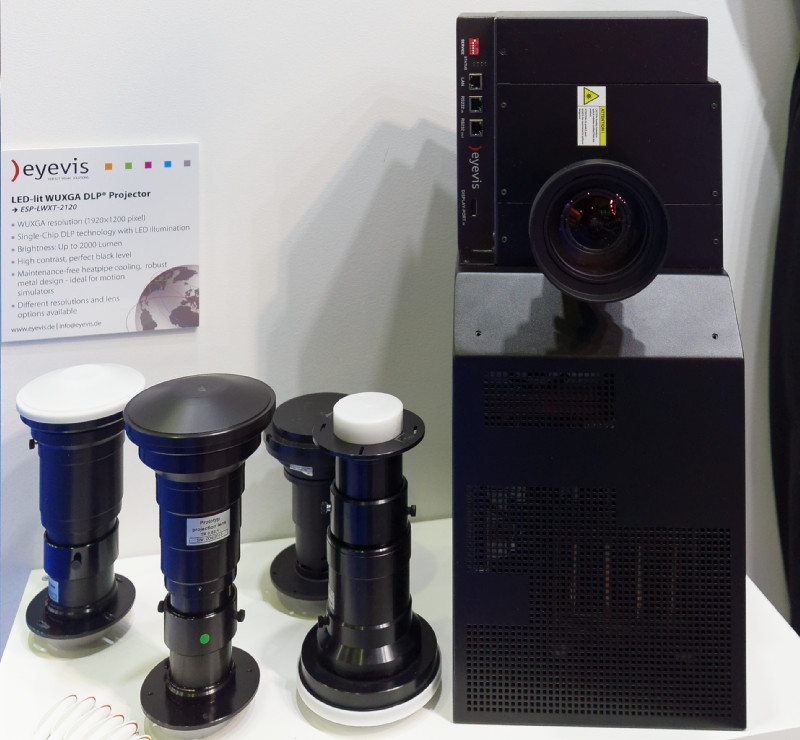 The Eyeyvis Simulation projector has a range of lens options. Image:Meko
The company has its own lens designs and there are four currently, with two more under development, but Eyevis is happy to consider special lens requests. The lenses have a special design for simulation that allows 'dual focus' with an internal mechanical shift to allow optimisation for curved surfaces.
At the show, the company was showing the projector in a four unit set up which were being daisy-chained for control. It has other models available in the series with 1400 x 1050, 1600 x 1200 or 1920 x 1080 resolutions.
The projectors have integrated temperature and power sensors. As LEDs fail, which is often gradual, they need more and more power to achieve the same brightness. Users can access the performance and track when a particular light source is failing and plan maintenance and replacement accordingly.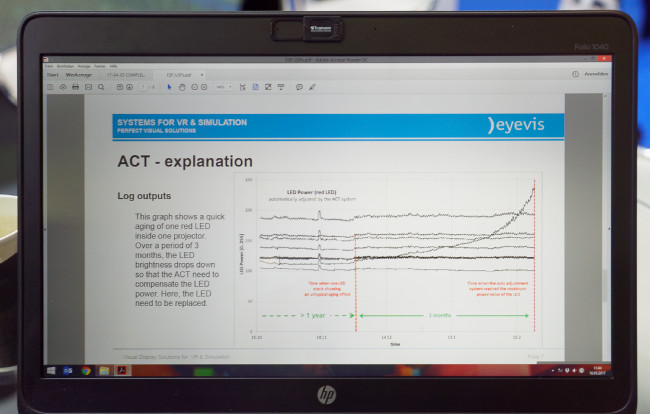 Eyevis has analytics that can show if an LED is failing. Image:Meko
The projector can be sets for three preset brightness levels of day, dusk and night. The first installation of the new projectors is a driving simulator in Toronto which is taking advantage of the 120Hz operation to minimise latency.
Analyst Comment
Eyevis told us at last year's event that it planned to adopt the HLD technology from Philips to allow the boosting of brightness and we believe that is behind the upgrade.
Eyevis told us that its simulator projectors are being used by Lufthansa (for 20 hours per day), with no maintenance and also by Skyguide in Zurich (Eyevis Upgrades Tower Simulator) (BR)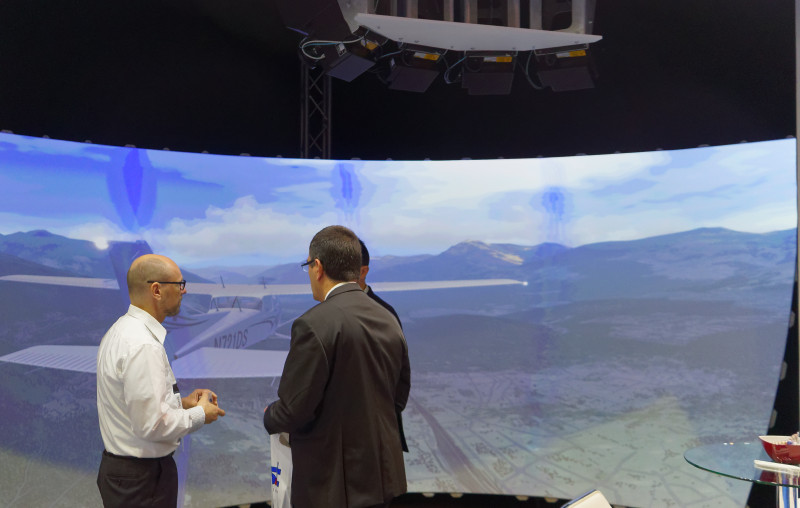 Eyevis showed four portrait projectors (the blend artefacts were not visible to the naked eye – it's an issue with the DLP and the camera shutter!) Image:Meko