NEC organised its booth at the show around applications, as it has done in Europe for a while. We rather spoilt the fun of NEC staff as we had seen most of the new things at the recent NEC showcase in London!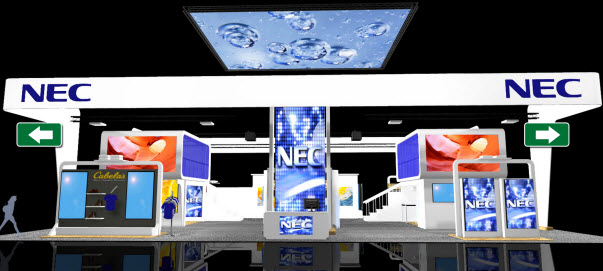 The X754HB is a 75″ IPS panel-based monitor that is fitted with a λ/4 polarising filter (this kind of film is also used on OLEDs to improve contrast in higher ambient light). In this case, the polariser is used to ensure, as it's intended for use outdoors, that the image is clear even if the viewer is wearing polarising sunglasses. The panel has a high clearing point (NEC calls this High T & I range) and also has 2,500 cd/mm² for outdoor use. The company told us that it expects sales in QSRs and in store windows.
The recently announced E905 LCD was being shown in a whiteboard application. (NEC's E905 is for Signage and Conferencing (corrected))
NEC was promoting new OPS modules from Technovare Systems which are based on the latest Intel Core i5 chips and support UltraHD.
The P502HL, a 5,000 lumen laser phosphor projector with 20,000 hour life, was shown at the ISE show in Amsterdam. We heard that a 1920 x 1200 projector with 8,000 lumens will be available in February 2016.
NEC is extending its range of LED displays, as we reported from the Showcase. (NEC Impresses with LEDs)