Smart announced its 'Kapp' dry erase whiteboard at last year's Infocomm and this year it announced the Smart Kapp 84, a larger (84″) version that sells for $1,190. It can capture and share the images on the board, but is not a display.
On the other hand, the two new Smart Kapp iQ (55″ – $4,000, 65″ – $5,000) has UltraHD resolution. The display uses optical infrared touch and is based around SmartBoard 6065 hardware. It can be used as a "regular" UHD monitor, but also has a whiteboard mode. In that mode, the display can capture interactive content, but can also display content from other devices, as well as distributing content from devices that are in the same session. The iQ has a proximity sensor to power up automatically.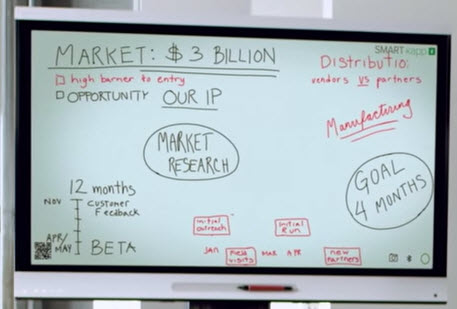 The Smart Kapp Iq has a simple shared whiteboard mode that recognises two kinds of pen
As a display, the unit has 280-360 cd/m² brightness (a wide range, which suggests multiple vendors – Man. Ed.) and 1,400:1 contrast, with 72% coverage of NTSC. Input is via HDMI 1.4 (so 30Hz only for UltraHD) – there is no VGA, DVI or DisplayPort.
Analyst Comment
As I mentioned in my introduction, the point of the iQ is that it is very simple and requires very little IT support (it does still have a Microsoft Skype for Business product for corporate IT integration). This year, at Infocomm, "less is more".
Smart has pivoted away from projection and only has one model left in the range. The company said at the show that it has a backlog of orders for around 20,000 Kapp boards after a bit of a production glitch. (BR)