The NAB Show New York was held at the Javits Convention Center on November 9 – 10 and focused on broadcasters and content creators in the New York region and beyond. The show is not strictly a local affair, with 1,112 registered attendees from 87 countries compared to the total registered attendance of 15,404. 2016 is the first year that the show has been fully under the control of the NAB. At last year's show, called Content and Communications World (CCW), there were 12,055 registered attendees.
"The growth of this year's show is a testament to the power of the NAB Show brand and our ability to produce a dynamic and productive experience for attendees and exhibitors," said NAB Executive Vice President of Communications Dennis Wharton. "We look forward to continuing to find new ways to serve media and entertainment professions in this unique and thriving New York media market and beyond." Next year's show (October 18-19, 2017) will be co-located with the Audio Engineering Society's East Coast convention, which should increase attendance even more.
There were lots of cameras, editing systems, broadcast trucks, Codec providers, etc. at the show Much of this would be of little interest to a Display Daily reader but there were some display-related gems on the show floor.
Canon was showing two new 4K displays, the DP-V2420 and the DP-V1710 (that we also saw at IBC and SMPTE). According to Canon, these displays are ideal for "all facets of demanding television and movie production. With high brightness and deep blacks, these displays are perfect for HDR, WCG 4K on-set, mastering suite, mobile truck and QC environments."
The DP-V2420 has full cinema 4K resolution (4096 x 2160) and can be used to master both high dynamic range (HDR) and standard dynamic range (SDR) content. The panel is a 10-bit IPS panel and its zoned backlight uses RGB LEDs for illumination. The number of zones has not been released. The monitor supports Dolby Vision, HDR10 (Both use SMPTE ST 2084's PQ EOTF curve) and the BBC's HLG (Hybrid-Log Gamma) EOTF. For on-set use, the monitor also supports and debayering the Canon Cinema EOS 4K RAW signal and allows direct integration with Canon and Arri Alexa SXT cameras.
Canon's HDR DP-V2420 reference monitor at NAB New York. (Photo M. Brennesholtz)
The DP-V1710 has UHD (3840 x 2160) resolution. It is also an IPS panel and uses a direct backlight with white LEDs. The monitor is designed for applications where mobility is required and will fit in a 19" rack (7U) and will use either 12VDC or 100 – 240VAC power. It can support all SDR cinema and TV gammas plus the PQ and HLG HDR EOTFs and Canon's proprietary Log/2/3 EOTF.
As is appropriate for a HDR monitor, the DP-2420 was displayed inside a dark booth on the show floor, with black curtains to block the ambient light. The photograph of the monitor does not do justice to the beautiful colors, deep blacks and bright highlights, especially since a flash was used to show the monitor itself. MSRP for this monitor is $29,500 and it will ship at the end of November. The DP-V1710 was also shown in a dark area but that didn't matter too much since the monitor, described as a prototype by the Canon rep, was not operating. MSRP for this monitor is $12,000 and it is expected to ship in February, 2017. (We did get a picture of the DP-V1710 in our IBC coverage New Canon Projector and Broadcast Monitors Support HDR)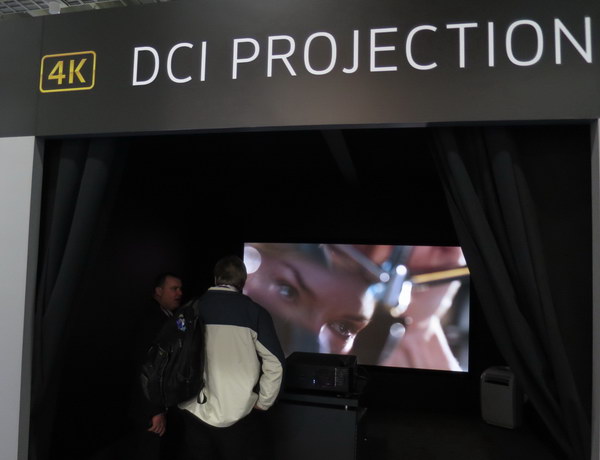 Canon DCI projector, intended for post-production and other applications (Photo M. Brennesholtz)
Canon was also showing what it called "4K Digital Cinema Initiatives (DCI) Projector Prototype," model 4K501ST. The 3-panel LCoS projector had DCI P3 Colorimetry, 5000 lumens output, a Gamma of 2.6 (DCI standard) and 4096 x 2400 native resolution, according to the Canon rep. It was shown in a darkened area on a 137" (3.5M) screen using 4096 x 2160 content shot on a Canon EOS C700 camera. The SDR images, of course, looked very good. The projector is not a true DCI-compatible projector because it did not have the DCI-required security features – Canon is not getting into the cinema projector business in competition with Sony, Christie, Barco and NEC. Application of the projector would probably be in viewing rooms in studios and post-production houses and other locations where very high quality projection of movie content is needed before the DCI encryption is added.
Sony was showing their BVMX300 30″ 4K OLED Master Monitor, again in a darkened booth. This monitor is not new, but I don't think I've seen it before and the image was beautiful. New firmware, v2.0, has been released for the monitor, providing new capabilities, including:
Compliant with the new ITU-R BT2100 HDR standard
Displays all three HDR standards (Dolby Vision, HDR10 and BBC's HLG)
ITU-R BT709 (HDTV) and Rec. 2020 (UHD, Decoded but not completely displayed)
New relative contrast feature displays 1000 cd/m² + images with no clipping.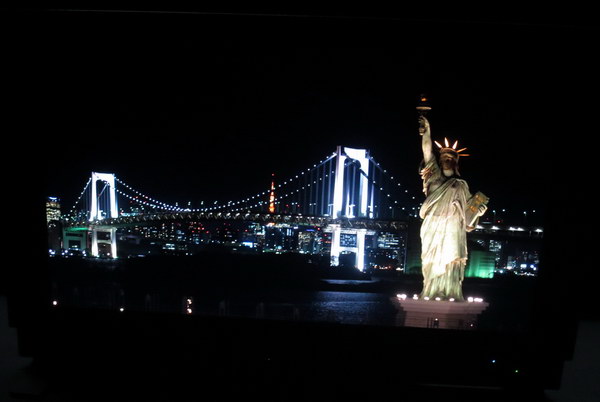 HDR image on a Sony BVMX300 EL monitor is a dark room. (Photo M. Brennesholtz)
The monitor itself, even before the firmware upgrade, is able to display 1000 cd/m² images. What the relative contrast feature does is allow images with peak brightnesses >1000 cd/m² to be scaled into the range of the monitor so that they look correct without clipping. Even without the upgrade, the monitor is capable of showing virtually every standard EOTF, color gamut and white point a post-production facility is likely to need.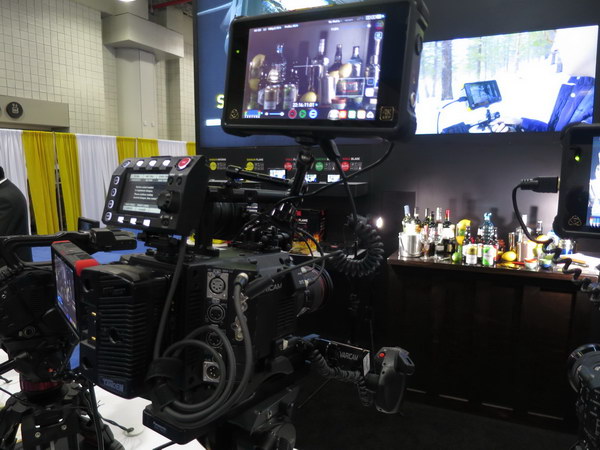 Atomos Shogun Inferno mounted as a viewfinder and recorder on a Sony Varicam (Photo: M. Brennesholtz)
Atomos was showing the new Shogun Inferno, a 7", 4K, HDR, 1500 cd/m² display with integrated recorder which had started to ship in September. This unit is intended to be used as a viewfinder on cinema cameras during the image acquisition process. While 4K HDR hardly shows on a 7" screen, the high brightness is needed in a viewfinder used for outdoor shooting. The Shogun Inferno will record the output from Arri, Sony, Canon, Panasonic Red or JVC cinema cameras. 4K recording is at a maximum frame rate of 60P, for HD recording, the unit will work up to 240P, a useful capability for live sports. The EOTF of the display can be chosen separately from the OETF function of the camera and recorder, to show a realistic image to the cinematographer. The unit also records XLR audio. MSRP for the Shogun Inferno is $1995.
The NAB Show New York also had a VR Village on the show floor, as well as day-long tutorial on virtual reality (VR). The NAB show is intended to serve the content creation and distribution community and the presence of the VR Village indicates the growing importance of VR as a content category. There were only 10 exhibitors in the VR Village, which is small potatoes compared to the total of 362 companies at the show. Still, it's a start.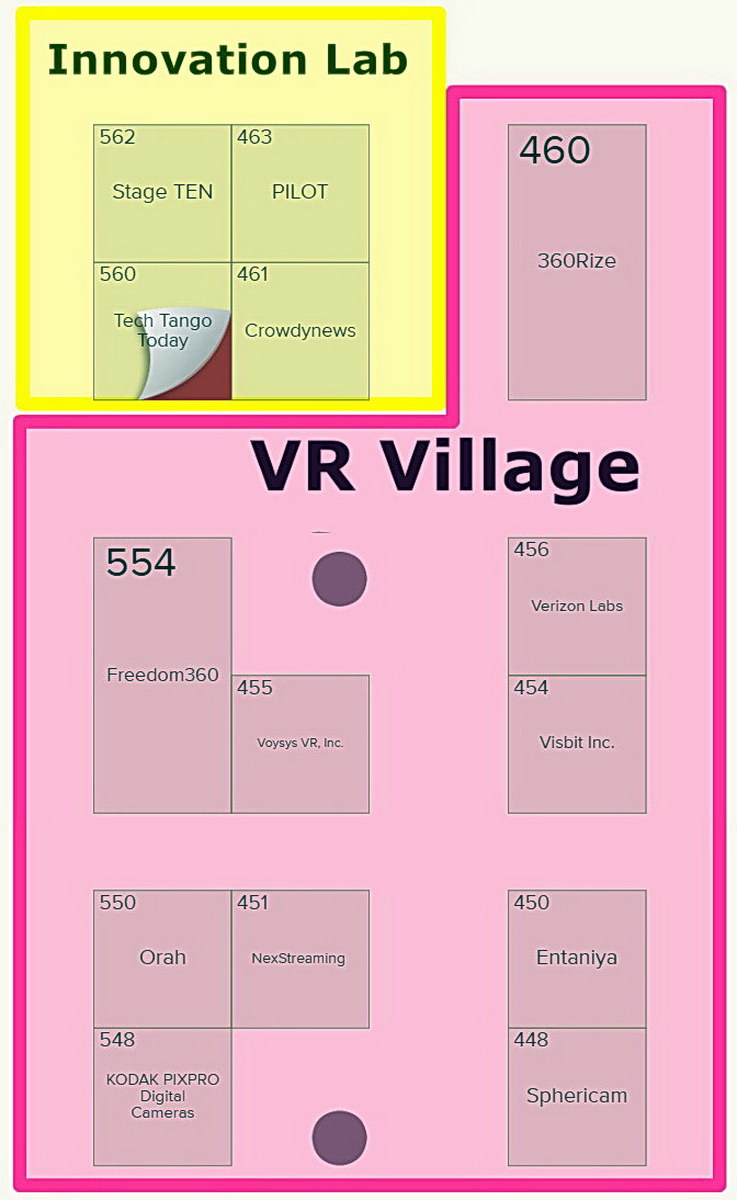 VR Village at the NAB Show New York
There were no VR display companies at the show in VR village. All HMDs on the floor were used to demonstrate the VR production tools on display. The various companies were showing two main types of tools: 360° camera systems and software for stitching, editing, encoding and streaming 360° images. Mostly I talked to the camera companies, many of which also had their own stitching tools as well.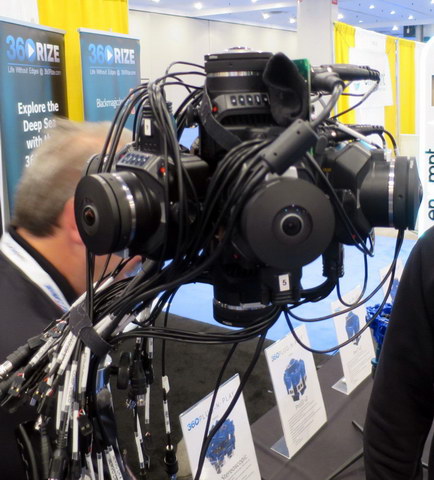 Helios camera system from 360Rize with eight Blackmagic Design Micro Cinema 2K cameras installed. Blackmagic 4K cameras can also be used in this same mount.
360Rize (formerly 360Heros) builds 360° camera mounts that are used with standard, user supplied cameras. Two cameras favored by the company are GoPro Hero cameras and Blackmagic Design Micro Cinema 2K and Micro Studio 4K cameras. According to Matt Sheils, 360 Shooter, Editor and Trainer at 360Rize, most users of 360Rize cameras record the video in the individual cameras and do not stitch the images in real-time.
The company has developed the circuitry to ensure all cameras start and stop at the same time and all are genlocked together. The users then download the video from each camera non-real-time and stitch off-line using standard stitching software. This is eight video streams in the pictured Helios camera system and can be as many as 24 cameras in their 360Orb mount designed for GoPro Hero cameras. If you are interested in making a 360° VR fish video, 360Rize was also showing their 360Abyss. This unit is based on six GoPro cameras and is waterproof to 1000M (3281 Feet) deep and is neutrally buoyant to 300M (984 feet). The cameras are started and stopped with a magnetic control wand.
If the director needs a live stream during the shoot, it is possible to stitch in real-time using software from Adobe or other companies to generate a proxy image. Stitching in this case is not perfect and is normally re-done in post-production. Also in post-production, the image of the tripod or other camera stand is normally edited out. This represents the "Fix it in Post" school of thought that is common not only in VR, but in cinema and TV production as well. While Shiels says 360Rize favors Kolor's Nuke VR software for stitching, something I've heard from other VR workers, he admits there are other programs that will do the job as well.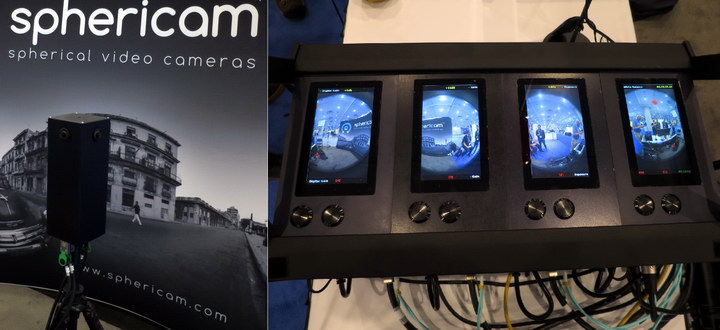 Sphericam Beast at NAB New York Left: the camera head. Right: the control box showing the four un-stitched images. I can be seen in the right hand image taking this picture of the control box. (Photo: M. Brennesholtz)
Sphericam also builds 360° VR rigs for content production. Besides NAB New York, they were exhibiting at CES Unveiled. Their cameras are generally integrated systems, not just the camera holding rigs. They were showing two systems at the NAB Show, the Sphericam Beast and the Sphericam 2. The Sphericam Beast uses four cameras with 1" sensors and is said to do 6K cinema-grade content at 60P. While the four cameras are all arranged around the horizon, the 190° fisheye lenses allow capture of the zenith and the nadir as well as the horizon. Each camera has a resolution of 4096×2160 and the cameras can be stitched in real time to an image with a resolution of 5780 x 2890. Real time stitching is limited to 30P, for full 60P operation, off-line stitching is needed. For best image quality, the Beast allows recording of 10 Bit RAW data for each of the four cameras and off-line processing. Four internal V-Mount batteries are good for about two hours of usage. V-Mount batteries are Li-Ion batteries used in many professional production cameras and recorders. They have a capacity of 65WH each and each weighs about 1 lb. 3 oz. (550 g).
The Sphericam 2 is a smaller system with a camera head 77mm in diameter. This system uses 6 cameras, each with 1280 x 960 resolution. The stitched image has 4096 x 2084 resolution. Internal storage is 6x microSD cards in a removable module. Like the Beast, it will capture 60P unstitched or 30P with automatic stitching. The four internal 650mAh batteries (2600mAh total) are good for 30-60 minutes of usage. The Sphericam 2 also includes four microphones for capturing 3D sound.

Voysys Software allows production of live VR events from multiple camera and video feeds. (Image: Voysys)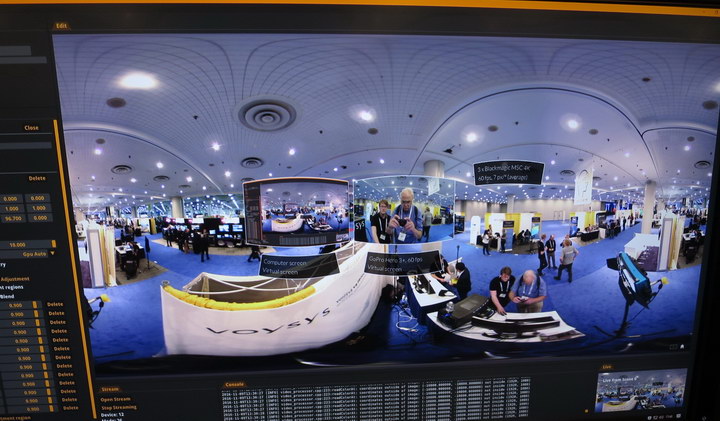 Live image of the NAB Show produced by Voysys VR Producer. I am visible twice in this image, one in the main 360° image produced by three Blackmagic Design 4K MSC cameras and the insert live video produced by a GoPro hero camera. The image shows two video inserts and three added text blocks. (Photo: M. Brennesholtz)
Voysys AB from Sweden was showing their VR Producer software intended for the production of live VR events using more than one multi-camera 360° camera system and other video inputs. VR Producer allows you to stitch 360° video, switch between several 360° camera positions, and render additional graphics such as logos, subtitles and video inserts. This is all done on one host computer. The Voysys real-time, depth-based stitching function minimizes the problems associated with parallax between different cameras in one 360° system. The show's producer, if he desires, can also touch-up the stitching in real time. Using Voysys VR Producer's real time GUI, you can change camera position and adjust other objects in a preview window prior to making changes live using a smooth transition effect. Virtual screens, i.e. video inserts in the 360° image, can be left intact during transitions.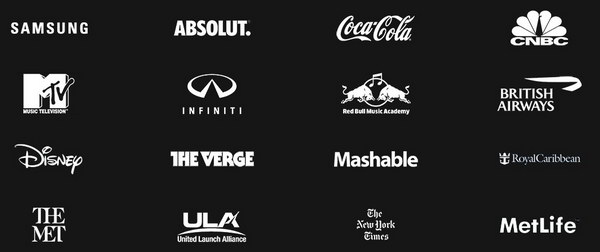 Freedom360's subsidiary Koncept VR has provided VR content to several high-profile customers. (Image: Koncept VR)
Freedom360 is another company that makes mounts that allow GoPro Hero cameras to be used in 360° camera configurations. Their subsidiary KonceptVR is a full service virtual reality production company that focuses on providing high quality 360º video content & VR experiences.
Orah, like Sphericam, provides integrated 360° camera rigs designed for live VR events. The Orah 4i camera system involves 4 cameras, each with 2048 x 1536 resolution, that are merged in real time to a 4K, 30P image. Recording to SD cards and stitching in post production allows images of 4800 x 2400 at 30P. The camera also includes four microphones for audio recording. The Orah 4i pre-order price $2,995. Ship date has not been disclosed.
Besides the 360° hardware and software, two companies at the NAB Show New York were showing their 360° VR streaming capabilities, Nexstreaming and Visbit. Nexstreaming is a video streaming company that has a long list of clients for streaming conventional video, based on their NexPlayer software development kit (SDK). They have developed a VR toolkit based on this, the NexPlayer360 SDK. The company says "NexPlayer360 includes the same streaming, download and playback capabilities with the same advanced feature set as NexPlayer SDK but supporting also the most advanced and seamless navigation within 360 videos."
Visbit has developed a view-optimized streaming technology that can stream 4K to 8K resolution 360° VR video with regular Wi-Fi and LTE connections. They are in the process of building a cloud streaming service based on this technology.
Analyst Comment
While the VR Village was small, it showed many of the tools that will be needed to produce broadcast-quality 360° VR content. Of course, VR content is not "Broadcast," it is more normally streamed. Any exhibitor or attendee of a NAB show, and even the National Association of Broadcasters itself, knows that broadcast is a small and declining part of the content creation and distribution chain. For VR to fully establish itself as a medium, it must develop tools comparable in quality to the ones provided by the bulk of the exhibitors at NAB New York, including Canon, Sony, Atomos and the many others I visited but didn't write about. I wonder when HDR WCG VR will arrive? –Matthew Brennesholtz