Canon showed a new prototype version of the existing 4K500ST projector that is designed to support HDR content that uses the PQ curve. Compared to the current 4K500ST, the prototype has lower brightness at 2,200 lumens with 4096 x 2400 resolution and 2,000:1 native contrast ratio. The full P3 gamut is covered and the throw ratio is from 1.0 to 1.3:1 and the image was shown with an 80″ diagonal. Unfortunately, we were not able to get many more details. We would expect it also to support HLG for HDR, given what Canon is doing with its monitors.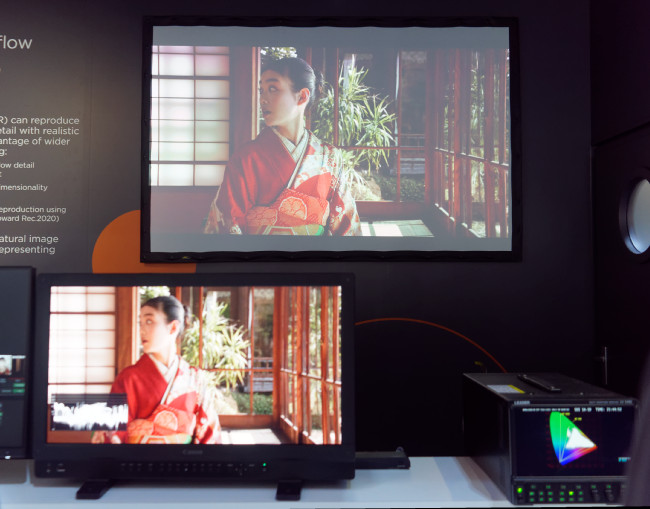 Canon showed the DB-V2420 alongside a new Xeed HDR prototype projector. Image:Meko
Also on display were new UltraHD 17″ (DP-V1710) and 24″ (DP-V2420) broadcast monitors. Both models support HDR but the 24″ has a high brightness of 1,000 cd/m² and a black level of 0.005 cd/m² from its IPS panel to allow it to be used for HDR mastering. It supports HDR including Dolby Vision, PQ and HLG as well as Canon digital cinema camera proprietary log gammas: Canon Log, Canon Log2 and Canon Log3. Features include HDR/SDR Dual view, a 4K Waveform monitor and built-in RAW de-bayer.
The 17″ version has an UltraHD panel and is intended for mobile applications including broadcast vans. The 24″ will be available in November and has a list price of $32,900, while the 17″ will sell for $13,500 in February 2017.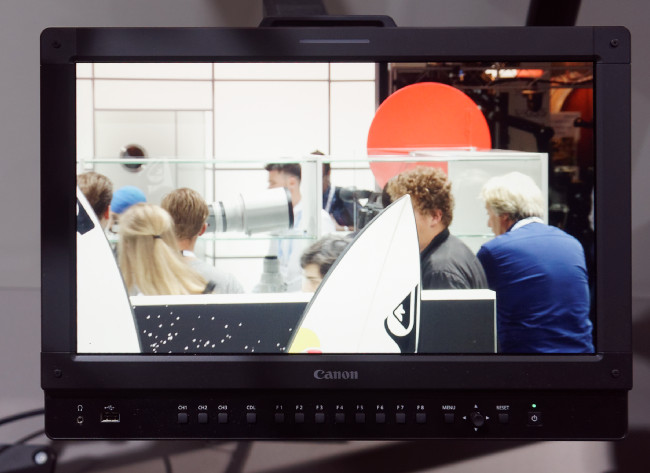 The Canon DP V1710 supports UltraHD. Image:Meko
Analyst Comment
While I was trying to get some more information about the projector and monitors, staff on the Canon booth were getting a hard time from a prospective customer over the pricing of the 24″ monitor compared to Sony's bigger OLED. "No contest", the prospect said. "But the Sony OLED drops in brightness over the whole screen on white", was the reply (we heard to 160 cd/m²). "No contest" came the reply. Canon may have a battle with Sony in the market! (BR)