The first booth we looked at during Embedded World was the Mitsubishi booth. Although the company only has limited capacity for LCD manufacture, it focuses on special and industrial displays. One of the items of news at last year's event was the extension of the environmental limits of the firm's LCDs and this year the company extended them again from -40ºC to +85ºC as well as offering resistance to 6.8G of accelaration – important in applications where vibration and impact is a challenge. Lifetime is also now up to 100,000 hours.
The first panels that we looked at were a 7″ 800 x 480 panel (1,500 cd/m² and 800:1 contrast) and a 10.4″ 1024 x 768 (1,200 cd/m² and 700:1 contrast). They will be available 'later in 2016'.
Next we looked at an interesting 8.4″ transflective display that is still under development. It has 640 x 480 resolution and is planned to have reflectivity in the range of 10% to 20%, we were told. Brightness in transmissive mode is 300 cd/m².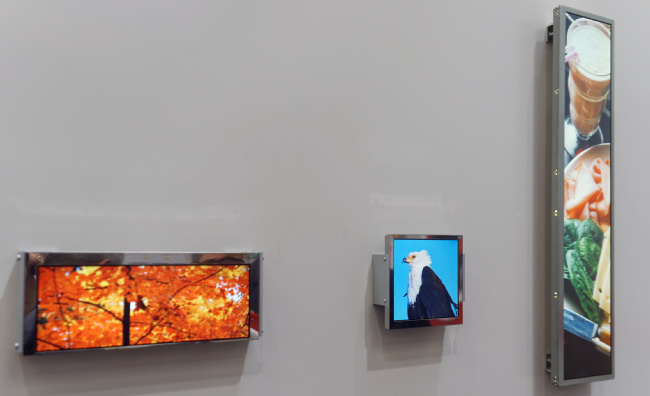 Note the narrow bezel on the bottom of the left hand display
There were three unusually shaped displays, including a 5.0″ square panel (640 x 640) with 1,200 cd/m² and 700:1 contrast. Staff told us that the square display is popular for displaying 'radar charts'. A 7.8″ display with 500 cd/m² and 1000:1 contrast has an unusually wide aspect ratio at 24:9 in its 800 x 300 resolution. The panel has one narrow border and two panels are often used butted close together in Pachinko machines.
The AA192AA51 is a 19.2″ 1/3 FullHD (1920 x 360) which is designed for use in either landscape or portrait mode. Brightness is 650 cd/m² and contrast is 700:1. All of these use wide view IPS technology.
Moving to smaller sizes, the 3.5″ 240 x 320 LCD with 520 cd/m² and 1,000:1 contrast is also based on IPS but is aimed at "volume projects". It can be used in landscape or portrait mode.
A 5.0″ 800 x 480 display with 720 cd/m² and 1,000:1 contrast uses IPS and is fitted with four wire resistive touch.
Mitsubishi has been using the same fit/form and function for its industrial displays for a lot of years and this time had a new 15″ 1024 x 768 panel with 1,000 cd/m² and 1,000:1 contrast that can operate as a direct replacement for existing displays. The LDVS interface is the same as it has been for many years to make replacement easier.
There were 12.1″, 10.4″ and 7.0″ panels with procap touch and optical bonding. The touch has been upgraded to now support up to 10 touches, even through 10mm glass and with low EMI, which makes it suitable in some applications such as medical, where EMI needs to be limited.