Microsoft announced an upgrade to Windows 10, the Creators Update, due to be available in early 2017 at no charge. The company also announced new initiatives in VR, an upgraded Surface Book and a new All-In-One PC.
The new Surface Book with Performance Base uses sixth generation Intel Core i7 processors and is claimed to have double the graphics power of the previous generation. Pricing is from $2,399 and pre-orders are being taken now, with deliveries from November 10th. The notebook has the same display as the older version, but the thicker base means up to 19 hours of battery life with an Nvidia 965M GPU with 2GB of RAM. Pricing starts at $2,399.
On the software side, Microsoft has taken a number of steps to encourage the use of 3D in graphics with a new app, Paint 3D, an upgrade to the Microsoft Paint app. There is also a new online site, Remix3D, to share creations. Microsoft is also working with Trimble to add Sketchup to Remix3D.com. The company also said that it would bring 3D to Word, Excel and PowerPoint over the next year.
New VR 'Mixed Reality' Headsets Coming
Microsoft said that the push to 3D and using the Windows 10 'Creators Update' would also be supported by new VR headsets, capable of mixed reality, from HP, Lenovo, Dell, Acer and Asus that will start to sell at $299. Earlier in the week, Microsoft's CEO, Satya Nadella, told the WSJ that Microsoft sees mixed reality as the long term future of computing.
The Creators Update will help integration with XBox One devices to allow interactive gaming using the Beam system.
As widely rumoured, Microsoft has announced an innovative new Surface Studio "All-in-One" PC which features a 28″ display with 3:2 aspect ratio and 4500 x 3000 resolution, giving 192 ppi and which is described as a 'PixelSense' display. The display features touch, pen input and use with the "Surface Dial", an accessory that can be placed on the display and used as an extra input device. It can also be used off the display to provide a rotation input and will be available separately for $99.99 (or free for those pre-ordering the Studio). The Dial includes haptic feedback.
The Microsoft Surface Studio has a Pen and can use a Dial. Image:Microsoft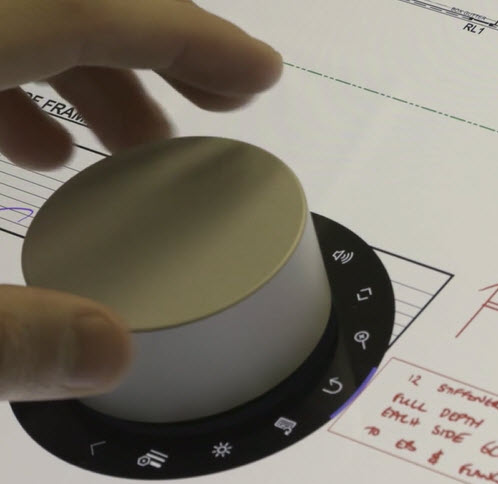 Microsoft's Dial can be used with software menus. Image:Microsoft
Analyst Comment
Few details of the headsets had surfaced at press time, but we would expect to see lots of news between now and CES in January.
In his interview with the WSJ, earlier in the week, Nadella said that Microsoft has basically given up on the idea of being in the mainstream for mobile phones, but still hopes that the Continuum technology that connects Windows phones to monitors and other peripherals. (BR)