There is a surge of interest in the AR (augmented reality)/VR (virtual teality) market due to recent focus on the metaverse by industry leaders such as Meta and others. Apple's introduction of Vision Pro started the new era of spatial computing. Some see AR/VR as the next generation 3D digital interactive IT platform. Up to now, the reality of the market has not matched the high expectations. As pointed out by IDC's September press release, "Worldwide AR/VR headset shipments declined for the fourth quarter in a row as volumes fell 44.6% year over year during the second quarter of 2023." Multiple challenges need to be resolved to drive demand and increase adoption rates. Innovations in display technologies are essential to develop AR/VR products and drive market growth.
Higher Growth Forecast
As per Guillaume Chansin's (director of display research, DSCC) presentation at DSCC's AR/VR Display Forum in September, the AR/VR headset market is expected to have a stronger growth rate in the next 5 years starting from 2024. The assumption is that 2024 will see significant growth thanks to new headsets powered by the upcoming Qualcomm Snapdragon XR2 Gen 2. IDC also forecasts AR/VR headset shipments to rebound in 2024, growing 46.8% year over year due to new hardware from Meta and ByteDance, the introduction of Apple's Vision Pro, and the growing presence of smaller companies. DSCC expects low volume units (300,000 units) for Vision Pro with a $3,499 price tag and extra costs for users who need eyesight correcting optical inserts (designed by Zeiss). Meta is expected to launch Quest 3 by the end of this year and Samsung could re-enter the market after a long absence.
AR/VR display shipments will be bigger than headsets with the trend of multiple display use in the products. Most devices will have two displays (one per eye). DSCC forecasts display shipments for AR/VR to reach 124 million units in 2028. As Guillaume pointed out at the forum, "AR/VR is not going to replace the phone but will instead be used as a second screen (like tablets today)." DSCC expects VR (including pass-through AR) will dominate the consumer space. See-through AR will be mostly for professionals.

Multiple Display Technologies Battle
Display requirements are different for VR (and pass-through AR) and see-through AR.
VR (and pass-through AR):
Mostly based on TFT LCD and AMOLED
MicroOLED has been introduced
Needs high pixel density to reduce screen door effect
Requires high refresh rates and a short duty cycle to reduce motion sickness
Need smaller lighter headsets
For see-through AR:
All headsets: microdisplays (DLP, Micro-LCD, LCoS, MicroOLED) or laser beam scanner (LBS).
MicroLED entering the market
Need high resolution, very high brightness displays, glass-like design, small size (thinner and lighter) and power efficiency
The basic configuration includes a display unit, magnifying optics, and a combiner
In AR/VR, system resolution can be measured as PPD (pixels per degree). If the PPD is not high enough then a screen door effect occurs. To overcome that, many companies are starting to use high resolution micro-displays. VR systems are starting to use MicroOLED to reduce form factors and reduce the screen door effect.
DSCC forecasts that OLED on Silicon will capture the largest share of shipments for the VR display market with LCD in second place in the next few years. AMOLED will lose shares due to limitations in pixel density. MicroLED with higher potential for brightness will have an advantage for see-through AR but is less important for VR.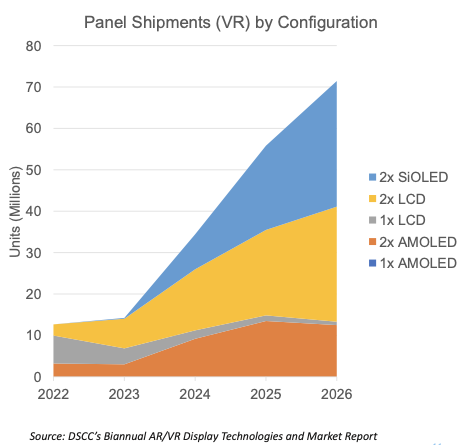 MicroOLED: Poised for Dominance for VR and See-Through AR Display
OLED micro-displays (MicroOLED) are starting to be used in VR/MR (mixed reality) displays, especially now by Apple Vision Pro. It can be used both for VR and see-through AR. It can help reduce form factor and screen door effects. MicroOLED displays can generally be categorized into RGB OLED and white OLED (WOLED). However, high resolution RGB OLED micro displays still face challenges due to shadow effects during the deposition process of FMM (fine metal mask). White OLED uses a color filter to generate the image which can achieve high PPI (4000PPI). However, the color filter absorbs a very high percentage of the emitted light that limits maximum brightness for MicroOLED. Sony has been using microLens to increase peak brightness of OLED micro-displays. Kopin has developed a trio stack architecture to increase brightness. eMagin has achieved 10,000 nits brightness in WUXGA 4K OLED micro-display, made by direct patterning (eliminating color filter) of red, green, and blue (RGB) sub-pixel emitters on the backplane. Samsung Display has acquired eMagin.
For MicroOLED, its higher PPD, high luminance (to eliminate motion artifacts), high resolution (to eliminate screen door effects), high fill factor, higher efficiency and longer lifetime capabilities result in increased demand for VR. See-through AR also requires very high brightness, very high resolution and very high contrast. These requirements make OLED micro displays more applicable for both AR and VR.
SiOLED (OLED oS) MicroOLED has higher efficiency, longer lifetime and gaining share
Apple introduced Apple Vision Pro: 2 OLEDoS (SiOLED micro-display) from Sony + 1 AMOLED for $3,499, expected in early 2024
Sony has 1.3" Micro OLED (using microLens), 4K MicroOLED display for VR, 4032PPI
LGD has shown 0.42-inch OLEDoS (OLED on Silicon) display for AR, 3,500PPI
BOE showcased 1.3-inch 4K4K Micro OLED VR display, >4000PPI
Samsung Display has started pilot line for MicroOLED for mass production in 2024 and has acquired eMagin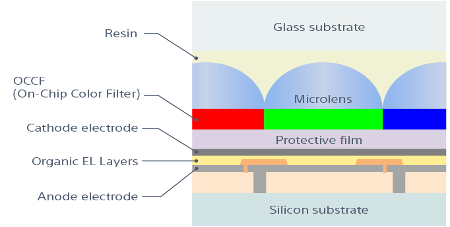 MicroLED: Emerging Presence with AR Display
MicroLED's very high brightness, high reliability (inorganic LED display) and ability to create ultra-compact form factors with low power consumption will have major advantages for the see-through AR market. For the development of high efficiency MicroLED with submicron chip size on a single substrate is needed. At the same time, MicroLED's efficiency declines as the chip size shrinks. Research from Samsung Display has demonstrated that "the size-dependent external quantum efficiency (EQE) reduction problem can be alleviated by minimizing surface defects using an appropriate sidewall passivation structure and method" as pointed out by the insightful article "Advanced VR and AR displays" in the Information Display magazine (March/April 2023) by the Samsung Display team. According to the article, several research groups and companies are developing cross-sectional RGB and stacked vertical RGB to implement RGB on a single wafer, but the technology is not mature enough to be applied in mass production. In the first step, three RGB panels will be commercialized using an optical combiner and in the next step, AR products using a monolithic RGB panel are expected to be developed. Recent demos of full color microLED have been shown by Jade Bird Display (JBD), Porotech, PlayNitride and others.
According to the presentation by Nikhil Balaram, CEO of Mojo at DSCC's AR/VR forum, there is a need for efficient submicron size RGB MicroLED on a single substrate. For manufacturing, it needs a mature ecosystem and cost-effective scalable process. Mojo has developed a color display using high performance quantum dots (HPQD) with efficient sub-micron Blue and Green microLED and high efficiency Red and Green QD ink. They are using a 300mm Gallium Nitride on Silicon manufacturing process.
Ilan Jen-La Plante, Senior Staff Scientist from Nanosys, said at the forum, "QDCC process simplifies microLED manufacturing and improves yield of standard mass transfer of R/G/B LED chips as only blue chips are required. Driving electronics will be simplified as only blue chips are used. Red QD-MicroLED is much more efficient than intrinsic red MicroLED especially as small pixel sizes".
Jade Bird Display (JBD) has announced in October, "brightness of its 0.13-inch red MicroLED chip has exceeded 1 million nits. JBD's red MicroLED pixel pitch is only 4um while emitter size is even <2um, facing high challenge on efficiency. Combined with excellent passivation with new materials and process, the finalized design further breaks through the size effect barrier and significantly boosts internal quantum efficiency. The red brightness milestone brings JBD's Hummingbird X-cube polychrome projector to a new level. JBD will push out its mass produced Hummingbird Optical engines to boost consumer AR glass market". The Hummingbird polychrome projector integrates three 0.13" microLED displays. MicroLEDs are moving towards commercialization:
Applied Materials:

UV-A microLEDs and Cd-free RGB QDs, high-EQE, high-efficiency, simplified mass transfer, pixel repair scheme by 4th subpixel, improve manufacturing yield and reduce production cost

PlayNitride:

For AR/MR, μ-PixeLED, a single device 0.49-inch FHD full-color MicroLED micro-display, ultra-high 4,536ppi, >150,000nits

Porotech:

0.26, 1280×720 MicroLED microdisplay single panel for full color for AR

JBD:

0.13" Monolithic MicroLED Microdisplay for AR, VGA, with polychrome projector (in production)

NS Nanotech:

NanoLED micro-display for ARVR, submicron-scale, high-efficiency, multicolor light sources monolithically integrated on a single chip
LCD: Strong Presence in VR Display with MiniLED
LCD is leading the VR market with technology advancements such as high PPI. The companies are now using advanced LTPO (LTPS+Oxide backplane) to produce the display with higher aperture ratio which is essential for VR. The use of local dimming technology achieved higher contrast and lower power consumption. The integration of MiniLED backlight has helped increase LCD performance in terms of response time, contrast, brightness and lifespan. LCDs are also more cost competitive.
For the AR/VR market, each display technology has its own advantages and challenges. Innovations in display technology, especially for Micro OLED and MicroLED, are essential to drive AR/VR market growth.
Sweta Dash is the founding president of Dash-Insights, a market research and consulting company specializing in the display industry. For more information, contact [email protected] or visit www.dash-insights.com