Apple has depended on Samsung for the majority of its OLED panel supply, but its policy is to minimize dependency on any single supplier. To that end it has encouraged LG Display (LGD) to expand its capacity and technology. In 2021, Samsung supplied 67% of the OLED panels, LGD supplied 28% of the panels, while BOE provided 6% of them.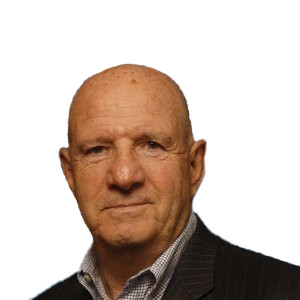 BOE's panels were used for replacements of older model panels, a practice that Apple has used before to introduce new suppliers. BOE supplies 6.06-inch OLED panels for lower-tier iPhones. It will be supplying the same panel for the standard model in the iPhone 14 series launching in the fall this year. For the 6.68-inch iPhone 14 Pro Max, Apple will procure OLED panels from Samsung Display and LG Display.
In 2022, LG is expected to provide panels with both y-octa and LTPO for the Pro and Pro plus models, which were previously the exclusive province of Samsung. LG will also supply hole-display technology for the Pro lineup of the iPhone 14 series. For 2022, we forecast that share would change marginally to 58% for SDC, 28% for LGD and 14% for BOE.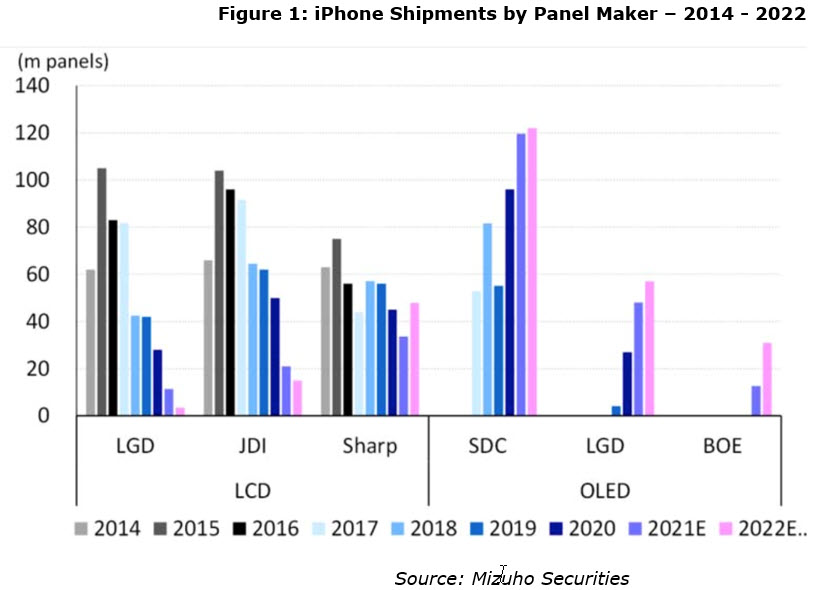 In 2023, LG expects to double its capacity and BOE is reporting that it will support both LTPO and Y-Octa, which could change the split for iPhone 15 smartphones. As China's OLED industry matures, smartphones using China-produced panels are forecast to grow from 95m in 2021 to about 160m in 2022, according to Chen Jun, vice-president and chief analyst of Sigmaintell Consulting. China's flexible OLED panels will account for about 37% to 38% of the global total this year, an increase of 10% on a yearly basis.
Chinese OLED panels are also hopefully looking at foldable smartphones, which were about 9 million units in 2021, a threefold growth over 2020 and have been forecasted to grow to 30m by 2023. Despite the steady prices of the Z Flip and Fold, Chen expects prices of foldable phones will drop to between 5,000 yuan ($784.50) and 6,000 yuan ($945.70) in 2022, given the rising maturity of the local supply chain. Huawei released the P50, a Z Flip look-alike and Oppo unveiled its first foldable flagship smartphone 'Find N'. Priced at 7,699 yuan ($1,213.50), which serves as a tablet when fully opened and becomes a phone when closed. Other domestic players such as Xiaomi and vivo are also gearing up to release foldable phones.
"Chinese handset producers hope to grab a bigger slice in the premium phone segment by rolling out foldable models. Phones featuring innovative and diversified appearances, such as curved and stretched screens, might be launched in the future," Chen said. "The penetration rate of OLED panels in the mobile market is expected to rise to 42% this year,"
he said, adding that apart from foldable screens, the production costs of hinges?a complex mechanical design that allows the flexible display panels to fold and unfold?and ultrathin glass cover plates are still relatively high. Maturing supply chains will lead to a decline in those costs.
The foldable phone market is gaining momentum fueled by the exploration of handset makers in the high-end smartphone segment. The players are ramping up efforts in innovative eye-catching designs to further tap into surging demand from consumers for portable products during the Covid-19 pandemic, said Amber Liu, a research analyst at Canalys, another market research firm.
Chinese Makers Doubling Down
BOE Technology Group Co Ltd, Visionox Technology Inc and China Star Optoelectronics Technology Co Ltd, are doubling down on the flexible screens mainly used in smartphones to challenge the dominance of South Korean firms in the industry. BOE owns three sixth-generation flexible AMOLED production lines. It started mass production of the flexible panels in Chengdu, Sichuan province, in October 2017. The panels have been used by more than 10 smartphone manufacturers. The company's second production line in Mianyang, Sichuan province, began mass production in 2019. Its third facility in Chongqing achieved mass production last month, with a total investment of 46.5 billion yuan ($7.31 billion), where it will implement LTPO technology on the OLED panels.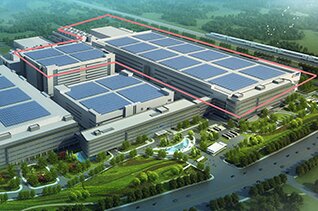 CSOT's T4 Fab in WuhanApple is reported to be evaluating CSoT's production lines to qualify yet another supplier for the iPhone OLED panels. CSoT is said to have formed a team to evaluate suitability of its production lines for OLED displays for Apple. According to The Elec, CSOT and Apple recently reviewed an OLED panel produced by its T4 factory in Wuhan, China. The Gen 6cT4 facility makes flexible OLED panels and can house three manufacturing lines with 45,000 substrates/month. Two of those phases are currently live. Sources told The Elec that if the review OLED panels meets Apple's standards, CSoT would invest in the third line. Once it evaluates the yield of that line, it will likely mull whether to try to make OLED panels for iPhones or to build yet another line for evaluation. CSoT had previously supplied Samsung with OLED panels for its Galaxy M models in 2021. In 2022, it plans to produce OLED panels for the Samsung Galaxy A73.
The Elec notes that it is "highly unlikely" that Apple will decide to include CSoT in its supply chain because BOE can already produce panels with the same specifications. BOE's OLED production capabilities are estimated to hit 144,000 substrates per month by the end of 2022. That's triple the maximum capacity of CSoT's factory.
In 2021, Visionox also underwent an evaluation but ultimately failed to win OLED panel orders. Xu Fengying, vice-president of Visionox, said the company has been providing AMOLED technology for Xiaomi Corp's under-screen camera since June 2019. Xiaomi's prototype foldable phones also used OLED display panels from Visionox.
BOE Preparing to Produce IT OLED Panels on Gen 6 Fab
BOE intends to challenge Samsung's supremacy for OLED-based IT panels and is configuring phase 3 of its Gen 6 B12 fab to apply a two stack tandem structure, where it has two emission layers. This increases the panel's life span. However, it is yet to issue orders for equipment to achieve this. B12 is BOE's third Gen 6 (1500x1850mm) flexible OLED panel factory. The factory has three phases — the second phase will go live during the first half of this year while the third phase will begin operation during the second half of the year.
A recent report indicated that Samsung turned down Apple's two stack request for a large iPad panel. But this decision is likely to be based on not wanting to change its existing Gen 5.5 process. Samsung has been planning to build a new Gen 8.5 fab and it is likely they will re-examine that decision in light of the need to get Apple as a customer before they commit the funds for a new Gen 8.5 fab.
Apple still appears to be working on an even larger iPad Pro model with an OLED display. Apple has engineers and designers exploring larger iPads that could hit stores a couple of years down the road at the earliest. They're unlikely for next year—with Apple's attention on a redesigned iPad Pro in the current sizes for 2022—and it's possible they never come at all. But a big iPad would be the perfect device for many people and would continue to blur the lines between tablet and laptop.
The biggest iPads have been the 11-inch and 12.9-inch ?iPad Pro?. Since the 12.9-inch ?iPad Pro? is already in a similar range to the 13.3-inch MacBooks, it is not inconceivable that Apple could be testing iPad display sizes around 16-inches, which is the size of Apple's largest MacBook Pro.
Samsung, BOE and LG are preparing to supply Apple with large OLED displays for future iPad models. LG has been rumored to be testing OLED displays specifically for the iPad Pro for some time, aiming for improved brightness, longevity, and durability compared to current ?iPad? display panels Larger ?iPad? display sizes may bring the ?iPad? closer the Mac than ever before, but there would likely also need to be software improvements to properly take advantage of the larger display. Apple last updated the ?iPad Pro? in April 2021, but some users have complained that iPadOS does not take full advantage of the hardware the ?iPad Pro? has to offer, making it more challenging to replace a Mac than it could be.
Larger ?iPad? Pros are unlikely to launch in 2022 and are instead likely to launch sometime between 2023 and 2024. This year a new ?iPad Pro? model will offer a glass back to facilitate wireless charging for the first time.
Xiaomi Mix Fold 2 Includes Specs That Would Challenge the Z Fold 3 and 4
Slowly, but steadily, major smartphone manufacturers with huge resources are throwing their hats in the "foldable phone" ring. Xiaomi being the juggernaut that it is — it is also fighting tooth and claw to introduce a foldable phone to compete with the Samsung Fold and the company with use SDC's OLED foldable displays. The original Xiaomi Mi Mix Fold was a China-exclusive device — no doubt testing the waters with a limited edition "proof of concept" (like the first Samsung Galaxy Fold).
However, the new Xiaomi Mix Fold 2 is said to have an 8-inch display on the inside. It will be an LTPO panel and, while it is not explicitly stated that it will have a 120 Hz VRR.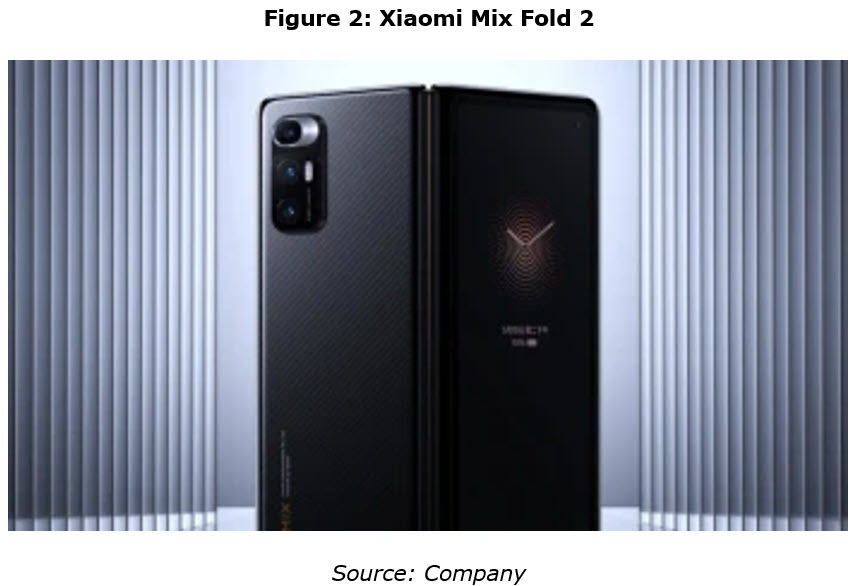 LTPO is used by Samsung, Apple and Google in their top-tier phones — it allows for the refresh rate to change dynamically, moment to moment (LTPO is a Hot Technology – but What Is It?). The rumored 8″ diagonal is bigger than the Galaxy Z Fold 3's 7.6″ screen. The panel's aspect ratio has not been leaked but Oppo Find N's more squareish look lends itself to the book-foldable form factor.
The Xiaomi Mix Fold 2 should be powered by the Qualcomm Snapdragon 8 gen 1, that all big players will have in early 2022, and the Xiaomi Mix Fold 2 should launch internationally.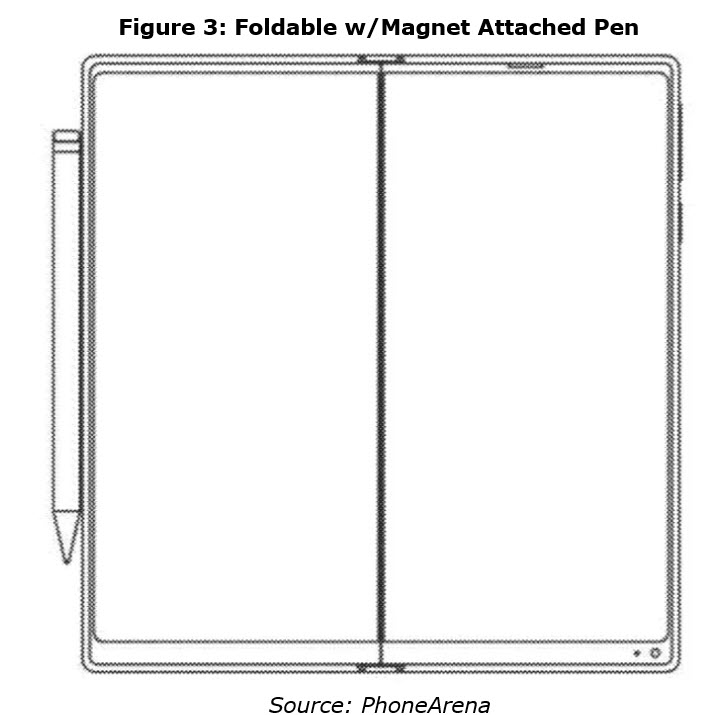 With an 8″ screen, the Xiaomi Mix Fold 2 is going to have a mini-tablet appearance and plenty of real estate to work with. They also have a patent that was revealing a Xiaomi-branded pen that sticks to the Xiaomi Mix Fold 2 magnetically and charges that way. That's just like an Apple Pencil on the iPad Pro. Xiaomi has already shown that it is not afraid to go after this market niche — the newly-released Xiaomi Pad 5 tablet has a proprietary set of keyboard and stylus, mimicking the functionality of the iPad Pro, but from the Android side.
Samsung already has an S Pen that works with the Galaxy Z Fold 3 and if Xiaomi wants to enter this market, it needs to hop in with no features missing. In fact, a couple of extra quirks would be nice — at the very least, have the stylus is included in the box. There are also reports of a Xiaomi Mix Flip, which would go up against Samsung's Galaxy Flip. (BY)
Barry Young is the CEO of the OLED Association