Skott Ahn, CTO of LG, was the first speaker on-stage at the first CES 2015 press conference. LG's theme this year is 'Innovation for a better life': a life that is newer, more beautiful and more convenient than what came before it. The internet of things (IoT) is a key ingredient in this, which centers around three areas: platforms; connectivity; and ecosystem.
Last year saw a new platform introduced: WebOS. Now, LG is updating the platform to WebOS 2.0, which is twice as fast and supports UltraHD streaming. It has also been expanded to LG's signage and hotel TVs. New services include 'My Channel' and 'Quick Start' (WebOS has been criticised for its speed at start-up, so this is likely to be a welcome change).
In addition to WebOS, LG is working on a wellness platform, which will track sleeping habits, heart rate, movement and other factors. The new platform will not only show information on a user's wellness, but link to smart home systems to physically change the environment, such as lighting and heating. Ahn also briefly mentioned a new in-car platform, which will work with multiple types of device (i.e. iOS, Android) and is also customisable.
LG is working to embrace open standards. The company is working with partners including the Allseen Alliance and One M2M, ensuring that its products will work with 'any' device.
Finally, LG is working with smart home service providers on ecosystem developments. Last year saw the introduction of the HomeChat service, which has now been enhanced to respond to voice commands delivered through a smartwatch.
Tim Alessi, head of LG's new product development, talked about OLED technology and mentioned plans to put OLED into the hands of "millions more" consumers around the world this year. Unfortunately, he didn't mention how this was going to be achieved! More than 1 million OLED TVs are expected to be sold by 2016.
LG Display has recently invested $600 million into expanding its OLED production, with one of the results being that LG Electronics will introduce seven new UltraHD OLED TVs this year. Some of these are the EG9900 (flexible, curved; 77″); EF9800 (slim; 65″); EG9700 (curved; 77″), EG9600 (curved; 55″ and 65″) and EF9500 (55″ and 65″).
LG is also committed to UltraHD LCD models, with more than 60% of the company's TVs this year using the resolution. Picture quality will be improved with 'ColorPrime'; Alessi mentioned two different ways to boost colour: quantum dots (using components from Dow Chemical, as suspected – TA) and a proprietary method called WCG (for Wide Colour Gamut) developed by LG Display (see our report on LG Display in this issue LG Display Pushes OLEDs and New LCD Materials).
Greg Peters of Netflix came on-stage briefly to announces that the company will add HDR services this year, which will be supported by LG's TVs. Additionally, the majority of LG's 2015 TVs will feature 
quad-core "or better" processors.
The final area was mobile, presented by Frank Lee of LG Mobile Communications USA. The G Flex 2 will follow last year's G Flex smartphone, with a 5.5″ display (1920 x 1080) using P-OLED (plastic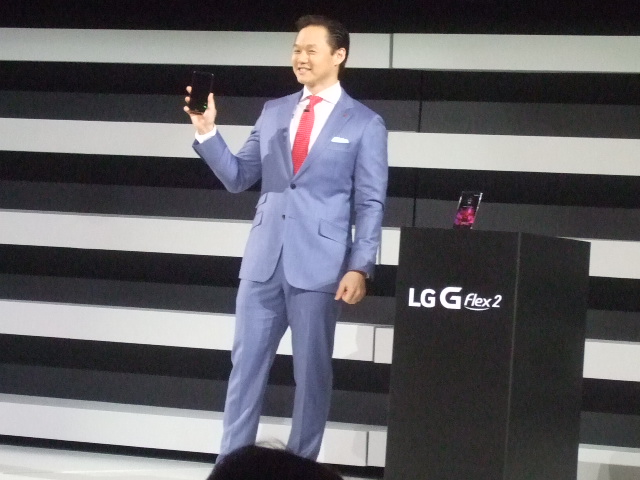 OLED) technology. This is LG's new flagship, with a 2GHz 64-bit octa-core chipset (part of Qualcomm's Snapdragon 800 series).
The G Flex 2 has a 700R curve on the front and back and 400R on the top and bottom. These curves contribute to a 30% increase in the phone's overall durability. The specially-treated cover glass (now up to 20% stronger) and curve help to dissipate the shock from a drop across the screen, avoiding fractures.
The original G Flex had a coating that would take several minutes to repair a scratch; the coating on the new phone will do it in 10 seconds. The G Flex 2 also features laser auto focus in the camera and optical image stabilisation.
Additional features include 'Glance View' – a faster way to see notifications without unlocking the phone – and a fast recharge that takes the phone to 50% battery in under 40 minutes.
Committed to Premium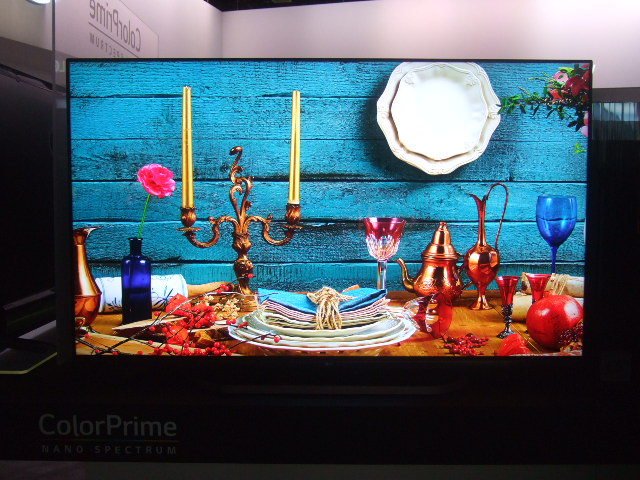 LG had thankfully moved its massive 3D videowall away from the main concourse this year, causing significantly fewer bottlenecks around its stand! The replacement was a wall of very good-looking OLED TVs though, so the crowds were still there in force! OLED is an important technology to LG, and the proof was in the focus seen on the stand.
As Alessi revealed in the press conference, there will be seven new OLED TV ranges this year, all of them UltraHD. Sizes will range between 55″ and 77″, with differentiation in the curve or flexibility of the screen, the stand design and the speakers (some will use Harmon Kardon audio). The TVs will begin to be rolled out from March, but there was little detail about them past that. We heard from an external source that one of the flexible models (E9900) uses a 10-core (!) processor and will be launched in the second half of the year, for about $38,500.
The new LCD ColorPrime sets use two different ways to enhance colour: a quantum dot film or the proprietary WCG method. We found out that this is processor- and software-driven, rather than hardware. LG bills WCG as providing more realistic colours, while QD sets are more vibrant; however, as the sets weren't placed next to each other this was a hard claim to judge (they apparently had been on the first day of the show, but had been moved by the time of our meeting). All ColorPrime sets will also have a contrast enhancer called Ultra Luminance. They will start at 49″, with UltraHD resolution.
Elsewhere in the TV area where several large, attention-grabbing sets. A 98″ 8k model with ColorPrime was very impressive, and was joined by ]an UltraHD set of the same size. The 105″ curved panoramic (21:9) TV that was on show last year was also displayed, and we were told that LG will be launching it with a 'premium retailer' in the UK very soon.
We made our way to the G Flex 2, where it was obvious that LG has learned that bigger is not always better; the combination of a smaller screen (5.5″ instead of 6″) and higher resolution (1920 x 1080 instead of 1280 x 720) means that pixel pitch breaks 400ppi. The phone's clarity is much improved from the previous version, and the curve, which cuts out some ambient light, still delivers a high-quality viewing experience in landscape mode.
As one of the first phones with a Snapdragon 810 processor, the G Flex 2 is very fast – the eight cores and DDR4 RAM do their bit to speed up the use, and we couldn't get it to stutter when putting it through its paces. The phone has a February release date in the UK.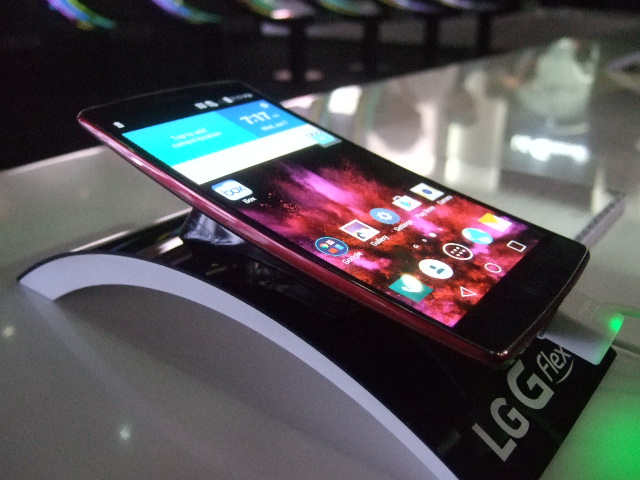 LG was also showing a new smartwatch, created in partnership with Audi, which uses the WebOS operating system. LG's most recent smartwatches have used Android Wear; this is a move towards using the company's own software, rather than being reliant on Google's, which would make it easier to develop cross-platform technologies.
Audi might seem an odd choice of partner for a smartwatch, but this device will enable control of various in-car functions, like central locking, windows and starting the engine. We assume that future models will also be able to control LG's WebOS TVs, but the company could not say.
A source told the Wall Street Journal at CES that LG would also introduce a watch later in the year that can make calls without being linked to a smartphone; however, this person could not say what OS the watch would use.
Monitors and LFDs
On the outside of the booth was a demonstration of some LFDs. There was the existing 98″ monitor and the LG 55V77A 3.5mm video wall display. Also on show was a new 49″ monitor, the 49LS75A, which is expected to sell well in QSR applications. The monitor is part of the LG "Smart" signage range and has an integrated SoC with WebOS support. It has an optional module to allow the set to support OPS and allows remote control via RS 232 or over the network. Other features include a switch to internal memory playback or a second player if an external player fails. There is 16GB of local memory (12GB available). Brightness is 700 cd/m2 and the 1920 x 1080 panel is based on IPS technology. It has a hard coating (3H).
There were lots of wide and curved monitors. The 34UM67 is a new 34″ 21:9 monitor with FreeSync support to reduce display tearing. Resolution is 3440 x 1440 and the IPS panel supports 99% of SRGB gamut. Few other details were available at the show. Also new was the 34UC87M, a 34″ monitor with the same resolution and is the "business" version and includes Thunderbolt support. The 34UCM97 is for content creators, but has been shown since IFA. As at IFA, LG showed a six monitor 34″ curved multi-display array, although this time it was in the public area.
The 31MU97 31″ UltraHD set was shown, but is not new.
The 29V950 is a new 21:9 29″ all-in-one (AIO) that is apparently aimed at "tech-fashionistas" (whatever they are!). The set adds a Broadwell Intel Core CPU (up to i7) with nVidia GT840M graphics to the curved monitor.
HDR
In a private suite in the back of the cavernous LG Electronics booth at CES 2015, we were able to see two High Dynamic Range (HDR) demos.  One was based on OLED technology and the other on LCD technology.
There was very little information on the LCD prototype other than it was based upon a digital signage panel with a peak luminance of 2000 nits. However, this was adjusted to output about 1000 nits of peak luminance for the demo.  It was definitely far brighter than the OLED demo and I (CC) actually preferred the LCD to the OLED.
Attention was clearly focused on the OLED prototype where the STEM reel was being played. This file was played back with just PQ (Perceptual Quantizer) encoding at a 220 Mbps rate, which is the way next generation Blu-ray discs will be encoded. The TV then did the tone-mapping transformation in real time to create an image matched to the capabilities of the OLED display.
The OLED display was a 65" model that was being overdriven for the demo. Peak luminance, when tuned to a 9000K color temperature, was 800 nits, but the set was tuned to D65 and the peak luminance at this color temperature was 470 nits –  just a bit brighter than most TVs today – but the OLEDs can offer much deeper black levels to enable high dynamic range. This was quite evident in the image quality.
Clips from the STEM reel (graded at 450 nits peak luminance) and Marco Polo (graded at 1200 nits peak luminance) were both shown on the OLED HDR prototype. You are also able to toggle the HDR effect on and off to see exactly what it is doing to the picture. No timing for commercialization was provided.
Unfortunately, we were not allowed to take any photos in the back room, but it was also shown on the trade show floor.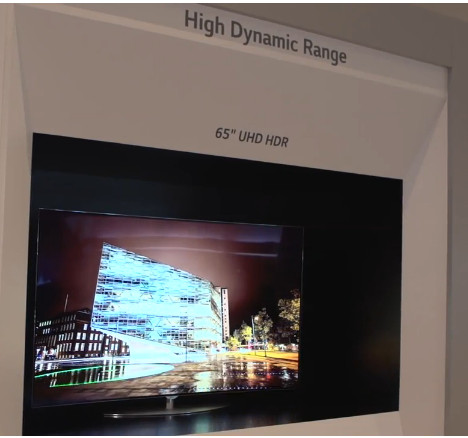 Display Daily Comment
Of course, LG's OLED TVs looked stunning, although with every model a large UltraHD unit, I'm struggling to see how LG plans to raise adoption by the millions that Alessi predicted. (TA) 
I enjoyed the presentation by LG on HDR – it was one of the few that really added to the accumulated knowledge that I have gained over the last few years. We're not used to seeing such detailed feedback on their research by LG – from Panasonic or Sony, yes, but not from this company. What is clear is that LG is taking the image quality of its HDR very seriously and is doing a lot of work to ensure that its tone mapping of HDR content to its sets is as good as possible. One of the interesting "factoids" was that the four samples of UltraHD HDR movie content that LG was using to demonstrate were supplied to the company as individual TIFF image sequences, so the data rate needed to play back was huge. LG was using a RAID array of SSDs (as it was concerned that using a compression scheme might introduce some kind of distortion)
We also talked about the difference between the peak and calibrated brightness. Peak brightness of the OLED is at around 9,000K, which is too blue for accurate colour and the brightness comes down to 470 when you calibrate to D6500. The RGBW mode helps with the brightness, but at lower brightness, the white subpixels are switched off to get maximum saturation. (BR)