Like several other companies, LG had relocated this year to a new venue in Hall 18. This was because the old stand was (apparently) one of the busiest and most crowded at the show; the new location means that LG can spread out a little more.
Unfortunately, despite the larger stand there was little new to see when we visited. The highlight – at least on the display side – was LG's flat OLED TVs, the EF9500 and EG9200, as well as the curved EG9100. However, LG had announced these models a month ago (LG to Bring Four OLED TVs to IFA), and there was little news about them. However, we did get pricing information: they are expected to cost around €8,000.
LG's OLED TVs were being used to show HDR content, using HbbTV 2.0 – a world first. Content from the BBC's filming of the New Year's Eve celebrations was streamed by the EBU, using MPEG-DASH. In addition, the company was showing HDR content from other sources, including satellite (SES) and Broadcom's HDR set-top box.
The BBC content was being shown in UltraHD resolution, at 50fps and 4:2:0 colour subsampling, with 10-bit colour. It was a 25Mbps stream.
(Quite snidely, considering Samsung's SUHD branding, I thought – TA) LG refers to its newest LCD TVs as 'Super UHD'. These, first shown at CES, feature a wide colour gamut (at CES, this was revealed to be the result of either quantum dots or be processor- and software-driven, depending on the model), micro-dimming, IPS panels and UltraHD upscaling. A prototype 98″ TV, with 8k resolution, was displaying all of these features in the middle of the stand.
A small room next to the 98″ TV contained LG's portable LED projectors, and one of the few 'new' display products that we saw: the Minibeam PF1000U. This projector features an ultra-short throw ratio, and can project a 60″ – 100″ image from 11cm – 38cm. It has 1920 x 1080 resolution, 1,000 lumens of brightness and a digital TV tuner. It will be launched this month, for €1,100 ex VAT.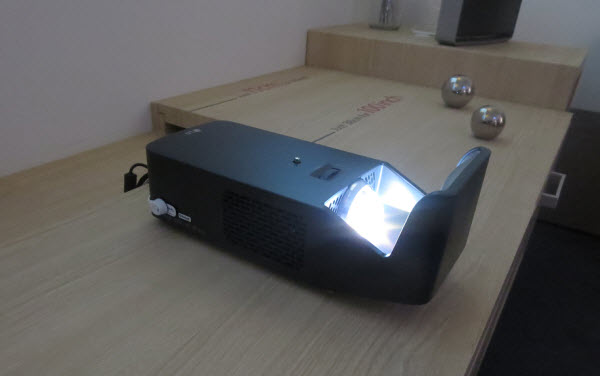 The only monitor on the stand was the 34UC97, which was introduced at IFA 2014 (Display Monitor Vol 21 No 33).
Analyst Comment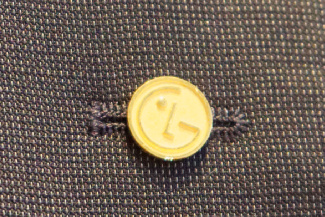 We caught up with LG's monitor group at the show. The group is still enjoying a little of the afterglow for its good sales last year (we show the special badge the team won for this). In the back room where the firm talked to dealers, it had a new 27″ UltraHD monitor. We heard that this is looking good with Windows 10. We also heard that there should be bigger than 34″ 21:9 display last year, although the size we heard from LGE was corrected by LG Display. Our money is betting on something at around 37″, with higher resolution than the 34″ 21:9 models. (BR)