Hisense was enjoying its second year in Hall 6, having moved there in 2014 to be closer to German partner Loewe. Loewe was absent from the show this year, but Hisense remained in place!
Only two new TVs were being shown by the company. The first was the XT920, a 78″ curved set with a wide colour gamut (78% NTSC), 120Hz frame rate and local dimming. The TV has UltraHD resolution and will be launched next year.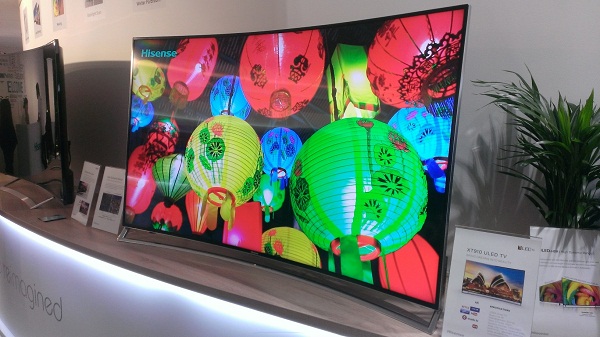 The other new set is the XT910. It is one of Hisense's ULED models, which combine UltraHD resolution, quantum dots, HDR and a high frame rate – in this case, 120Hz. Hisense claims a 7,000:1 static contrast ratio and says that the TV has 900 cd/m² peak brightness and covers 108% of the NTSC gamut.
Hisense will launch the XT910 in October, for €2,500 ex VAT.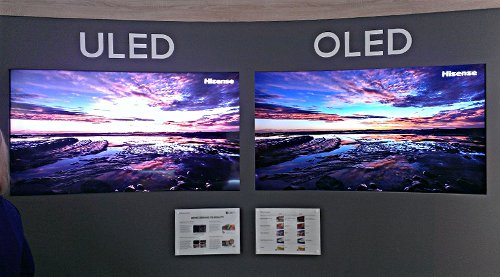 The ULED TVs are intended to compete with OLED, and Hisense was showing one of its own sets next to a competitor's OLED TV. However, the demonstration seemed to backfire, as the ULED set was reflecting a lot more light than the OLED model – perhaps it was just in the wrong part of the stand. However, a similar demonstration comparing ULED, QD UltraHD and a standard UltraHD set made Hisense's technology look very good.
Several mobile devices will be launched next year, although not all in the European market. An unnamed Chromebook, for example, will be limited to the US market. This device is 11.6″, with 1366 x 768 resolution and a quad-core 1.8GHz processor. It has 2GB of RAM, 32GB of storage and ports for HDMI and USB.
One new tablet was being shown, called the Magic Mirror. It is a high-resolution (2560 x 1600) small (8.4″) model. A quad-core 1.8GHz processor runs Android 5.0. The unit has 2GB of RAM, 16GB or 32GB of RAM and a 4,500mAh battery.
There were seven new Android phones around the stand, although none were particularly interesting in terms of displays – we're still waiting for more companies to go 'the Sony route' and install enhancement technologies in their mobile devices (see our coverage of the Z5 smartphone). All models are 4G, with dual-SIM support (excluding H910).
The H910 is a high-end unit with a 5.5″ display (1920 x 1080). It is shock-proof and features optical image stabilisation in the camera (using a Sony IMX214 sensor). A 64-bit 1.5GHz octa-core processor (Snapdragon S615) is used, with 2GB of RAM and 16GB of storage. Gorila Glass 3 protects the display.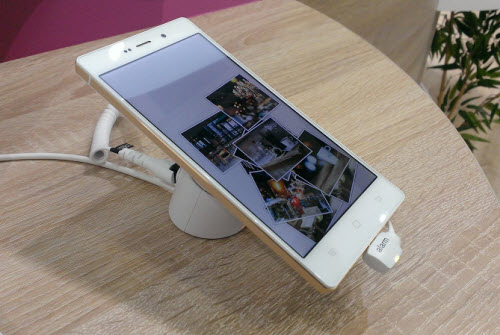 2.5D glass (curved on the edge to strengthen the display, although not to the extent of Samsung's Galaxy Edge) is used on the L695 (5.5″) and L671 (5″). These phones use a 64-bit octa-core 1.36GHz Snapdragon S415 processor. They have 2GB of RAM and 16GB of storage. Very similar to the L695/L671 are the E71 (5.5″) and E70 (5″). The only difference is in their displays, which do not use the 2.5D glass. They have 1280 x 720 resolution.
Finally were the E51 (5.5″) and E50 (5″). These models also have 1280 x 720 resolution, as well as 1.1GHz processors, 1GB of RAM and 8GB of storage.
Analyst Comment
We had a brief catch up with Nanosys on the Hisense booth as the company is using Nanosys technology in its QD sets. We heard that the gamut of 108% in the QD set is actually a kind of hybrid between DCI P3 and AdobeRGB. (BR)