LG has introduced new mobility technology concepts through its vehicle component solutions division under the LG Mobility Labworks category. This initiative showcases pioneering and experimental technologies under the theme, "Experience Your Perfect Fit of Future Mobility." Thats a lot of marketing pleasantries, but it's an impressive show of firepower by LG, and a statement of its commitment to maintaining its market lead in automotive displays.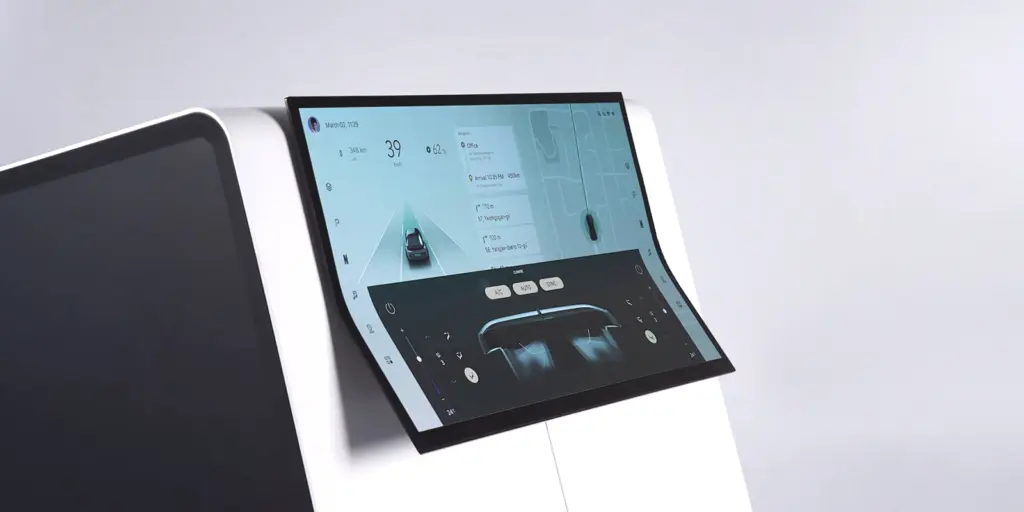 On the display side, there is an L-shaped P-OLED display that combines the instrument panel, center information display, and co-driver display, allowing users to switch between wide and narrow views; pop and fold displays that are hidden in the dashboard and appear on demand; P-OLED flex and slide displays with curvature that can be adjusted by user preferences.
LG is also introducing a range of innovative vehicle technologies to enhance the driving experience. Its voice assistant integrates a hybrid speech recognition system that's built in-house. It promises an emotionally engaging user experience paired with a user-friendly UXM (user experience management) system. The HMI technology uses LG's ToF (time of flight) and IR (infrared) cameras to accurately detect finger gestures and body movements for an in-depth 3D analysis of passenger behavior. This technology seamlessly merges with LG's VCM haptic feedback. The streaming and sharing feature delivers a 5G experience, offering high-resolution, high-capacity, and multi-channel content through the RSE (rear seat entertainment). It supports a shared car concept that facilitates device identification and a smooth transition of video streaming from personal gadgets to the in-car RSE system. The Leopard SW platform is designed for IVI (in-vehicle infotainment) products, accommodates various SoCs, and adheres to both GENIVI and web standards.
Members of the GENIVI Alliance include automakers, suppliers, software companies, and other organizations that are invested in advancing the adoption of open source, in-vehicle infotainment (IVI) software and providing open technology for the connected car.. The alliance provides a platform for collaboration, helping its members to develop and optimize open-source software stacks for automotive applications.