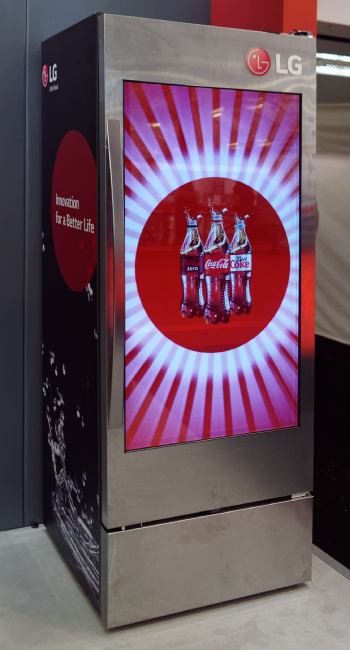 Over the last year, LG has been developing its B2B strategy at a European level and the retail group, based in Amsterdam, was running the booth at RDSE. LG has vertical sales and marketing groups sitting across the different product categories to help it to maximise its opportunities. These are in retail, finance and banking, hospitality, cruise liners and DooH.
At the show, there was no new hardware, so close to ISE, but staff were highlighting the 86″ stretch display and also the firm's complete coolers. It has been surprised to find considerable interest among soft drink companies that are looking at the opportunity of being able to control screens in retail environments, especially service stations. The recent fall in oil prices has put extra pressure on operators to make more money out of food and drink and LG is very optimistic about work it is doing with Coca Cola. It is also talking to Burger King and there, also, the soft drink brands are interested in exploiting the chance to promote their sales through the branded coolers. Another prospect is UK beverage maker, Britvic.
The model that is developing seems to be that the beverage brand buys the hardware of the cooler and then splits the cost of content creation with the company hosting the units.
Like Pyramid, LG is developing transactional systems for QSRs as autopay use has increased very fast in the last year or so. LG is also working closely on developing touch and automated systems for outdoor QSRs (such as drive-throughs)
LG also told us that some of its smart displays are capable of acting as wireless access points, and that this function is popular with stores that want to have wi-fi available, but don't want to buy additional systems.