LG Display held a special "European OLED Day" in Munich, along with seven of its TV partner brands in Europe; B&O, Grundig, LG Electronics, Loewe, Metz, Philips, Toshiba. (Sony was a notable exception – apparently because of an 'internal event' – hmmm… I suspect it simply didn't want to add the prestige of its brand to a supplier's component). There were around 120 press and delegates with many of the 'usual suspects' present. The stage was backed with a very big LED display.
The event started with an 'exhibition' of the advantages of OLED – there was nothing really new although the curved display on show was a tighter radius than I remembered. The company highlighted viewing angles, the problems for LCDs with 'star field' images (which with fine dots were simply not visible on the LCD, but obvious on the OLED). It also showed its sound system and OLEDs for automotive applications. However, there was nothing that hadn't been see before.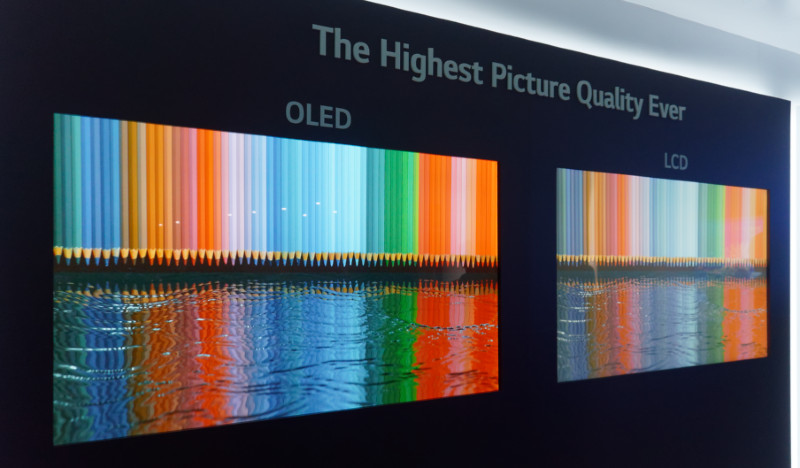 There were good demonstrations of OLED vs LCD colour performance. Image:Meko
Then the assembled press was shown the TVs from the partners. Again, there was nothing new, although it was quite instructive to see all the different designs in a 30 minute period, which highlighted the different approaches of the different companies. Philips highlighted Ambilight, B&O its audio and Metz is clearly run by engineers! The main split was between those that put the electronics in a base with the speakers and those that put the electronics on the back. Again, there was nothing that had not been seen at IFA.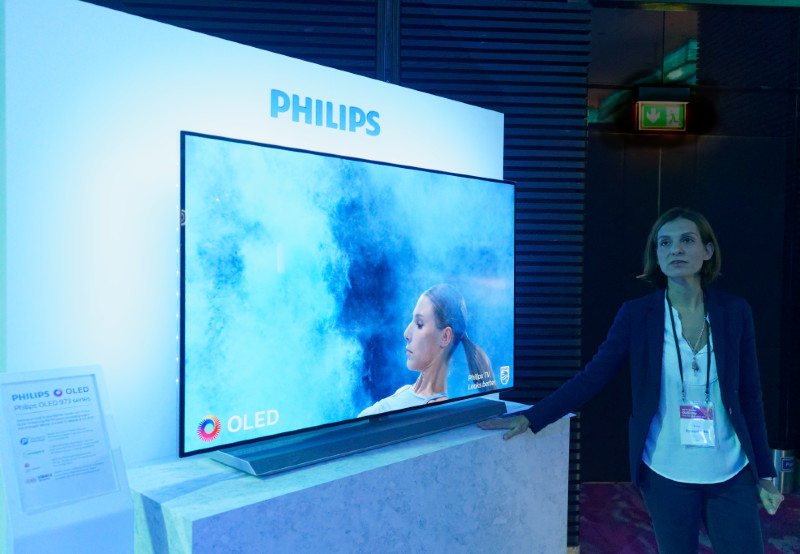 Philips was highlighting its Pixel processing and Ambilight feature. Image:Meko
We then got to the speeches – and there were plenty including a number from outside LG. Much of the content was traditional OLED promotion and the main conclusions could be summarised as:
OLED is winning the premium segment of the TV market (more on this later)
OLED is great for designers who can make some very desirable products
OLED can be flexible and transparent (eventually!)
OLED has a 'simple structure' (regular readers note my scepticism about the simplicity!)
OLED is the key technology for the future in smartphones.
LG wants to be the OLED company and is committing 'all its resources and talent' to the technology.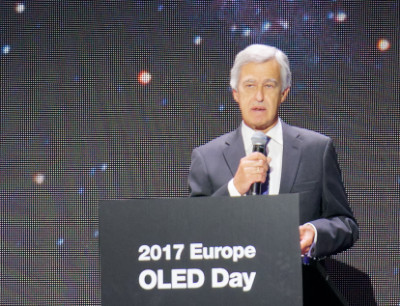 Speakers included LG executives and Jorge Gonçalves, formerly, for fourteen years (pictured), the chair of the EISA group which is such an important endorser of brands. He pointed out that OLEDs had won the 'Best TV' product for six consecutive years. He also pointed out that it has been 25 years since he first read about the breakthrough in the development of polymer OLEDs.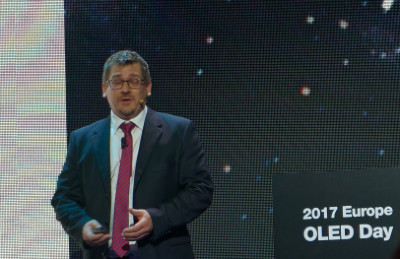 There is a big argument going on between Samsung and LG at the moment over the impact of OLED on the premium TV market and so it was no surprise that a speaker, Alexander Dehmel was introduced from GfK. He certainly gave a good account of how GfK sees the premium TV market. As this is a hot topic, we'll report that in some more detail.
First GfK defined the premium market as being sets at €1,300 or $1,500 or above. As he said, any point that defines "premium" is fairly arbitrary, but he chose that price because sets above that price represent 5% of the global volume, but 20% of the value. (of course, GfK, because of its relationship with NPD, does not track the US market, so global here means everywhere except the US). If you consider that market, then Europe is 34% of the market. The world has seen a big increase in sets that offer UltraHD, WCG and HDR, from just 3% of the premium market in 2015 to 76% this year.
In Europe, there is quite a wide variation in penetration of OLED from 13% in 2016 to 25% in 2017. In Benelux/It/UK more than a third. Biggest market for OLED is DACH, where the OLED share is smaller, but the size of the market means that it represents 32% of the total market.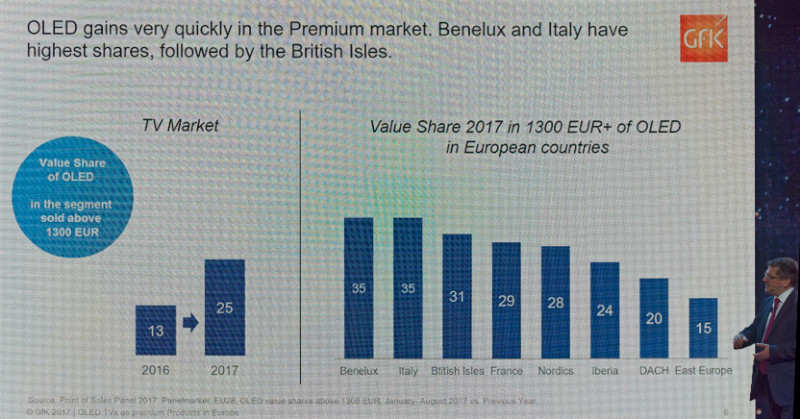 Premium TVs are more important in some countries than others. Image:Meko (apologies for the moiré – a result of the use of an LED for the display)
DACH has relatively low penetration, so far, but the size of the market overall means that the country is the biggest segment and the the top six regions take 90% of the premium market value.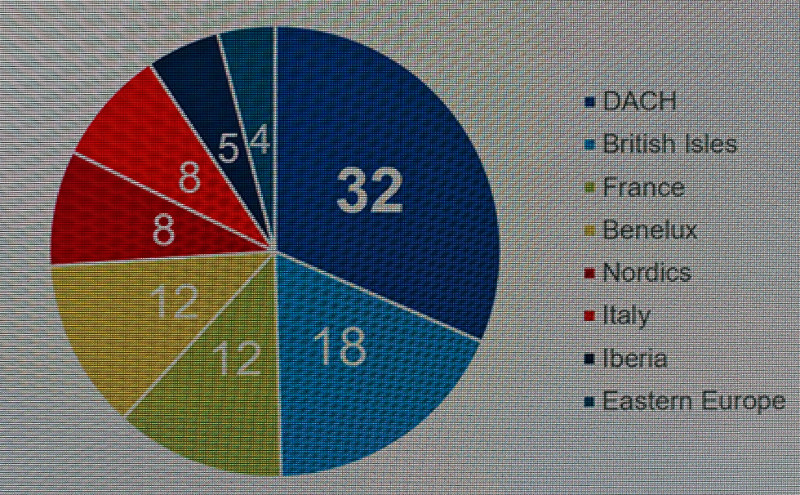 DACH is the biggest market for Premium TVs (chart shows share by value of European premium market). Image:Meko
The number of brands and models has increased to nine brands in the market from two in 2013. There will be more models in each size in the future and more sizes. At the moment, several of the brands have only one model in each OLED size and that will change, going forward. Distribution has become much wider and 67% of the stores active in the >€1,300 market now have OLED in their offers.
OLED is relatively highly priced and 90% of OLED TVs are sold at prices higher than €1300 (we were surprised it wasn't higher!)
OLED Wins – it's ABCDE!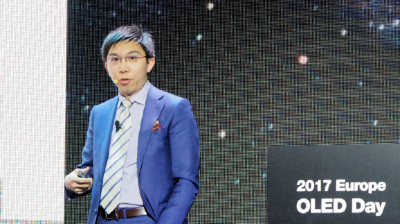 Vincent Teoh is from HDTVTest in Manchester and runs a shoot out every year. This year, the TVs in the shoot out were:
LG's B7 OLED
Panasonic's EZ1002 OLED
Samsung's Q9 QLED LCD
Sony's A1 OLED
Sony ZD9 LED LCD
The results were decided for different applications:
Best Home theatre (best image quality in a controlled brightness environment) – Panasonic
Best living room TV. (brighter rooms) Sony's A1 OLED
Best Gaming TV – LG's B7
Best HDR – LG B7
Best TV of 2017 overall – Panasonic EZ1002.
That meant a clean sweep by OLED. Why, Teoh asked? He said that it's ABCDE
A best viewing Angle
B true Blacks
C vibrant Colours (black affects colour perception and acts like a canvas for an artist)
D super thin Design
E Expensive – more money for retailers!
In the €2,500 market, customers were gravitating towards OLED. He said that he recently talked to a big retailer near his home and sales staff told him that they haven't sold a single 55″ or 65″ QLED. Teoh said that he finds it shocking, given Samsung's market power. Maybe its the staff in that particular store, he said, but it's amazing!
Sheedy Says OLEDs Better for Vision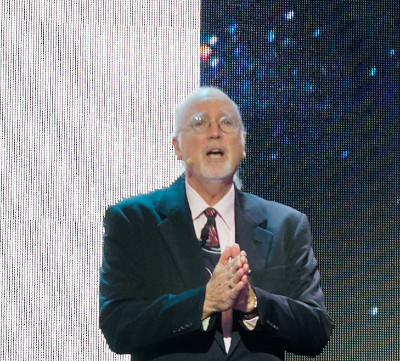 Dr James Sheedy, Professor Emeritus at Pacific University College of Optometry, gave an interesting but quite technical overview as to "why OLED is better for vision". We humans can see detail in a wide range of brightness, because we see contrast and differences. Evolution of the human visual system has been optimised to allow hunting under high or low brightness conditions and we can see differences of about 1% in contrast.
Often images that we look at need better differentiation in dark level to exploit the human visual system to the max, but this is difficult. Sheedy then looked at grey scale discrimination and said that in his view, OLED is better although the overall brightness is less. High brightness LCD, he said, has been reported as "uncomfortable". OLED produces less blue light and although Sheedy dismissed claims that ordinary levels of blue light can do damage (experiments on animals have been at very high brightness, he said) or cause discomfort, he does believe the science that shows an effect on sleep patterns. It may not be a good idea to watch a bright LCD TV with a lot of blue late at night.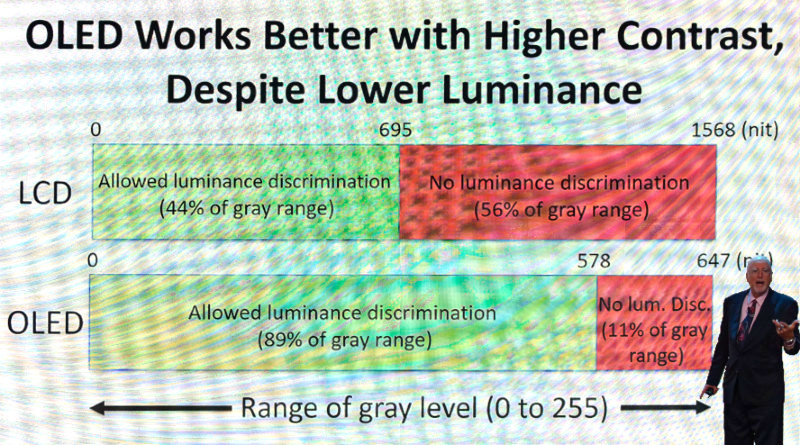 OLED matches better to the eyes – apologies again for the moire. Image:Meko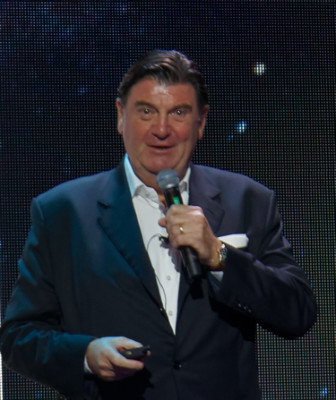 Dr Peter Zec of Red Dot Design then came on to ask what is good design? He said there are four factors in good design.
Products must be functional and innovative
Seductive & aesthetic – desire drives purchase
Useful, usable which is not the same as function – usability is between us and the product – becoming more important
Cultural, ecological design
Zec believes that the arrival of OLED TV is a significant breakthrough in design terms although different users are looking for different things. He also said that the old idea of simply economic class as an indicator of buying habits is very out-dated and he proposed the following structure. He also pointed out that OLED is not cheap so the 'digital avant garde' might not be able to afford the technology.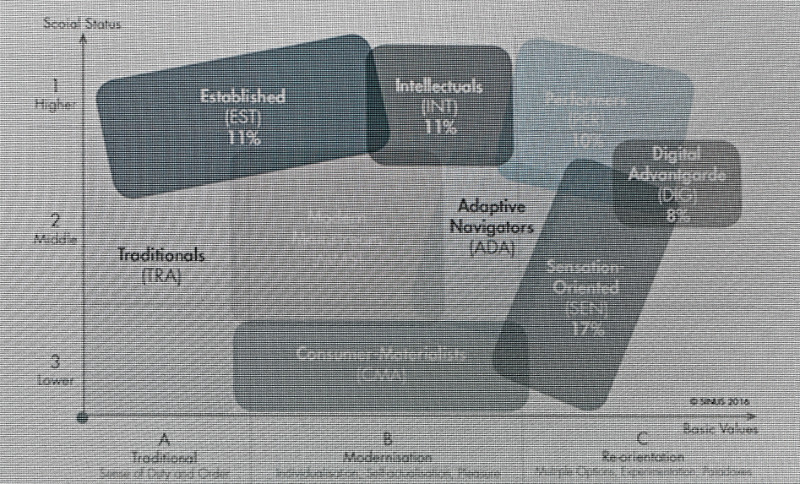 Buying patterns are getting more complex.
However, Zec that Technology alone is not enough – you need to use design to bridge with users. He also said that hotels were important places for technology to be seen. Those that visited and saw high end design often then went home to imitate the concepts. (although there was a very good Philips TV in my room in the Sofitel, the TV reception was awful – the SD image kept breaking up and I found it unwatchable!)
The Red Dot award wants to be indicator of new trends and LG has been a recent winner, but other products such as high end audio players from Atell and Kern were also using the technology. He also suggested that delegates watch Xiaomi of China, which is setting a high design standard and has innovative products, although no OLED TVs, yet!
A Truly Awful Video
There was then the compulsory 'vision of the future' video, which was truly awful! It was very well produced, technically, but it was very corny and really did nothing to suggest that LG Display has a grasp of how to market to Europeans. (think Corning's "Day of Glass", but with less thought!). Yuck!!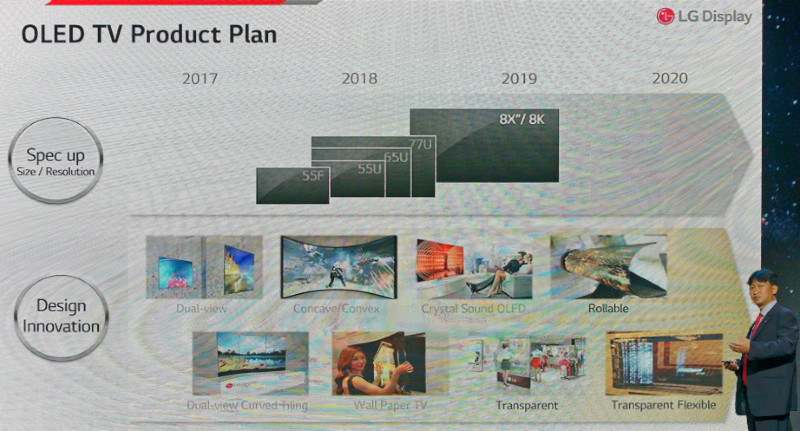 Although not shown on this OLED Roadmap, LG said that 4X" panels would be made for Europe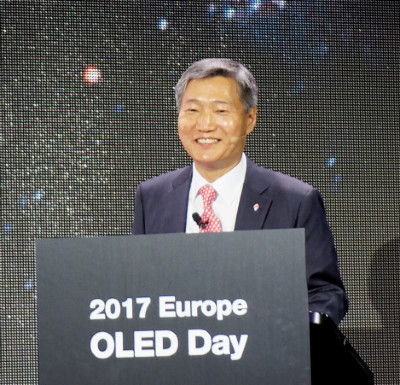 Sang Lee is SVP of TV sales for LG Display. Why is OLED doing well in Europe, well its because GDP is very high with Europe having 20% of global GDP and GDP per capita is well above the global level. Consumtion expenditure is $23,000 – almost four times the $6,000 global figure. So Europeans, relatively, can afford them. Further, European consumers want good quality and the best technology. EU consumers switched to LCD from CRT faster than other regions and are adopting OLED well.
OLED penetration is highest globally (above $2K) in Europe. OLED is only available in a couple of sizes, but if you look at 65″, for example, Lee said that 61% is OLED ( if you look at sets of $3,000 and above). 74% of 55″ above $2000 are OLED. He also said that the share at different prices is increasing.
Lee then claimed that according to Best Buy's latest investor's report, OLED is turning out to be a good opportunity for the company -and it's quite a long time since a retailer was positive about the effect of TVs on its profits. Lee believes that the Best Buy stock value has gone up because of HDR and OLED. There were 13 brands showing OLED at IFA.
Turning to LG's business, by 2020 more than 50% revenues will come from OLED. Currently the firm has a capacity for around 1.7 million OLED TV panels. However, there is a plan to build a fab in Guangzhou at G8.5 and another G10.5 in Paju. By 2020, the company wants to be making >6m for high end LCDs.
There was then a press question session. One of the things we learned is that LGD is under a lot of pressure to proved OLEDs with less than 55″ diagonal for the European market and is planning to make a fourty-something inch panel (exactly what is not yet decided). There will also be panels above 80″ in the future.
Responding to a question, the company said that it is "Working to develop BT2020 colour support", but this is a "long term" effort, although P3 is seen as the important gamut for now. Brightness is also continually developing – 150 – 250 "is enough for now" for TV viewing if you have good black, the company believes, but for the future it is trying to develop.
Responding to a question about RGB OLED for TV, LG said that there is currently no interest, white OLED and filters remains the plan for TV. There is also no need or desire to use QDs and there is no plan to adopt QD in the colour filter. However, as suggested by the collaboration with NHK, an 8K panel is under development and may be possible by 2019. We also heard from staff at the event is that "there is no plan for inkjet – we are happy with our deposition technology" (which would be logical if the company is not intending to move away from a white OLED + filter architecture).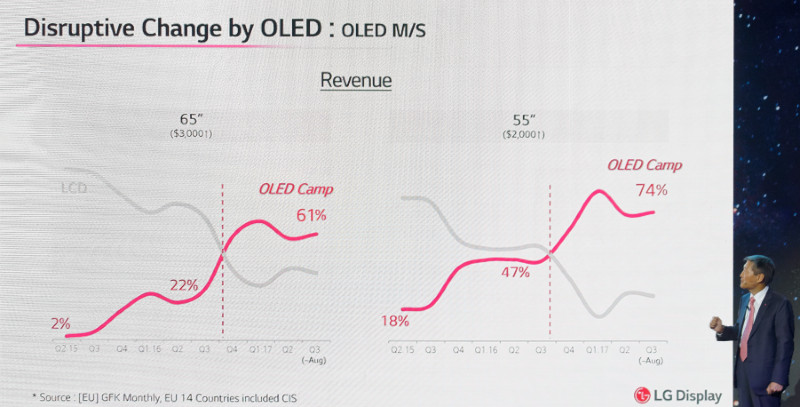 LGD said that if you only look at 55″ and 65″, the position of OLED is much stronger.
The executives said that they now had achieved "golden yield" of 85% (although there was no mention of whether this was from all sizes and resolutions).
One member of the press was quite upset that LG no longer supports passive 3D and wanted to know if this was LG Display's decision or that of the set makers. LG said that 3D doesn't appeal to consumers, it needs better content and there is no current plan to re-introduce it.
We asked when OLED would be qualified for automotive use, because of issues such as lifetime and image burn. First, LG ducked the question by saying that it couldn't talk about what its customers were doing, but we could expect to see something 'soon'. Second, the executives were clearly put on edge by mention of screen burn and immediately got very defensive, explaining that LCDs also have image sticking issues. They insisted on reading out the comments on sticking from 'an LCD TV maker'. The notes were clearly to hand ready to respond.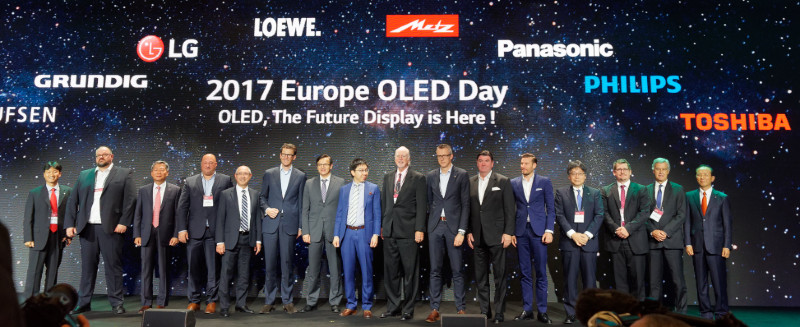 You could play "Spot the women", but you might be here a long time! Image:Meko