LG had no formal PR presence at ISE (!) and was relying on country sales staff to conduct tours. We started by looking at an area that highlighted the company's desktop monitors. The first we looked at was the 27HJ712C-W UltraHD 8 megapixel clinical review monitor that the company showed in the US in November (LG Leverages Display Expertise, Enters Medical Imaging Market). The firm also had the 27HJ710S which has a gamut that is boosted in deep red and is intended for surgical use. The company quotes a coverage of 115% of sRGB, while it earlier said 99%. However, nobody that we spoke to at the event had much more detail. The monitor is water and dust proof (IP35) and includes a 3G SDI input as well as HDMI in and both DVI and DisplayPort input and output. Brightness is 800 cd/m² and response time is 15ms.
Another interesting development is the 43UD79, a 43″ UltraHD monitor that is intended to replace set ups with 2 x 2 FullHD monitors. To support this, the monitor was said to have four HDMI inputs, one for each quadrant (although online sources list only two HDMI ports + DisplayPort + USB Type-C, which would still give four inputs). The monitor has 350 cd/m² of output. It looks as though this product has not been officially announced, although it is being advertised online.
Next we looked at the HF80J ProBeam projector that LG showed at CES and at the show, LG was highlighting the potential for use in hospitality. The company had its hotel TVs on show and also had a big display of its VH7B narrow bezel displays, but these are not new. There were several of the 86″ 86BH5C (500 cd/m²) and 86BH7C (700 cd/m²) stretch displays on the booth and there were lots of OLEDs including a commercial of the 'wallpaper' OLED display, but it is rated at only 400 cd/m² and 16/7 operation (with video only), which significantly limits the potential market. The OLEDs were shown also in ceiling mounted and floor stand versions as well as in curved use. An eye-catching demonstration was of the OLEDs being flexed by motors so that the OLEDs could be converted from flat to curved. This was called the 'Twister'. These are 'open frame' OLEDs and can be used in concave or convex configurations.
Moving around the booth, there was a display of narrow pixel pitch LED, with 2.0mm, 1.5mm (both 1,200 cd/m²) and 1.0mm (1,000 cd/m²) being offered by LG. The 1mm pitch display was being shown in an ultraHD configuration and the modules on all three pitches are 384 x 360 x 77mm. The company also had a novel display made of LEDs being embedded in a transparent film and used on the balcony. We couldn't get many details, but it seemed to be monochrome and LG has said that it plans a digital signage product based on the concept 'in early 2017'. The film is expected to be used on windows.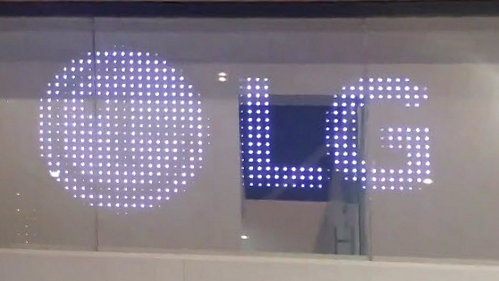 LG's LED Film
LG is following Samsung into a heavy push on UltraHD LCDs for signage applications and will this year have 49″, 55″, 64″, 75″, 86″ and 98″ units. The 86″ and 75″ units are The company also showed new XF3C outdoor displays in 49″ (1,500 cd/m²) and 55″ and 75″ (both 3,000 cd/m²) Resolution is UltraHD on the 75″, FullHD on the others and, of course, the displays are rated for 24/7 operation.