Leyard had plenty to show us both in the LED side and in LCD video walls (from the Planar side).
First we looked at the new lightweight CLI CarbonLight series of LEDs for rental and staging which has been extended to a smaller 1.9mm pitch in addition to the existing 2.6, 3.9 and 5.2mm pitch. The weight of a 500 x 500mm 'cabinet', which is made from carbon fibre, is just 3.9kg. The range has also had a mesh-based variant, the CLM series, that reduces the wind resistance. The range is shipping already.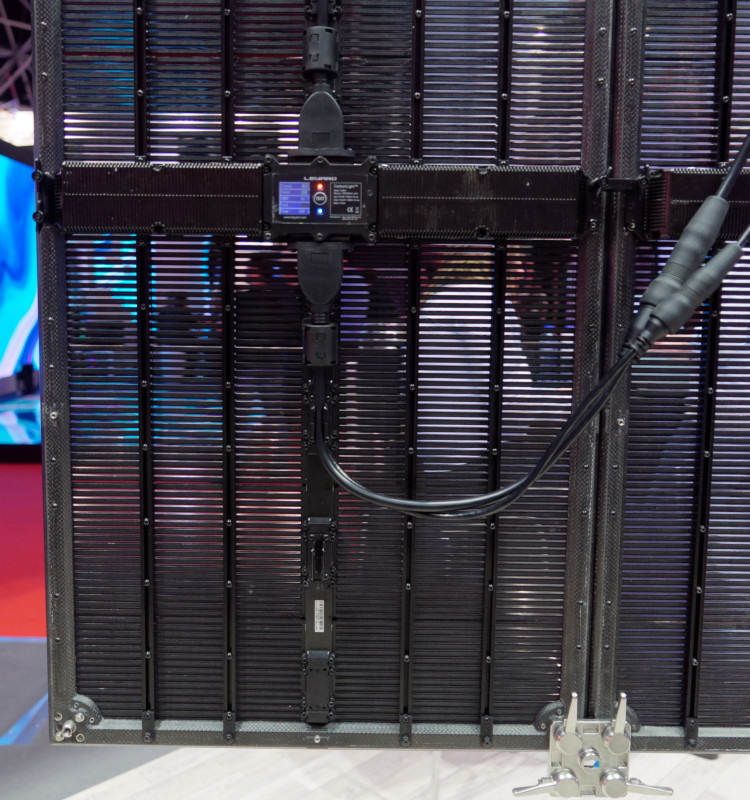 Leyard's CarbonLight Series has been extended down to 1.9mm pitch. Image:Meko
Next we looked at the VersaLight series which now goes down to 2.5 (plus 4 and 6mm for indoor) and in 4mm, 6mm and 8mm for outdoor use. The series uses a magnesium alloy cabinet that is quick-aligning and these are mounted in 2 x 2 frames that can be mounted, hung or stacked.The cabinet is 240 wide by 480mm tall. The display can be front serviced and is suitable for fixed installations or rental. The series starts shipping in the spring and will be complete around the middle of Q2.
The DirectLight series has been around since last year, but has been extend to include both 0.7mm pitch (the finest that we have heard, so far – Man. Ed.) and 2.5mm – it was previously limited to 1.2, 1.5 and 1.9mm. These cabinets are designed around a 16:9 form factor which makes compatibility with standard video easier to support. The 0.7mm pitch modules are currently available to order, but shipping is around 16-20 weeks, so shipments are expected to be in the second half of the year.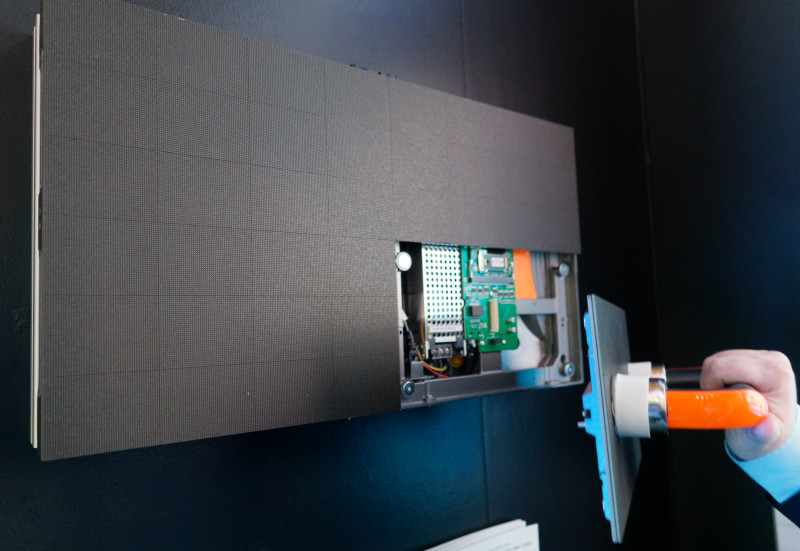 Leyard uses a magnetic front access system. Image:Meko
The TVF Series is designed for more cost-sensitive applications and is available in 1.5, 1.8 and 2.5mm. Despite the lower cost, the TVF Series allows front service and easy access to the PSU for service.
There has been an increasing adoption of LED into high end board rooms and meeting rooms and to meet that demand, Leyard has developed a multitouch system that is designed to work with 2 x 2, 3 x 2 and 4 x 2 configurations of the 55″ cabinets. The pitch range is from 0.9mm to 2.5mm, although typically 1.25mm is used to give a FullHD display on a 2 x 2 configuration.
The Planar brand is still alive in the LCD segment and the company had the latest, Generation 3, Clarity Matrix video wall display. The panels now support the Leyard WallDirector software and the monitors have new video processing integrated and this allows PiP and scaling as well as up to four images on a single display using 'QuadView'. The panels include DisplayPort 1.2 and HDMI 2.0 interfaces and the borders go down to 1.7mm. 46″ and 55″ diagonals with FullHD are available and options include protective glass, passive 3D and multitouch support. Shipments start in Q1.
As with previous generations of the Clarity Matrix products, there are remote power supplies and electronics which can support redundancy for mission critical applications.
The company is offering a standalone UltraHD 2 x 2 video wall configuration that can run at UltraHD directly from DisplayPort.
Analyst Comment
We asked about CoB technology and wondered if the 0.7mm was based on this technology, but, no, it is still 'traditional' SMD technology. We have previously heard that there are some tricky limits on the volume of smaller pitch LEDs which were constraining the market volume, but Leyard told us at the show that it is not seeing this. For example, in the DirectLight series, the top volume seller is the 1.2mm pitch. (BR)