We saw Lenovo at a couple of the evening events and also in the Aquaknox restaurant in the Venetian Hotel.
At the evening events we got to see the new Lenovo Smart Displays, which are voice-controlled systems with displays, like the Amazon Echo Show but based on the Google Assistant and the Qualcomm Home Hub platform. The 10.1″ unit has a 1920 x 1200 IPS LCD touch display, while the 8″ has 1280 x 800 resolution. The devices are based on Qualcomm Snapdragon 624 chips at 1.8GHz, with 2GB of RAM and 4GB of flash storage. There are dual 10W speakers and a 5 megapixel front camera. Radio is Wi-Fi and Bluetooth LE and 4.2. The 10″ will ship in July at $249, while the 8″ will be $199.
Lenovo's Smart Displays joined the move to display-equipped audio assistants. Image:Meko
The company was also showing its latest Thunderbolt 3 Gaming Dock. At IFA, the company told us that its tests had suggested that the speed of this kind of architecture is not really good enough for gaming, but told us at CES that further developments had meant an improvement in speed that made the product possible. The dock is a lot smaller than solutions from other companies and has an integrated GTX1050 GPU from Nvidia which should be good enough to drive Lenovo's MR headset at 90Hz.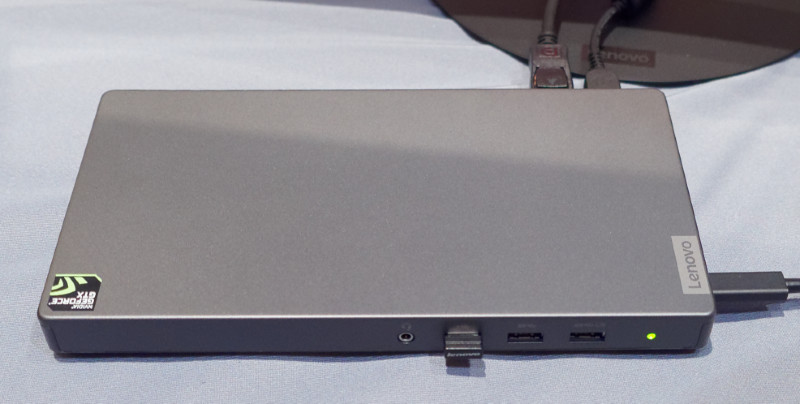 Lenovo's Thunderbolt 3 Graphics (with GPU) Dock is compact and quiet, but moderately powered. Image:Meko
It has a 170W PSU that can supply 65W to the host system and weighs 1.51 lbs (0.68kg). The unit can connect to three external displays via the HDMI 2.0 or dual DisplayPort ports and there are three USB ports. Hardware ethernet connection is provided and an audio combo jack. It will cost $399. (gaming specialists like the small size and likely lower noise of the Lenovo device, compared to others, but regret the limit to the GTX1050).
Lenovo is developing a standalone VR headset that will ship in Q2 and is built around a Qualcomm processor with the Google Daydream platform. The headset has been on the agenda since last summer (HTC Optimistic about Apple VR Moves).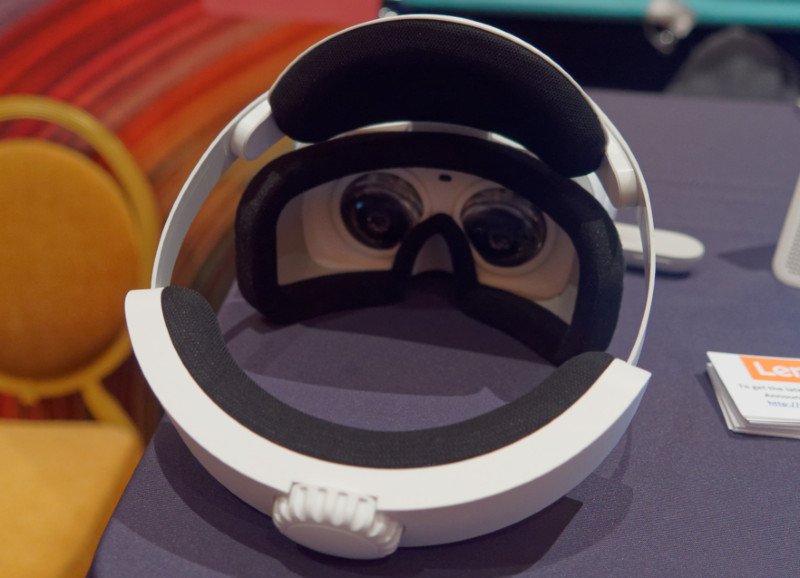 Lenovo showed its Google Daydream-based headset. Image:Meko
The headset will be called the Mirage Solo and uses a single 5.5″ 2560 x 1440 display and has a 110º field of view. It is based around a Snapdragon 635 chip with 4GB of memory and 64GB of storage. The battery has a 4,000 mAh capacity and the headset has dual 6 DOF tracking cameras and a 3 DOF wireless motion controller. Radio is via Bluetooth. Weight is 1.42lbs (645g). The headset is expected to sell for 'less than $400' in Q2 of 2018. The company is also said to be preparing a stereo 3D 180º video camera with Google, but we didn't spot it! It's expected to cost $300 or thereabouts. The performance of the headset is pretty good and doesn't feel like a lower cost option. The weight doesn't seem too bad and comfort is achievable. However, as display specialists, we would like to see more resolution.
Booth Tour
We also went to the Venetian and the first product that we looked at was a new A/R headset, the C220 NewGlass, that is a development of the product shown last year. The unit has been optimised for professional and business users with features including modularity, the use of sound via bone conduction and longer battery life – it now has a capacity of 8,000 mAh. We couldn't get details of the resolution, but staff thought it was WVGA. Brightness is 'greater than' 350 cd/m². The headset has a full processor system with an octacore processor at 1.8GHz, with 4GB of RAM and 32GB of ROM. The unit is shipping now and costs around $3,000.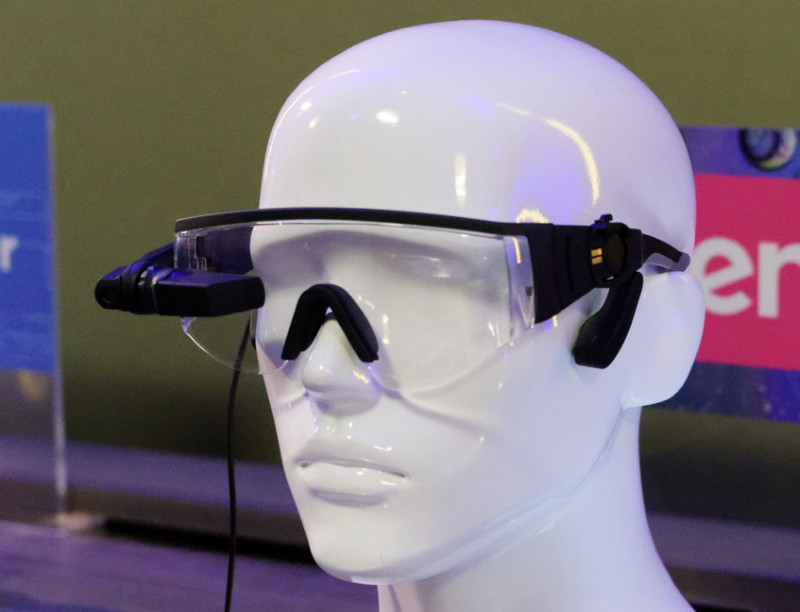 Lenovo's C220 NewGlass has been updated for this year. Image:Meko
The ThinkPad professional notebook line has had a refresh, based on the use of the 8th Generation Intel Core processors. Particularly attractive is the latest X1 Carbon (the sixth generation of the product). There is a choice of displays in 14″ with FullHD or 2560 x 1440 (QuadHD) with a touch option on the FullHD. Brightness is 300 cd/m² except for a special version that supports both HDR and Dolby Vision and has 500 cd/m² of output. It also supports the Adobe RGB gamut. Despite the thin profile, the PC has a "Windows Hello with face recognition option" as well as a fingerprint reader and up to 15 hours of battery life. The farfield mics allow support for Amazon Alexa.
The PC has dual Thunderbolt 3 outputs as well as dual USB 3.0 and an HDMI connector and power is via USB Type-C rather than previous special Lenovo power adapters. Lenovo also managed to squeeze in a 4-in-1 MicroSD card reader and supplies an Ethernet dongle. Processors are up to Core i7 up to 4.2GHz and memory is up to 16 GB, while storage can go to 1TB. The notebook has an integrated LTE modem and weighs 1.13kg (2.5lbs).
The video using Dolby Vision looked very good and highlighted the high end nature of the new X1 Carbon. Pricing starts from $1,700. There is a Yoga version of the X1 with pen support starting at $1,889 and also an X1 Tablet that has an enlarged 13″ 3000 x 2000 display with Gorilla Glass. It runs Windows 10 on processors up to an Intel 8th Gen Core i7 with vPro and memory is the same as the X1 Carbon. Other good looking PCs include the T480S.
The Miix 630 is a convertiable PC that is the Lenovo take on the Qualcomm Windows S concept and has an integrated LTE modem. Details were thin at the show, as release will be in May, but we will try to get more at MWC, next month.
Another new product is the ThinkSmart Hub 500 is an interesting collaboration product which has a 11.6″ FullHD 360º rotatable touchscreen (300 cd/m²) with far-field mics and high end audio. The screen is treated with an anti-glare and anti-smudge treatment. The hub includes an Intel Core i5 processor with 8GB of memory and 128GB of SSD storage. It has an HDMI input and dual outputs and includes a proximity sensor to allow start when users approach. The unit is certified for Skype for Business and is intended to speed the start of meetings, which Lenovo has found take, on average, 10 minutes to start. It runs Window 10 IoT Enterprise and will start to be available for evaluation in Q1 and will have bigger promotion at ISE.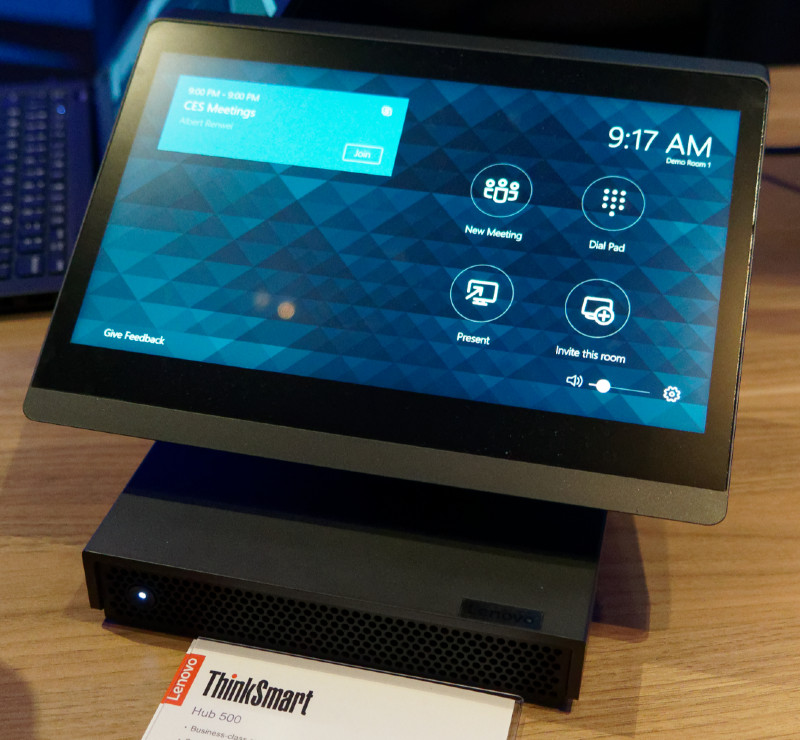 Lenovo's ThinkSmart Hub 500 turns HDMI displays into conferencing systems and is Skype for Business approved. Image:Meko
As well as the Lenovo smart speakers, there is a new moto Smart Speaker which adds Amazon Alexa functions as a 'Mod' to the Moto Z smartphone. It's an interesting concept, but the $150 cost is more than a second generation Echo!