ViewSonic was at the Pepcom evening event with a number of new products including a new UHD projector. The Px727-4k is a DLP home cinema projector that has a SuperColor RGBRGB colour wheel and 3840 x 2160 resolution. Output is 2,200 Ansi lumens and the low cost unit will cost $1,300 in the US when it starts to ship at the end of February (RRP is $1,849, but at the time of writing it is advertised at $1,300 for pre-orders). The projector can support Rec. 709 gamut and also accept Rec 2020 colour space data and there are dual HDMI inputs. Other connections include VGA, audio and RS-232 for control. There is a 10W internal speaker. Throw ratio is from 1.5 to 1.8 with a 1.2:1 zoom. Lamp life is 4,000 hours and the lamp is a 240W unit.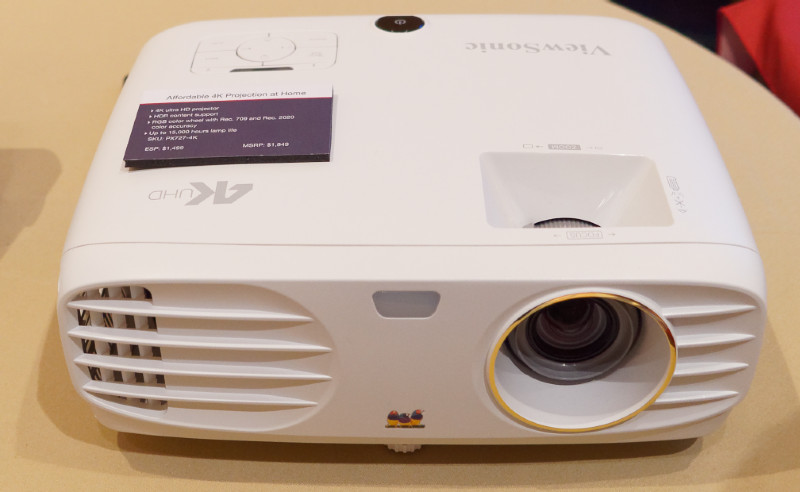 Viewsonic's PX727 4K DLP projector is very sharply priced. Image:Meko
There were also two new laser projectors for installers, the LS800HD and LS800WU that we reported on separately. (ViewSonic Boosts Big and Small Projector Lines)
The company also had a 32″ curved gaming display, the XG3220 with UltraHD resolution. It supports HDR10 and we asked if it supported the new VESA HDR labels, but the company told us that it was not sure, yet. The curve is 1800R and the monitor has FreeSync. There was also a 35″ 3840 x 1440 monitor, the XG3540C, with an 1800R curve and with AMD's FreeSync up to 100Hz. It will arrive in the second half of 2018 and will sell for $739 (street). The XG2560 is a 25″ FullHD monitor with 240Hz refresh and with a claimed response time of 1 ms. The three gaming monitors have HDMI and DisplayPort inputs. The 25″ costs $573 and is available shortly and the 32″ will be $629 when it ships in March.
The VX27580-C-MH and VX3258-2KC-MHD are described as entertainment monitors and have 144Hz refresh and FreeSync support. The 27″ has FullHD resolution and the 32″ is curved and supports 2560 x 1440. They will be available in February and March at $266 and $409 estimated street price.
ViewSonic has two new commercial displays, the CDE6510 and CDE5510 in 65″ and 55″ respectively. They are both UltraHD units and have 350 cd/m² of output. There are dual 10W speakers and integrated SoC with Android. Ethernet and Wi-fi are built in and the units will be available in the US in February at $2,329 and $1,599.