Bang & Olufsen has discontinued production and development of the square styled TV design that it has supported since the BeoVision 5 in 2002.
Digital Devices GmbH has launched the Octopus CI S2 Advanced, a DTV Tuner card that works on PCI Express and supports DVB-S and DVB-S2 for satellite reception. The card has dual CI slots for two independent CAMs and can process up to 2 x 4 decrypted Pay TV channels. The card is expected to be used by installation companies supporting multi-user TV in hotels, hospitals and residential complexes.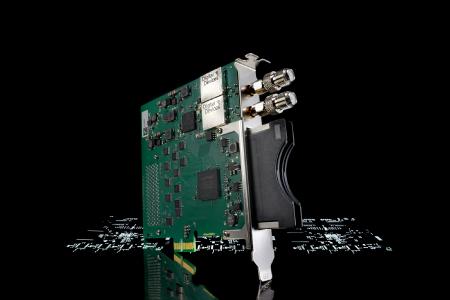 Hisense has launched the U9D TV which has a miniLED backlight with 5376 (96 x 56) zones in the backlight. The TV was launched at the World Cup in Russia as Hisense was an official sponsor of the event in the TV category. The company said that this is its fifth generation of local dimming technology. No other information was released, but we expect to get more at IFA.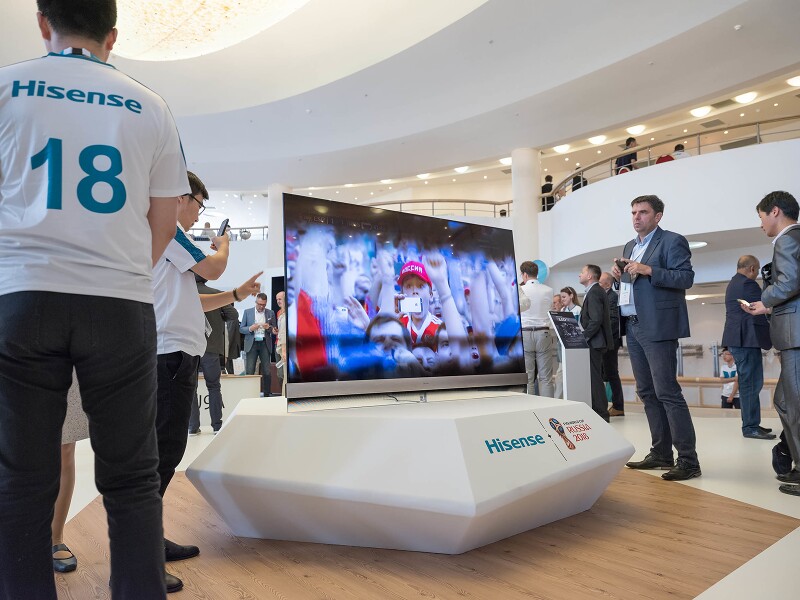 HiSense has a new MiniLED TV that should be at IFA
iBase has launched a new 27.6″ 'stretch display' that has an integrated PC based on a Pentium N4200 Quad Core processor. The display has 1920 x 360 resolution with 1,000 cd/m² of output and is qualified for railway use. The temperature range was -25°C to 55°C. The ruggedised MRD-028-N is completely EN50155 compliant.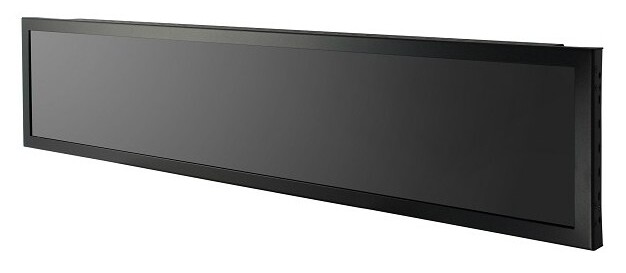 L-Com has new flat HDMI cables that can support 4K operaton and are available in lengths from 0.5m to 5 metres.
LG said that it has done a deal with Cisco to automate support of Cisco Room Kit, Room Kit Plus and Cisco SX series, which includes SX10, SX20 and SX80 models. The LG models that are compatible with the Cisco Room Kit are the Ultra HD 49"-98" of the UH5 range and the Full HD 32"-65" displays (from 32SM5 to 65SM5).
As soon as the LG display detects that the Cisco device is connected to the HDMI port, it will configure and calibrate itself to avoid configuration problems. The LG professional displays automatically adapt with Cisco Room Kits on their first use.
NEC Display Solutions Europe has released the PA271Q monitor, previously released in the US, at €1,511. (LDM Vol 25 Issue 25 Product Roundup and NEC Determined to Stay in Monitors)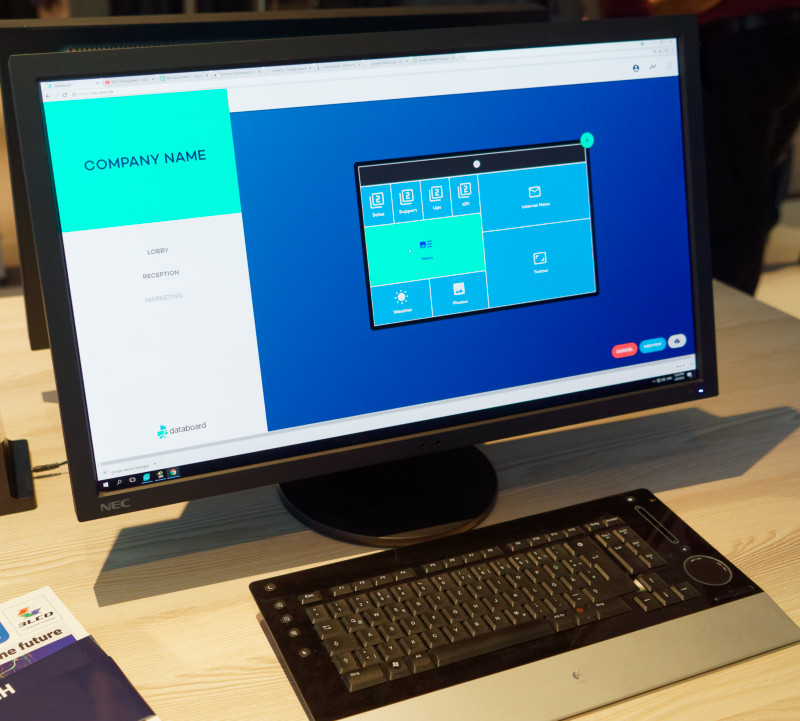 NEC's PA271Q supports charging via USB Type-C. Image: Meko
MMD said that it would show Philips-branded monitors at IFA that would feature slim (6.1mm) '4-sided frameless' designs, curved models and that there would be a 43″ HDR1000 display specifically for console gamers, in a dedicated gaming area. The company will have several 32:9 and 32:10 displays in sizes from 43.4″ to 49″ inch diagonal and with Hello webcams. They will be aimed at financial institutions and trading floors.
The company will show B2B touchscreen displays using PCap technology and will be protected to IP54 in 17″ an 21.5″ sizes.
Other monitors will include 31.5″ and 34″ of 5K displays with USB Type-C for full notebook docking.
Roku has said that it is launching Wi-fi-enabled speakers that will only work with Roku TVs from Best Buy's Insignia, TCL, Sharp and Hitachi.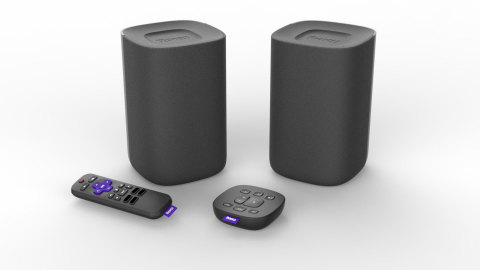 Samsung told the Yonhap News in Korea that its consumer 'The Wall' LED displays will be just 30mm thick compared to 80mm for the commercial version. Han, Jong-Hee, head of Samsung's Visual Display Business told the paper that
"The price will not be as high as people think"
Samsung has also confirmed that the Q8 TV has come to Europe as the Q8D. (Report: Samsung FALD Q8 TV Coming to Europe Next Month)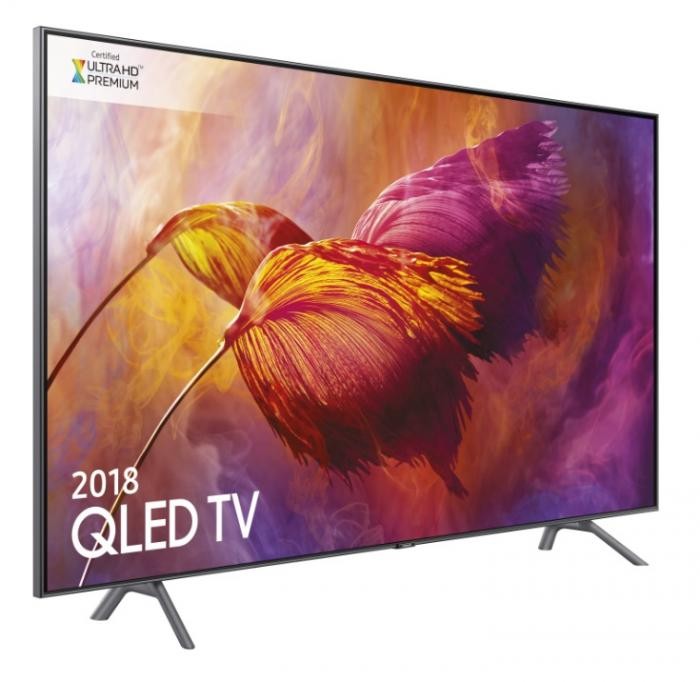 tvONE released the MG-CT-612 HD-One ultra-thin Receiver, which provides HDMI 4K extension and power over HDBT up to 40 metres (130ft) and HD extension up to 70 metres (230ft).
The MG-CT-612 is compatible with Magenta HD-One TX's and tvONE Corio products providing extra flexibility and reliability. The MG-CT-612 is HDMI 1.4 HDCP 2.2 compliant and delivers full HD video, 3D and 4Kx2K, RS-232 and IR along with PoH to a compatible TX.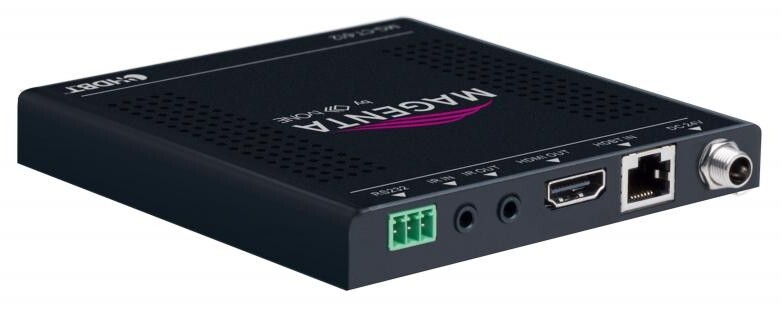 tvOne's MG CT 612 is slim for mounting on the back of a monitor.
Vizio said that the P-Series of UltraHD HDR TVs are now available. (Vizio TVs All have Voice, HDR and FALD). They will be available at Best Buy, Sam's Club and CostCo among others. Peak brightness can go up to 2,000 cd/m² and there is support for HDR and WCG through the use of QDs. There are up to 192 local dimming zones.