The DS551LT7, a 7,000 cd/m² 55″ LCD display from Dynascan (ISE 2015 Roundup), will be released in the USA in Q1 this year.
Imax released a home theatre system back in 2013 (Display Monitor Vol 20 No 23), and has now released it in the UK. It has two 'commercial-grade' projectors with DCI-4k resolution (Imax refused to tell us who supplies these), and is supplied with a projection screen and a library of 200+ titles – as well as access to a day-of-release download system for new films. And the price? £1.5 million ($2.3 million).
We recently highlighted the exclusion of the new EG9600 OLED TV from LG's premium lineup in Europe (LG Renames Premium Models for EU Launch). We have now received confirmation that the EG9600 will be launched in Europe, as the EG9609. It will be launched at the end of March, starting at €4,200 (55″) and €5,900 (65″).
MSI introduced a convertible AIO PC called the AP16 Flex at CES this year. It is a 15.6″ unit running Windows 8.1 on a quad-core processor, which can be propped up, folded flat like a tablet, or hang on a wall. It will be released in Europe in April, for €500.
The ATIV One 7 (Samsung Announces ATIV One 7 Curved All-In-One PC), Samsung's curved AIO PC, is now being shipped. It costs $1,300.
The UltraHD media player that Sony showed off at ISE in February (Sony Invests in Lasers), the PMW-PZ1, has been confirmed for availability in June. This is contrary to what we heard at the show, where we were told that the player would be released in March (although even then, press materials said June).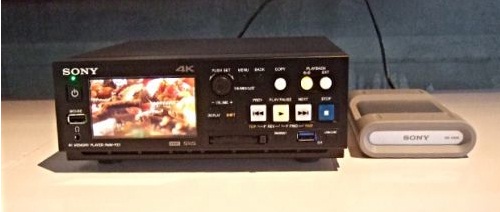 Viewsonic's VG2847Smh (ViewSonic Sets New UltraHD IPS Price) will be launched in April, for $490.
All prices are ex VAT.