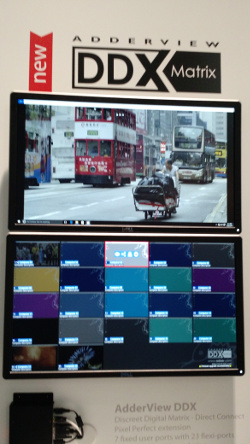 Adder debited its DDX KVM switch at InfoComm last year and has been getting great sales ever since, the company told us. It is a lower cost option than their Infinity product, but nearly as functional. It is a 1 Gbps switch.
For example, it is a 30 port switch with 7 fixed ports and 23 that can reconfigured as inputs or outputs. Users can be up to 50 m away from the switch while workstations need to be within 10 m of the switch location, when using LAN cable – much longer if using fiber.
It can support API calls from control platforms from providers like Crestron, Extron and others. There are four modes of operation: View only; Shared, Exclusive and Private.
Guntermann and Drunck GmbH introduced a new cross display switching feature to its Matrix switcher line that allows seamless movement across connected displays from independent computer sources simply by moving the mouse. Since cross display switching does not stop at unusual monitor arrangements and multi-head graphics cards, users can work intuitively, the company says, since the switching process follows the mouse pointer.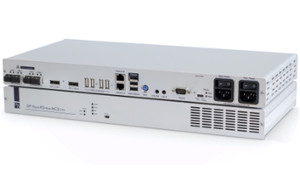 The Matrix line uses a compression algorithm that ensures system compatibility for future proof installations. However, the company also showed its latest uncompressed systems, including the new DP1.2-VisionXG, which enables lossless, transparent KVM transmission up to 4K at 60 Hz, without latency. With a new KVM extension, the DP1.2-Vision-XG extends computer signals up to 10,000m via fiber optics and transmits 4K videos at full 60 Hz without using compression.
Thinklogical used NAB to announce the U.S. debut of its new TLX Series CATx matrix switches and extenders. The new, uncompressed TLX CATx product line includes video and KVM extenders and a range of matrix switches from 12 to 640 ports, and is priced to be highly competitive with compressed and IP-based KVM and video signal management solutions from other vendors.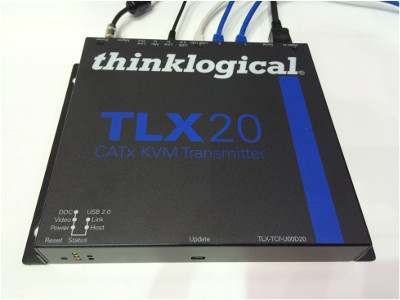 With TLX, Thinklogical has leveraged itsexpertise in fiber-optic extension and switching to develop a high-bandwidth (10Gbps) hybrid signal transmission architecture supporting both standard CATx copper network cabling and fiber. TLX CATx is fully compatible and interoperable with the TLX fiber-optic product line, offering users increased system flexibility in new and existing installations, and a scalable, upgrade path.
Creative professionals working in video-intensive broadcast control rooms or post-production applications such as editing, color grading, digital intermediate and visual special effects can become easily fatigued and unproductive when working long hours on systems with the less-than-optimal image resolution quality and unreliable computer peripheral performance that comes from compressed or IP-based KVM signal management systems.
Thinklogical eliminates these issues by providing a 100% uncompressed signal path on either CATx or fiber cabling with the lowest signal latency in the industry (microseconds, vs. milliseconds for compressed solutions), it claims, offering precise pixel-for-pixel transmission of 4K DCI/UHD resolution video (up to 4096 x 2160 resolution, 60Hz frame rate, 4:4:4 color depth) with no visual artifacts, jitter or lost frames, and instantaneous computer peripheral responsiveness. This increases user efficiency and productivity without compromising quality, resolution, reliability or performance. -CC