Kramer has launched two new hybrid education solutions designed to help teachers get back to the classroom to educate in a professional quality and in real-time, while at the same time ensuring those in-class and remote students have the same great experience.
Kramer EDU-Hybrid-ZR is a Zoom Rooms solution that starts lessons at the touch of a button with no personal device needed. Kramer EDU-Hybrid-1 is a software agnostic wireless presentation and collaboration solution. It provides educators the flexibility of running any Windows® based conferencing application like Zoom™ or Microsoft Teams™.
Both facilitate unique integration with Kramer Control to allow all classroom devices to be controlled from one user interface, streamlining the presentation process.
EDU-Hybrid-ZR
EDU-Hybrid-ZR creates an intuitive learning environment with one display utilized for video conference participants, and a second separate screen for sharable lesson content. This supports up to 4K resolution and can be combined with any of Kramer's professional quality powered speakers for crystal clear audio and an incredibly immersive learning environment.
Using a dedicated Kramer KT-107Z touch panel, teachers simply launch Zoom Rooms to begin the session. The solution uses dedicated Zoom Rooms™ hardware so no additional personal devices, like a laptop or PC, are needed, saving time and ensuring that lessons start promptly. In-class teachers can also connect wirelessly to the display, for real-time content sharing.
EDU-Hybrid-1
EDU-Hybrid-1 is a software agnostic wireless presentation and collaboration solution that enables teachers to easily connect and present lessons from any wireless device to in-class and remote students simultaneously.
Lecturers launch their preferred Windows™ based video conferencing platform and automatically connect to professional grade microphones and speakers to enhance the two-way communication. This integrates with their preferred in-room teaching displays including projectors and interactive whiteboards and provides access to cloud storage for saved documents.
At the heart of the solution, Kramer's VIA Campus2 displays and streams full, uninterrupted 4K video and displays six user screens simultaneously, ideal for keeping classes connected. A relay screen allows teachers to see their remote students as they present.
Lessons are transformed into interactive and engaging sessions with the multiple screen sharing support and whiteboard functionality, allowing participants to view, edit and comment on documents in real-time.
At any point, a collaboration session or a lecture can be recorded, shared or archived. Alternatively, the same session can be streamed over the network to live servers such as Kaltura®, Panopto® or YouTube® Live, allowing remote students to follow the lesson.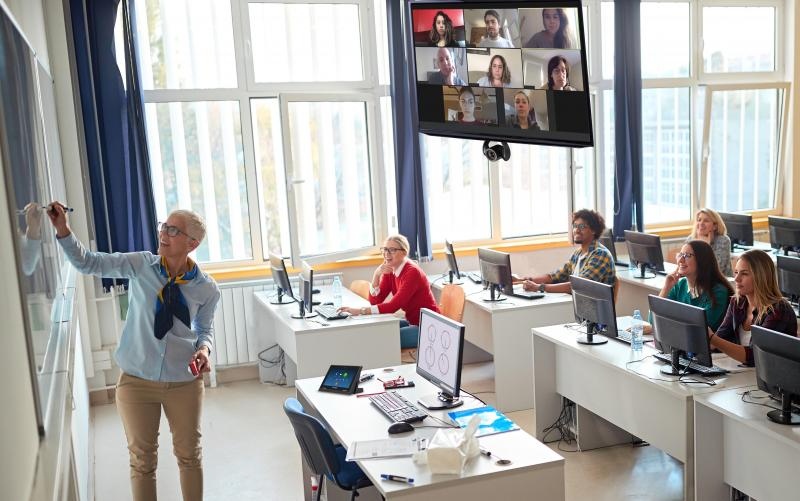 Kramer Control
Kramer adds additional value to the EDU-Hybrid-ZR learning set up with built-in integration with Kramer Control, the manufacturer's agile, cloud-based control platform. The Kramer Control BRAINware allows integration with all other controllable devices and infrastructure, giving the teacher complete control of the learning environment without having to move around the room. Some of these integrations include the camera position, the lighting, AC, projectors, interactive whiteboards, and the speaker volume to enhance the two-way communication.
Yael Chicheportiche, Director of VIA Offering Solutions at Kramer, explains:
"Our hybrid education portfolio is helping to bring teachers back to the classroom and environments that they feel comfortable in. They don't need to worry about the technology, at the touch of a button they can resume their lessons in familiar surroundings using their preferred in-room teaching aids and their chosen application like ZoomTM, or Microsoft TeamsTM.
"Both EDU-Hybrid-ZR and EDU-Hybrid-1 are complete end-to-end solutions designed to suit the desired space and are scalable, to grow as teaching requirements do. Both are agnostic when it comes to the peripheral AV devices, working with all recognized cameras, microphones and speakers, enhancing the flexibility, and making them accessible to a wide range of budgets."
Since 1981, Kramer Electronics has been a leading player and pioneer in the Pro AV industry. With customers in over 90 countries across six continents, Kramer offers an extensive and innovative pro AV portfolio of products and solutions for Corporate, Education, Houses of Worship, Government, Live Events, Healthcare, and more.
About Kramer
For almost four decades, Kramer has built its reputation on strong personal relationships with its customers and providing the highest level of service and support in the industry.
Kramer has won numerous awards, including the 2013 Pioneer of AV Award at InfoComm in honor of its Founder, President & Chairman, Dr. Joseph Kramer. Kramer's award-winning analog, IP, software and cloud driven solutions for collaboration, streaming, management and control are at the forefront of an ever-evolving Pro AV industry. Kramer's consistent sales growth and expansion into new markets is a testament to the company's commitment to R&D and reliance on customer feedback.