At CES 2015, we had a chance to meet with Kopin in the suite in the Palazzo where the company showed off a number of modules for use in augmented and virtual reality applications. Over the last 1-2 years, Kopin has sold off its III-V business and expanded from a supplier of LCD microdisplay to supplying full modules with optics that can serve as the basis for AR and VR products.
These new modules offer higher resolution and a wider field of view. For example, being shown was a prototype of a new WQVGA resolution module that is used in its "Pupil" display that increases the field of view from 10 to 15 degrees. Likewise, modules based on its nHD display increased the FOV from 14.5 to 16 degrees.  he nHD design can produce very bright (2000 nits) images using only 2ma of current at the LED. The company calls the nHD design the White Pearl module, which is supplied to Vuzix for the M100 product.
The pupil module is innovative as it has collimating optics that direct the light directly onto the user's retina. The display itself is smaller than the pupil of the eye.  It is a non-transparent device, but the size makes it nearly invisible when not turned on (just a tiny black dot) – even when still in your field of view. When the display is turned on, you see an AR-like image overlaid on the world.
Kopin Pupil Module mounted on eyeglasses
Also on display were several other modules, some of which we were not allowed to photograph.  These included models that added monocular modules to safety glasses, to sunglasses and to call center headsets.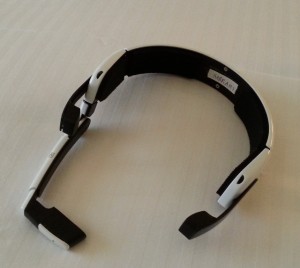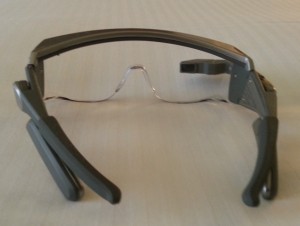 Kopin wants to sell optical modules, not full products, but it is developing these products to help its customers get to market more quickly. The company has purchased an audio company to help in that area and has new IP in voice controlled interfaces.
The new strategy seems to be paying off as revenues in 2014 exceed the $28M expectation by $2M. The company recently completed a new cleanroom build out and is seeing sales of wearables increase rapidly.
The company sees its displays being used in a variety of products that jump on the second screen bandwagon allowing ancillary information to the primary screen (or real world environment). Expect to see products using Kopin modules in the market in the first half of 2015, including ones from tier one customers.