In the digital era, when content is king, a new IHS study is showing that while 4K content is increasing at the production end, the delivery of that content, particularly OTT (over the top) through subscription based video on demand (SVoD), is often not in true UHD resolution.

"Although VoD services have the largest number of UHD shows, content is not delivered to customers in true UHD quality. In particular SVoD is likely the most frugal in terms of bandwidth allocation for content, while physical discs provide the highest quality content available," according to the report recently published by IHS. And there's more.
IHS study showing number of UHD titles by medium (EST: online digital retail, VoD: video on demand, SVoD: subscriber video on demand) , Source: IHS 2017
The recent IHS white paper went on to state that top video on demand providers, Netflix and Amazon, are heavily investing in these ultra high resolution programs and in particular, producing their own content in UHD rather than acquiring pre-produced films. UHD films are converted from DCI 4K native (4096×2160 pixel) resolution in 1.90:1 format or cinemascope version (4096×1760 pixel) resolution in 2.39:1 format.
Economics is driving that investment decision. According to the study, while films still "…comprise the largest number of UHD titles," it's the TV series, not one-off films that, "…offer a better return on hours of content viewed per dollar invested," the white paper states. This is a driving force behind both Amazon and Netflix independent production moves, particularly in UHD quality.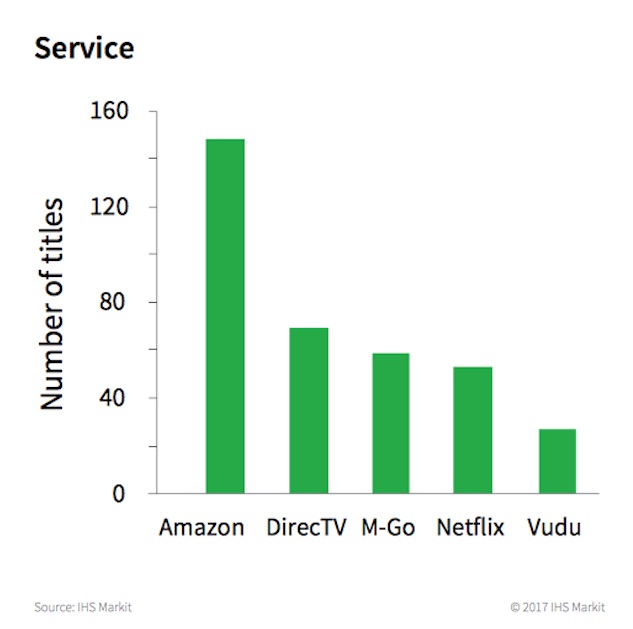 IHS study showing number of UHD titles by digital outlet, Source: IHS 2017Perhaps adding to the motive to produce in UHD, now, is the belief by the OTT providers that bandwidth and delivery options will improve with time. "Fast refresh rates of a software only platform enable SVoD services to be deployed now and perfected later–meaning that any bit rate or quality issues can be tweaked subsequently based on consumer feedback."
UHD is also used by subscription content carriers to hook new subscribers using low cost, or even no-cost, deals that include ultra high definition content to help market the entire package of services, IHS said. "The use of UHD in SVoD will allow for higher tier packaging to be pushed to consumers — something that's much needed as markets become saturated and competitive," the report went on to say.
So, even if that promised UHD content doesn't show up at the set in true ultra high definition today, rest assured the UHD produced content will keep coming, and not just from the movie industry. Economics dictates that subscription video on demand (SVoD), particularly of the TV series type delivers a higher return on the dollars invested. And even if the current pipe can't accommodate that high data stream, consumer demand will ultimately have its way. — Steven Sechrist
See our related story coverage (subscription required):
Netflix Use Overtakes DVR Use In US Households