Elemental, which provides software-based encoding services, was showing three different HDR/SDR side by side demos. One was based on the Technicolor/Philips approach that uses PQ for conventional set top box scenarios; the second was an HDR10 feed using MPEG DASH encoding for OTT applications; and the third was a Dolby Vision demo with encoding in the cloud by Amazon Web Services. Elemental wants to show they are ready for UHD and HDR and can support multiple implementations.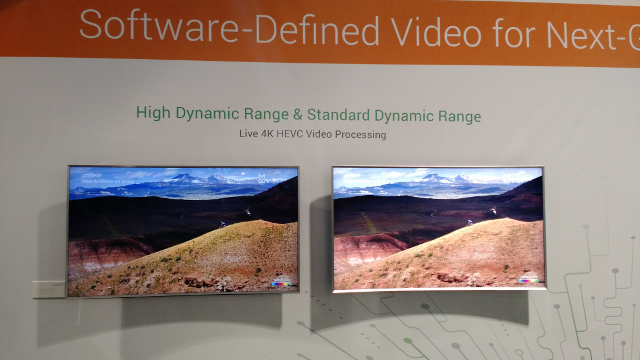 They also told us that DirecTV is using Elemental encoders and will soon start a new UltraHD channel. Elemental even showed a VR demo that took the switched output of three OZO cameras, to an Elemental-developed stitcher, to a real time UltraHD encoder. This was sent via the public Internet to the CDN and the convention center where it was displayed in an Oculus Rift headset. Pretty cool.
We spoke with Matthew Goldman, Senior Vice President Technology, TV & Media Strategy at Ericsson about the new UHD Forum Guidelines report. He provided more details on the new terms used in the report, namely PQ 10 and HLG 10. PQ 10 is like HDR10 without metadata, so the PQ EOTF (ST-2084) with a 2020 container for colors, 10-bit processing and HEVC encoding. Likewise, HLG 10 means the Hybrid Log Gamma OETF with a 2020 container for colors, 10-bit processing and HEVC encoding.
He noted that there was consensus that passing of metadata in the broadcast plant is still not mature, which is why they could not recommend the used of HDR10, Dolby Vision or the Technicolor/Philips approaches for 2016. On the Technicolor/Philips approach specifically, he said it was not possible to really define the "final encoder" as a point to apply the metadata. While the approach may work well in some specific workflows, there are many other workflows where there are several encode/decode steps, which will be problematic.
Goldman noted that two years ago, Ericsson were the first to stream live (pre-recorded) content from the Netherlands to NAB. In 2015, they won a best paper award on HDR, and this year they did another live demo from the Netherlands using existing equipment, so it can be done.
Ericsson is also working on SDR-to-HDR conversion algorithms and will probably embed this in their equipment.
You can read a nice two-part blog on UHD and HDR by Goldman at: http://www.ericsson.com/spotlight/media/blog/media-industry-role-hdr-future-uhdtv-part-one-ericsson/. In it, he makes the case for using HDR on 1080 content as this may have more bang for the buck than using it on 4K content (and was highlighted by Ericsson at IBC – Ericsson Prefers HDR to UltraHD for "More Bang per Bit"). We agree, but there seems to be little industry movement on this right now.
Imagine Communications showed its support for High Dynamic Range (HDR), Hybrid Log-Gamma (HLG) and expanded color gamut, throughout its production, playout, distribution and monitoring portfolios at NAB. It also showcased products that are currently supporting commercially deployed UHD workflows in SDI, IP and hybrid production environments. Companies need to understand how to implement HDR with current and future workflows and infrastructure before "pulling the trigger".
"Imagine Communications recognizes that every broadcaster and content distributor will follow a different path to UHD, depending on a number of unique technology and business factors," said Steve Reynolds, CTO, Imagine Communications. "By supporting UHD workflows in SDI, IP and hybrid settings, we are reducing the complexity and cost of supporting next-generation video quality in any media operation and paving the way for our customers to accelerate the adoption of UHD capabilities."
Imagine Communications supports a broad range of approaches for managing UHD signals, such as the Sony IP Live and intoPIX TICO mezzanine compression formats, that have gained industry traction. The company is also a founding member of the Alliance for IP Media Solutions (AIMS), a trade association dedicated to advancing the widespread adoption of open standards for the transmission of video and audio over IP, as well as solutions based on those standards. (AIMS Debuts to Help Video over IP Transition).
In its booth at NAB, Imagine was showing HDR content next to SDR side-by-side but on a single TV, not two TVs. The company has a mezzanine transcoder solution to do color remapping for 709 to a 2020 container. This is file-based, so not real time, but it can support content in 4:4:4, 4:2:2 or 4:2:0 formats. It is software-based and runs on commercial off the shelf computing platforms that can be on-site or located in the cloud. They are also working on luminance transcoding with PQ and HLG, while evaluating transport options like HDR10, HLG, Dolby Vision and Technicolor/Philips. They like the idea of applying HDR to 1080p content, but acknowledge none of their customers are doing it.
Evertz was showing HDR on a monitor, but not really talking much about it. They see it as a small market today, but they are starting to get some requests to support it, so activities are likely to increase in this area.
We also spoke with Deluxe OnDemand, which provides transcoding services for customers. Sometimes the received content is mastered by Deluxe and sometimes by competitors. Most of their customers are in the Over the Top segment with clients like Starz, AT&T, Uverse, etc. For OTT content, many versions of content are required, so Deluxe OnDemand does all that transcoding to provide a package of files as a deliverable.
UHD-4K is an important part of their business right now. So far, they say they have worked on about 100 Dolby Vision titles, so HDR content is available and is increasing. But they need to keep tracking changes in the HDR segment so they can provide HLG10, HDR10, PQ10 and other formats as they evolve.
Arris, which recently purchased set top box provider, Pace, showed an end-to-end HDR 4k_UHD workflow at IBC last year. This was apparently an HDR10 signal to a set top box that decoded and delivered to the TV over an HDMI 2.0a connection.
They are part of the MPEG committee and recently reviewed a motion to improve the carriage efficiency of HDR using HEVC encoding. But this was turned down as it would require a hardware chip set upgrade in the decoders.
They have looked at HLG as well and want it to work, but they realize there are still issues like color shifts (see Technicolor article Technicolor Shows How to Create an HDR Channel that demonstrates they can mitigate color shifts).
The next big issue is going to be metadata and how to carry this in the production plant and out to the consumer's home.
Ateme announced that it is extending its HDR support by integrating Technicolor's enhanced HDR distribution technology into its Titan solutions. The announcement extends the HDR functionality available to content owners, distributors and other service providers that use Ateme's encoding technology.
Ateme's Titan is a multi-codec/format video transcoding software, for Live and File applications. For HDR, Titan can leverage SMPTE ST 2084 Perceptual Quantizer Electro-Optical Transfer Function and SMPTE ST 2086 color grading metadata, in addition to HEVC UHD and BT.2020 color space, and now SMPTE ST 2094 color volume transformation dynamic metadata.
"Technicolor's HDR distribution solution addresses key video distribution issues that affect the entire ecosystem. For studios, our HDR technology ensures the delivery of image quality that preserves the creative intent when the content was conceived. For broadcasters, our technology addresses key bandwidth management and backwards compatibility issues to provide a cost effective way to support the installed base of SDR and HDR displays. Finally, because it is a single stream solution, Technicolor's approach to HDR reduces complexity by only requiring a single decoder on CE devices," said Teddy Florent, Senior Product Director, HDR & Video Technologies at Technicolor.
Canada-based Dome Productions, along with broadcast partners Bell Media and Rogers Media, announced the trialing of HLG (Hybrid Log Gamma) as a development format in delivering HDR content.
According to Mary Ellen Carlyle, Senior Vice-President and General Manager, Dome Productions, "We were the very first production mobile vendor in North America to launch 4K and we are very excited to begin trialing HLG in Canada."
The company said that "HLG is widely considered to be the best method available of delivering high dynamic range images onto legacy high-definition TV sets". The signals can be seamlessly carried via satellite, cable, IP, and other distribution methods.
"Thanks to our partnership with Dome Productions, TSN stands at the forefront of production innovation in the world of sports broadcasting. Earlier this year, we produced the first-ever live 4K Ultra HD sports broadcast in North America under Dome's leadership," said Stewart Johnston, President of TSN.
Dome Productions is owned by Bell Media and Rogers Media Inc. Dome operates a fleet of 18 TV production mobiles, 7 support units, 1 production/uplink truck and 3 uplink tractors. It also owns a full time cross-Canada and cross-border fiber network which is the backbone of the transmission services it offers.
Brightcove Inc., a leading provider of cloud services for video, announced cloud transcoding for Ultra High-Definition (UHD) video through Zencoder, the company's cloud transcoding service. The new UHD features add support for the HEVC and VP9 video codecs, which are popular for the delivery of 4K video. In addition, Zencoder now supports 10-bit color workflows and the wide gamut BT.2020 color space, which are essential for the delivery of high dynamic range (HDR) video. With these new features, Zencoder provides media companies with the ability to deliver 4K UHD content to web browsers, handheld devices, connected TVs, and other over-the-top (OTT) devices.
Phabrix is a quality control company that has a new instrument to help with 4K and even 8K signals. Called the QX, it includes a built-in signal and pattern generator to help qith QC operations.

For example, the Qx technology offers unique T&M tools for manufacturers creating products supporting IP interfaces and SDI up to 12Gbps. In beta testing now is an upgraded version that will support testing of HDR, wide color gamuts and high frame rate content as well. This is being tested by some customers, but no time frame for release was offered. – CC