I'm just on an Easyjet flight on the way back from the ISE show in Amsterdam after a couple of days of back to back meetings with vendors and their supply chain. I thought it might be useful to pick out some highlights – but that is something of a challenge.

Now, to be fair to the sales people, technology experts and marketeers that I met and their PR evangelists, many of them were genuinely excited about their particular developments. (or at least it seemed that way – it is famously said that the key thing in life is to be able to fake sincerity!). However, as a long time obersrver of the display scene, I would have to say that there was little of great importance in terms of new display technology at the event. The event is the penultimate at the RAI in Amsterdam, as the show will move to Barcelona in 2021 (we had to disappoint a couple of people we spoke to who thought it was moving next year!).
So, not much that was really exciting. That isn't to say there weren't some very spectacular displays. In terms of sheer impact, Sony's CrystalLED showing some of Sony's gorgeous 8K content on a display of 9.7 x 5.4 metres (I make that a diagonal of around 440″ or 11.1 metres) was a stand-out. However, it was just a bigger version of the technology seen for over a year and a half. Nevertheless, it was widely seen as a spectacular statement of Sony's prowess. My own feeling is that it is less reflective than it has been when I have seen it before.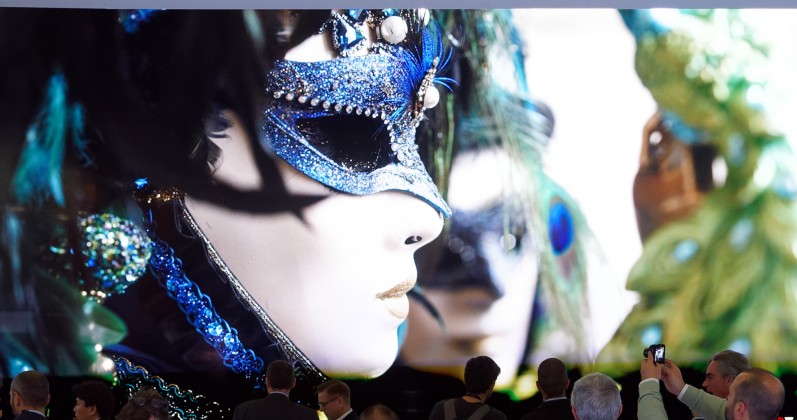 Sony's 8K 440″ Crystal LED display was a stand-out. Image:Meko Click for higher resolution
LEDs are the most impressive displays at the show, these days, and we were also impressed by the latest demos from Samsung, Philips, SiliconCore, Unilumin, Absen, Leyard, NEC and others. There were also quite a lot that were less high quality but still bright and eye-catching. However, the only real technology development seemed to be from Unilumin, which has a new 'flip-chip' concept that encapsulates the LEDs in small modules to save a lot of the cost of individually packaging the LEDs and without some of the drawbacks of CoB technology, which was a big buzzword last year, but which has turned out to be less successful than many thought. One maker said to us 'it works quite well at 2.5mm, but at 2.5mm, you don't really need it".
The most popular pitch for sales according to the various vendors is at around 1.2 to 1.5mm and most companies were heavily promoting 0.9mm pitch as 'the next big thing'. n recent years, there has been a trend for makers to offer 'monolithic' displays – for example 130″ with FullHD. The Chinese started this, I think, but the most well known is Samsung with its 'Wall' concepts – for TV and for professional applications. This time at ISE, pretty well all the makers had some version of the concept. Up to now, LED has been seen as a special product and an LED maker told me at Infocomm a couple of years ago "I have never made the same quote twice". That is likely to change going forward, although with a 'going rate' at 130″ of around $100K, the market outside prestige corporate buyers is likely to be limited.
Interactive Displays
In LCD, LG Electronics showed monitor sets based on the in-cell touch displays that LG Display had shown at CES and that I wrote about a couple of weeks ago. LG Electronics was showing new interactive displays based on the panels at ISE. I stopped by the FlatFrog booth to wind them up talk to them about it. They updated me that in-cell had previously been available at up to 55″, which I hadn't previously spotted. The company was in a very positive mood, though, as its 'inGlass' technology is continuing to gain converts (there were new Dell sets that we had seen at BETT and a new display from Sharp – especially impressive as Sharp has its own PCap technology for large displays).
They conceded that they might lose some potential share to PCap, depending on the pricing, but feel there is still enough of a market to meet their plans. They also pointed out that 8K was likely to be a challenge for in-cell touch, whereas their fine pen performance really helps to make the most out of higher resolution panels.
Panel Makers
Elsewhere, we spoke to panel makers, Samsung and AUO as well as 'first time ISE attendees', BOE. However, there wasn't a lot that was really new, but. contrary to some rumours we had heard, Samsung's display business was showing a number of new video wall panels including an interesting looking 65″ unit which allows a 2 x 2 array of around the same size as a 46″ 3 x 3 array, but with less bezel area. BOE did have an unusual 33″ square LCD panel.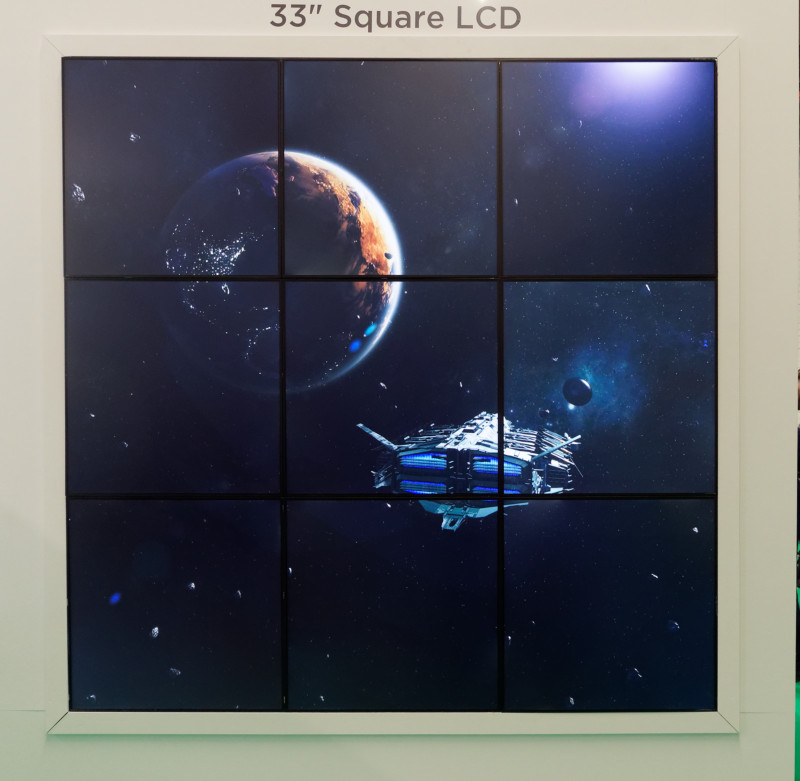 BOE showed this 33 inch LCD panel at ISE. Image:Meko
The main bit of news from AUO is that they have found a way to make stretch displays in the fab (without special post manufacture cutting) using new techniques which eliminate the need for a custom photomask. That means that they can make a much wider range of 'stretch' panels and can reduce the mininimum order quantity for custom panels significantly.
Elsewhere, in the Interactive Display market, the main news seemed to be of Windows Collaboration Displays – we spotted them from Avocor, Sharp and ViewSonic, but there might have been others.
Projection Secrets are a Frustration
In projection, we did see one very interesting technical demo, but it was strictly secret, which was frustrating. However, as the only press that was shown the demo at ISE be sure that we will have an authoritative and detailed report on it when it 'breaks surface'. Otherwise, there were lots of specification improvements and even more laser-phosphor projectors. It looks as though lamp-based units from the key high quality volume vendors may be dead within a couple of years. Sony was demonstrating that not all 3LCD units are the same – highlighting their solution compared to that from Epson and picking out a weakness on greens, in particular. (I had always assumed that the actual LCDs used in 3LCD projectors were all the same, but it seems that they are optimised for the particular colour).
JVC had an impressive demo of a planetarium dome, with dual 4K projectors and a good-looking 8K D-ILA projection demo, which would have been even more impressive if we hadn't just come from the Sony CrystalLED show!
Samsung had its usual big booth, but wasn't showing much that we hadn't seen at CES or at other shows. Outdoor LCDs and semi-outdoor LCDs were a feature, the B2B version of 'The Wall' was there, but there was no LED Cinema this time. The company was promoting its 8K scaling technology in digital signage applications, as it had for TV at CES.
LG had the rollable OLED TV in an impressive demo and was showing its small pitch LEDs, interactive displays and a smaller version of the OLED waterfall display seen at CES. It was also highlighting transparent OLEDs and OLEDs for video wall use. We remain sceptical about OLED in high use digital signage applications.
There was very little AR & VR at the show, but Epson was showing its Moverio BT-350E which is an HDMI-connected 'display only', rather than a full Android system and uses the same microOLEDs which have impressed us in the past. List price is just €650 and there may be a number of system integrators that would want to use those to create B2B solutions. – Bob Raikes