Ikegami will promote the latest additions to its range of broadcast production camera systems and monitors at Hamburg Open 2022. The show is scheduled to take place from Wednesday January 19th (10:00 – 18.00) through Thursday 20th (10.00 – 16:00) in Hall 8 of the Congress Center Hamburg.
Focus of attention on Ikegami stand H.339 will be the UHK-X700 4K camera and BSX-100 base station, the UHL-43 compact 4K camera, HQLM-3125 master grade 4K monitor and HLM series HD monitors. Ikegami representatives at the show will include Ikegami Electronics (Europe) Broadcast & Professional Video Division manager Michael Lätzsch and sales engineer David Lieven.
"Interest in 4K production is accelerating, both for the on-demand video streaming sector and among forward-looking broadcasters," says Michael Lätzsch. "HDR is also gaining ground given the rapidly increasing user base of HDR-compatible TV displays. The UHK-X700 is designed for a very wide range of studio or location applications and couples with the BSX-100 to form a highly versatile system. Our UHL-43 is a compact 4K camera for applications such as remotely controlled or self-op studios and remote coverage of live events."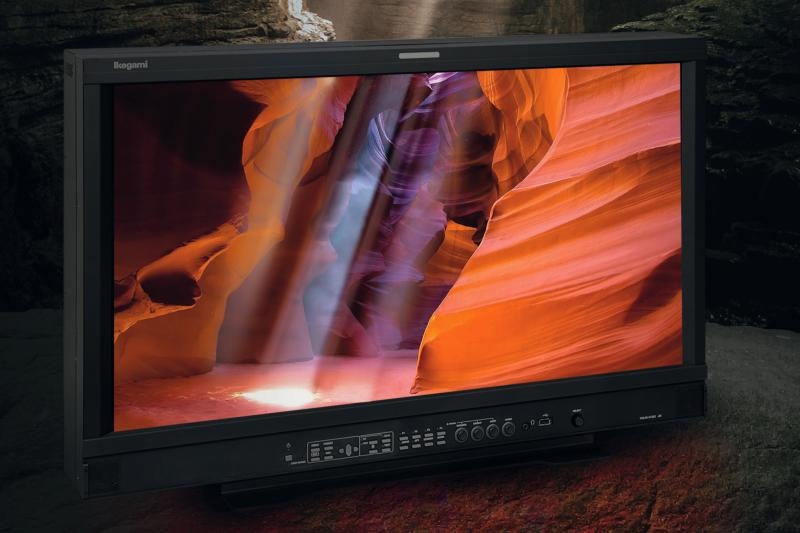 Ikegami UHK-X700 2/3-inch 4K 3-CMOS global shutter sensor system camera
As a new member of Ikegami's UNICAM XE 4K system camera series, the UHK-X700 incorporates three 2/3-inch CMOS 4K sensors with global shutters to eliminate rolling shutter distortion and flash-banding artifacts. It provides the high signal quality, versatile connectivity and robust build that are essential in today's multi-resolution media world. That includes full HDR/SDR support plus the ability to choose between BT.2020 and BT.709 colour spaces. High frame-rate shooting at up to 2x speed in 4K or up to 8x speed in HD via the base station is possible as an option, for applications such as capturing fast motion in sport or stage events. When combined with the Ikegami BSX-100 base station, the camera optionally supports simultaneous output in 4K/HD video formats, including mixed sources. 4K video is available as a 12G-SDI feed directly from the camera head, allowing the UHK-X700 to be integrated into a wireless system. Weighing only 5 kg, the UHK-X700 comes with a B4 lens mount and has an optical sensitivity of F11 when operating at 4K/50p. Peripheral options include the OCP-300 control panel and SE-U430 system expander. Ikegami also offers a choice of three types of viewfinder for this model: VFL201D 2-inch LCD, VFL701D 7-inch full HD LCD, VFE741D 7.4-inch OLED.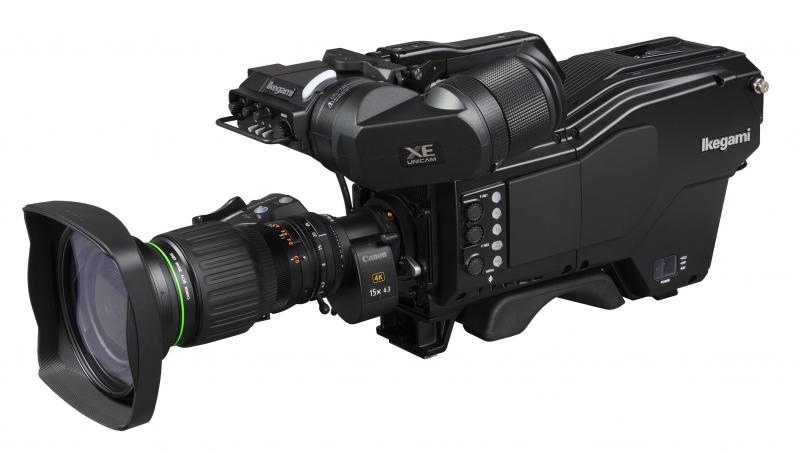 BSX-100 UHD/HD multi-format fibre base station
The BSX-100 is a 12G/3G fibre base station offering a coherent upgrade path for broadcasters and production companies as they progress from SDI to IP, from standard dynamic range to high dynamic range and from high definition into HD/4K dual-format workflow. Designed as a multi-platform camera control unit, the BSX-100 is available for Ikegami HD and 4K camera systems, offering 12G and 3G HD-SDI connectivity. SMPTE ST.2110 media-over-IP interfacing is available as an option for use across 10GbE and 25GbE networks. An optional 4K output software key allows use of HD cameras in a variety of configurations which include simultaneous production in HD and 4K resolutions. HDR video with very high quality reproduction from dark to bright areas is supported together with wide colour gamut as standard. The Ikegami BSX-100 provides full support for HLG in conformance with ITU-R BT.2100 which is the international standard for HDR. The base station includes HDR to SDR conversion and can be operated in any desired combination of HD or 4K resolution and SDR or HDR simultaneously. Housed in a 3U high half-rack-width low-mass unit, the BSX-100 is easily integrated into mobile production vehicles and other locations where space is limited.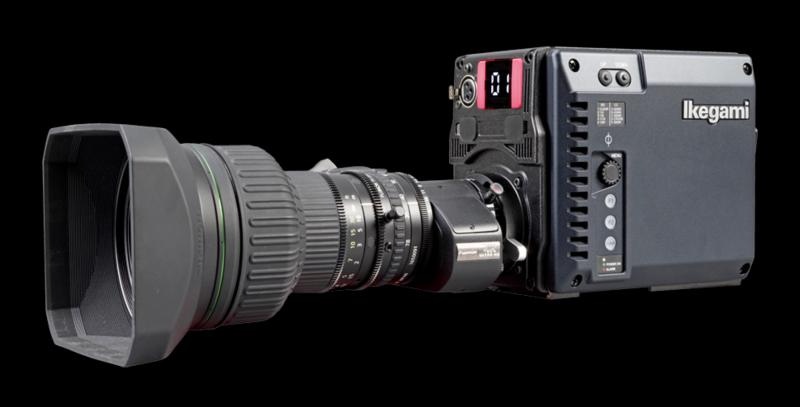 Ikegami UHL-43 compact 4K HDR camera
The Ikegami UHL-43 is a compact HDR camera designed for applications such as robotic studios, outside broadcasting of live events, parliamentary television, point-of-view image capture, weather coverage, traffic surveillance and public security monitoring. The UHL-43 employs three 2/3-inch 4K 8.3 megapixel CMOS sensors in the same workflow and remote control structure as Ikegami's Unicam XE series UHK-430 and UHK-X700 cameras. Unlike cameras using a single chip or pixel-offset technology, the integration of three 3840 x 2160 resolution CMOS sensors and prism optics provides true UHD capture resolution, high quality colour reproduction and complete freedom from colour aliasing. Measuring only 145 x 155 x 169 mm WDH and weighing just 2.6 kg, the camera head can be used on practically any support device such as a shoulder harness, long-reach arm or overhead mount. Combining high sensitivity (F11 in 4K 50p) and very high signal-to-noise ratio (typically 62 dB), the UHL-43 can be deployed even in conditions of low illumination. Fully supporting HDR, it delivers detailed picture quality across the full range of brightness levels from deep black to peak white while also capturing wide colour gamut. HLG mode is included, conforming to ITU-R BT.2100. Custom gamma curves can also be set and stored within the camera, allowing the implementation of any desired curve. The UHL-43 is available as an HD-HDR model which can be upgraded via a retrospective software update to deliver 4K-UHD. Output options supporting 12G-SDI or 4 x 3G-SDI over coaxial cable or 12G-SDI over optical fibre are available. An RJ45 Ethernet connection enables remote camera operation via network hubs with low latency for use in remotely controlled studio production. Control functions are accessible at the camera head or via a choice of remote control panels from Ikegami's OCP-series. The integral Ethernet interface allows easy control from practically any distance, making the camera ideal for remotely supervised outside broadcasting.
HQLM-3125X master grade 4K monitor
The HQLM-3125X is a 31 inch 4K-UHD master-grade monitor with a 4,096 x 2,160 pixel 10-bit resolution and high brightness (1,000 candela per square metre). Designed for critical image evaluation in broadcast production control environments, it has a double-LCD-layer panel delivering a 1,000,000:1 contrast ratio with true black reproduction. A layer of light-modulating cells allows pixel-by-pixel control of backlight intensity, reducing light leakage and black floating. Fully compliant with BT.2020 wide colour gamut, the monitor incorporates single-channel 12G-SDI x 2, 3G-/HD-SDI × 5 and HDMI inputs as standard features. Viewing angle for critical image evaluation is a wide 178 degrees (horizontal/vertical). 1D and 3D LUTs are supported.
HLM series Full-HD monitors
Ikegami will also promote an HDR option for its HLM-60 family of 1920 x 1080 pixel high-definition broadcast quality monitors. This option includes electro-optical transfer function tables for HLG, S-Log and S-Log3 in addition to conventional gamma. It can be added as a retrospective upgrade to all monitors in the HLM-60 series which currently comprises models HLM-2460W, HLM-1760WR and HLM-960WR. Features across the HLM range include 4 x 3G/HD/SD-SDI inputs, HDMI input, vertical blanking signal in/out, split screen and 4 x zoom display, test signal generation, waveform monitor and vectorscope.